Home
>
Press Releases
>
Norwegian Cruise Line Reveals Wylands Visionary Hull Artwork Norwegian Bliss
Norwegian Cruise Line Press Releases
Norwegian Cruise Line Reveals Wyland's Visionary Hull Artwork for Norwegian Bliss
"Cruising with the Whales" will grace the hull of Norwegian's upcoming new build, which will seasonally homeport in Seattle beginning Summer 2018
Fort Lauderdale, Florida, U.S. - Oct 27, 2016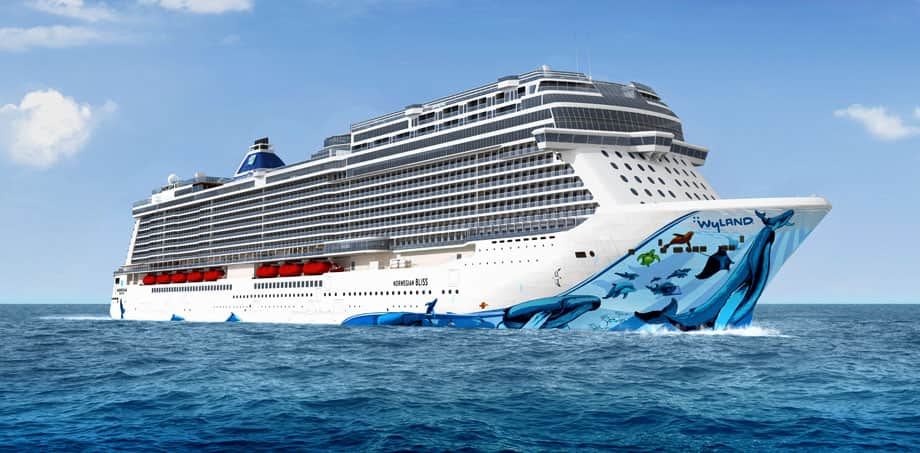 Continuing its tradition of featuring original artwork on its ship's hulls, Norwegian Cruise Line today revealed the signature art designed by one of the world's premier marine life artists, Wyland, for its upcoming new ship Norwegian Bliss, which will cruise to Alaska beginning in June 2018. Entitled "Cruising with the Whales," the engaging and beautiful art prominently features a stunning image of a mother humpback whale and her calf as the centerpiece of the design, signifying the beauty of Alaska and the importance of conservation. Known for his iconic whale murals, marine life paintings and sculptures, Wyland has inspired generations to be passionate about preserving the oceans and the incredible wildlife that calls it home. Andy Stuart, Norwegian Cruise Line president and chief executive officer, joined Wyland to reveal the design today at the Wyland Galleries in Fort Lauderdale, Florida.
"Humpback whales are an iconic part of the Alaska landscape and one of the most compelling sights visitors can see while cruising the Last Frontier," said Stuart. "It was only fitting that an artist of Wyland's caliber should create the artwork for our first ship designed for Alaska, which includes humpback whales and other signature marine life found in the world's oceans. We hope that our guests are just as inspired as we are by this beautiful artwork."
The enormous extent of Wyland's public artworks, his award-winning art galleries and his non-profit foundation's community service projects have made him one of the world's most recognized and beloved artists. An artist inspired by different canvases, Wyland has been diving the world's oceans for the past 30 years and these wildlife encounters have inspired him to paint the animals life size, on more than 100 ocean murals throughout the US and 18 countries around the world. Wyland has taken advantage of Norwegian Bliss' unique canvas to create a life size portrait of the planet's most spectacular marine life, including giant manta rays, dolphins, sea lions and sea turtles, to give the viewer a sense of being part of the ocean's realm. The beauty in Alaska and along the Pacific coast has inspired many of Wyland's paintings and sculptures and contributed to his inspiration for Norwegian Bliss' hull artwork.
"As a marine artist who has painted the largest murals in the world, it is an honor to have the opportunity to collaborate with Norwegian and present my art on such a grand scale," said Wyland. "I can't think of a more perfect canvas for a marine artist than Norwegian Bliss and I hope my art inspires people to see the beauty in nature and hopefully work to preserve it. Norwegian is as committed as I am to ensuring the health of the oceans and our planet and I look forward to our partnership as we use art, science and adventure to inspire a generation to take care of our blue planet."
The third ship in the line's Breakaway-Plus class, Norwegian Bliss will be the first cruise ship custom-built with features and amenities for the ultimate Alaska cruise experience and the first Norwegian Cruise Line ship to make its debut in Seattle. The ship will also come outfitted with exhaust gas scrubbers, which significantly decrease air emissions including the reduction up to 99 percent of sulfur into the atmosphere, furthering Norwegian's commitment to protecting the unique ecosystems found throughout Alaska and across the world.
At approximately 167,800 gross tons and accommodating 4,000 guests, Norwegian Bliss will be constructed at MEYER WERFT in Papenburg, Germany and scheduled for delivery in Spring 2018. She will sail weekly seven-day Alaska cruises each Saturday from Pier 66 in Seattle, offering guests the premier way to see America's last frontier, while also providing all of the innovative features, entertainment, signature dining and onboard experiences that Norwegian Cruise Line is known for around the globe. The ship's itinerary will feature calls in Ketchikan, Juneau, Skagway and Victoria, British Columbia, along with scenic glacier cruising. Additional details on the ship's accommodations, dining and onboard offerings will be shared in the coming months. Norwegian Bliss will be available for reservations beginning January 2017.
How To
Contact Us
Andrea DeMarco
Head of Investor Relations
Phone: 5411-5353-0580
E-Mail: ademarco@ncl.com

For Investor Relations inquiries please contact
Andrea DeMarco
Head of Investor Relations
ademarco@ncl.com
(305) 468-2463

For Investor Relations inquiries please contact
Andrea DeMarco
Head of Investor Relations
ademarco@ncl.com
5411-5353-0580

Corporate Mailing Address
7665 Corporate Center Drive
Miami, FL 33126