Norwegian Cruise Line Press Releases
Pride of America Fares to Increase in 2013
Pride of America sails past the Nãpali Coast in Hawai`i
Miami - Nov 08, 2012
Norwegian Cruise Line today announced that based on strong demand for its Hawai`i cruise, it will raise fares an average of 10 percent on Pride of America for new bookings beginning January 1, 2013. The only large US-flagged cruise ship, Pride of America sails year-round from Honolulu on a spectacular seven-day inter-island Hawai`i cruise, featuring close to 100 hours in port and overnights in both Maui and Kaua`i. Ports of call include Kahului, Maui; Hilo, Hawai`i; Kona, Hawai`i; Nãwiliwili, Kaua`i; and an afternoon cruise past the breathtaking Nãpali Coast. This cruise was recently voted the "Best Hawai`i" itinerary by Porthole Cruise Magazine in their 13th Annual Readers' Choice Awards.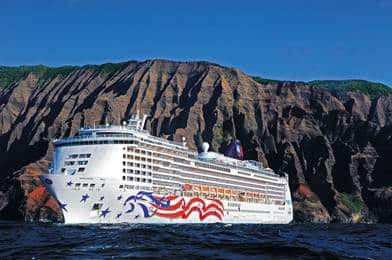 "Because she is US-flagged and crewed, Pride of America is in the unique position of being the only cruise ship that can sail to the four islands of Hawai`i from Honolulu without visiting a foreign port," said Kevin Sheehan, Norwegian Cruise Line's chief executive officer. "As a result of this unique offering, there is strong, ongoing demand for the ship, propelled by record-breaking guest satisfaction scores. This is a spectacular one-of-a-kind itinerary and the cruise delivers an incredible value for the money compared to the high cost of land-based vacations in Hawai`i."
As her name implies, the 2,124-passenger Pride of America, celebrates a 'Best of America' theme inspired by favorite places in the United States. From the Capitol Atrium to the Alaska-influenced Gold Rush Pub to a New Orleans' Mardi Gras Cabaret Lounge and Hawai`i-themed Aloha Café and Waikiki Bars, guests experience the flavor of the U.S. while visiting the country's beautiful 50th state. The ship features 14 restaurants, nine bars and lounges, dynamic public rooms such as the Hollywood Theater, expansive children's area featuring Norwegian's new Splash Academy children's programs and the state-of-the-art Santa Fe Spa & Fitness Center. The heart of the ship, the Capitol Atrium, is inspired by the Capitol Building and White House and features a decorative stone floor and a stunning backlit glass dome.
The company also recently announced that Pride of America will receive major enhancements beginning in March 2013, including the addition of 24 ultra-luxurious suites, four Studio staterooms and four inside staterooms; Moderno Churrascaria, the line's signature Brazilian-style steakhouse; ship wide wireless internet connectivity; new carpeting throughout; flat screen televisions in all staterooms; updated décor; upgrades to the fitness center; new directional signage; renovations to the gift shop, photo gallery and art gallery; and much more.
Guests wishing to book a cruise on Pride of America should contact a travel professional, call Norwegian at 888-NCL-CRUISE (625-2784), or visit www.ncl.com.
About Norwegian Cruise Line
Norwegian Cruise Line is the innovator in cruise travel with a 46-year history of breaking the boundaries of traditional cruising, most notably with the introduction of Freestyle Cruising which revolutionized the industry by giving guests more freedom and flexibility. Today, Norwegian invites guests to "Cruise Like a Norwegian" on one of 11 purpose-built Freestyle Cruising ships, providing guests the opportunity to enjoy a relaxed cruise vacation on some of the newest and most contemporary ships at sea.
Norwegian's largest and most innovative Freestyle Cruising ship, Norwegian Epic, debuted in June 2010 and has been named "Best Overall Cruise Ship" by the readers of Travel Weekly and "Best Ship for Sea Days" by Cruise Critic. Norwegian Cruise Line is the official cruise line of Blue Man Group, appearing for the first time at sea on Norwegian Epic, as well as the official cruise line of Legends in Concert, The Second City®, Howl at the Moon Dueling Pianos, and Nickelodeon, the number-one entertainment brand for kids. Cirque Dreams™ & Dinner is also featured on board Norwegian Epic as the first show of its kind at sea under a big top.
The Company has two 4,000-passenger vessels, Norwegian Breakaway and Norwegian Getaway, under construction for delivery in April 2013 and January 2014, along with one larger "Breakaway Plus" vessel for delivery in fall 2015. Known as New York's ship, Norwegian Breakaway will be the largest vessel to homeport year-round in the city, sailing to Bermuda for the summer beginning May 12, 2013. Norwegian Breakaway's features include hull art by legendary artist Peter Max, seafood restaurant Ocean Blue by famed New York chef Geoffrey Zakarian, and fitness classes and a retrospective display from the ship's iconic godmothers, the Rockettes®. The entertainment lineup includes three Broadway shows: Rock of Ages, Burn the Floor and Cirque Dreams™ & Dinner: Jungle Fantasy. Norwegian Getaway, the largest ship to homeport year-round in Miami, will sail Eastern Caribbean voyages beginning in February 2014. Sailings for both vessels are now on sale.
High resolution, downloadable images are available at www.ncl.com/pressroom. For further information on Norwegian Cruise Line, visit www.ncl.com, follow us on Facebook, Twitter, and Instagram @Norwegiancruiseline, Pin us on Pinterest, watch us on YouTube, or contact us in the U.S. and Canada at 888-NCL-CRUISE (625-2784).
###
How To
Contact Us
Andrea DeMarco
Head of Investor Relations
Phone: 5411-5353-0580
E-Mail: ademarco@ncl.com

For Investor Relations inquiries please contact
Andrea DeMarco
Head of Investor Relations
ademarco@ncl.com
(305) 468-2463

For Investor Relations inquiries please contact
Andrea DeMarco
Head of Investor Relations
ademarco@ncl.com
5411-5353-0580

Corporate Mailing Address
7665 Corporate Center Drive
Miami, FL 33126