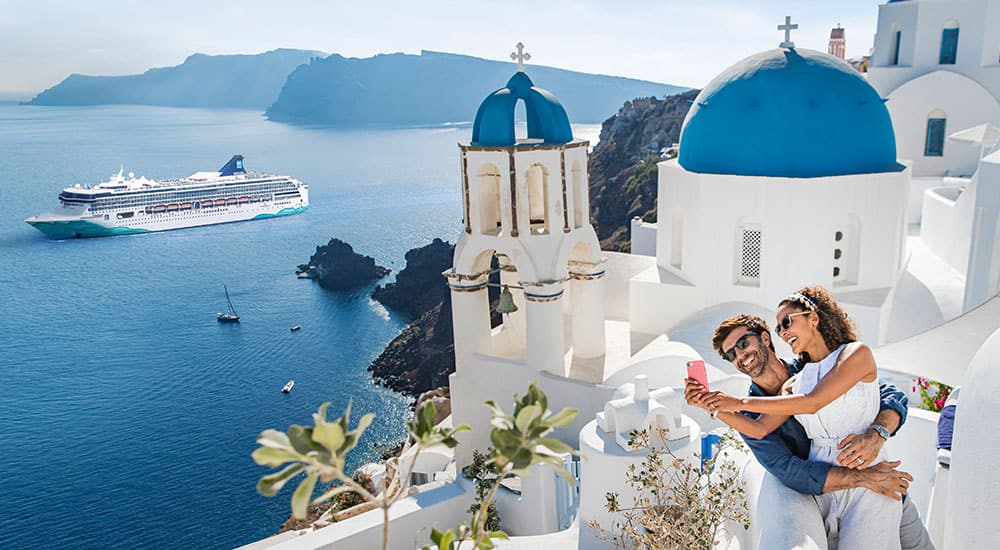 Los Cruceros por el Mediterráneo season will be here before you know it -- we're Back at Sea this summer! So there's no better time to get your Greek Isles cruise vacation booked before your preferred dates sell out. Norwegian's Peace of Mind program, you have added flexibility if your plans should change. We look forward to the 2021 cruise season and can't wait to share the future of cruising with you. We've partnered with cruise industry experts on the Healthy Sail Panel to make sure your cruise experience is better than ever. If you're considering a Mediterranean cruise, here's what you need to know about our 2021 Greek Isles Cruises.
Ready to start planning? Explore all 2021 Greek Island cruises.
Greek Island Ports to Explore in 2021
Depending on which cruise you choose, you could be visiting several different Greek islands. Islands can include any of the following, depending on which itinerary you choose.
Corfú, Grecia
There is plenty to keep you busy in Corfú, or book a beach transfer and relax on the sand at a top-notch resort on the island. Corfu is known for its lush landscaping and bright turquoise waters. You can also take a tour to learn more about historical sites on the island like the 15th-century Venetian fortress, Mouse Island and the church of Panagia Vlacherna, and palaces like Mon Repos and Achillion.
Santorini, Grecia
Santorini is one of Greece's most famous islands. Stroll through the charming village of Oia, renowned for its sunsets, blue-domed churches, narrow streets, and stunning cliff-side views. You can visit a winery, explore ancient ruins, or even hike the volcano.
Miconos, Grecia
Mikonos is also one of Greece's most well-known islands. Its iconic windmills are immediately recognizable as are the maze of white-washed buildings that line Mykonos' main village. Nearby, you'll find the UNESCO World Heritage Site of Delos, believed to be the birthplace of Apollo and Artemis. There's an archeological museum on the island as well.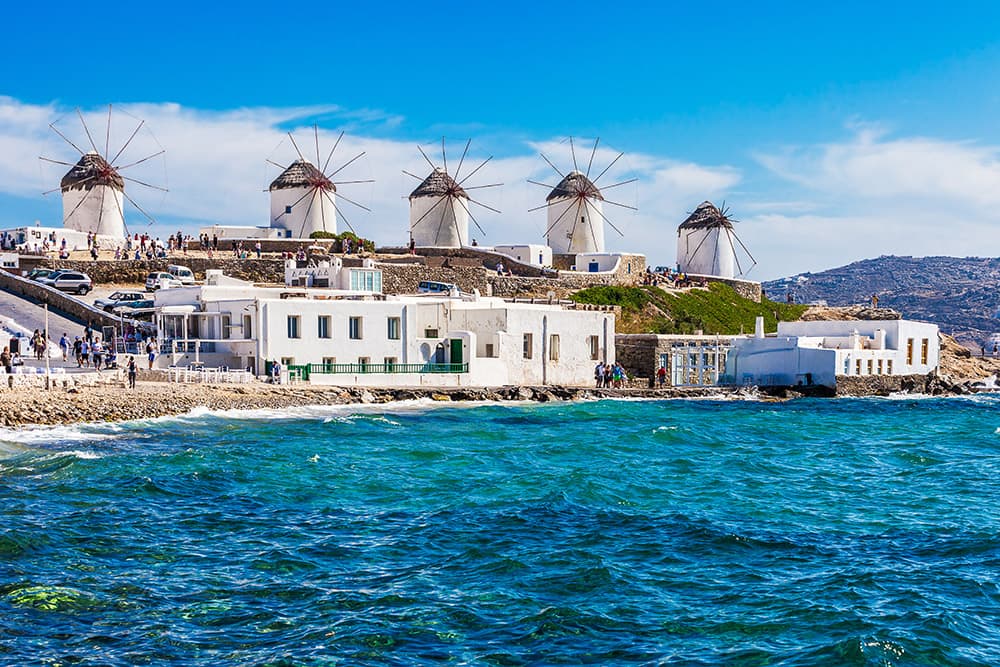 Rodas, Grecia
Rodas is renowned for its gorgeous beaches and medieval city center, recognized as a UNESCO World Heritage site and one of Europe's largest and best-preserved fortified cities. Inside the walls are sites like the Palace of the Grand Master of the Knights of Rhodes, while outside is the more modern city. Other villages like Lindos are worth exploring if you want to see more of the island.
Argostoli, Grecia
Argostoli is located on Kefalonia and has a more modern feel than many other villages on the Greek islands. This is partly due to a devastating earthquake in 1953, requiring the village to be mostly rebuilt. The St. Andreas Monastery mostly escaped the devastation. Don't miss natural attractions such as Melissani Cave, an underground lake where you can swim in the beautiful blue-green waters.
Patmos, Grecia
Patmos features beautiful beaches and swimming coves. It's also where they believe Apostle John wrote the book of Revelation. You can also see the Monastery of the Apocalypse, which has a chapel over the cave where St. John lived.
Departure Ports for 2021 Greek Isles Cruises
NCL's 2021 Greek Isles cruises depart from Venecia, Roma, Atenas, y Barcelona. Some cruises are round trip, so you'll start and end your cruise in the same port, while others give you the freedom to explore more destinations since your cruise begins and ends in different port cities.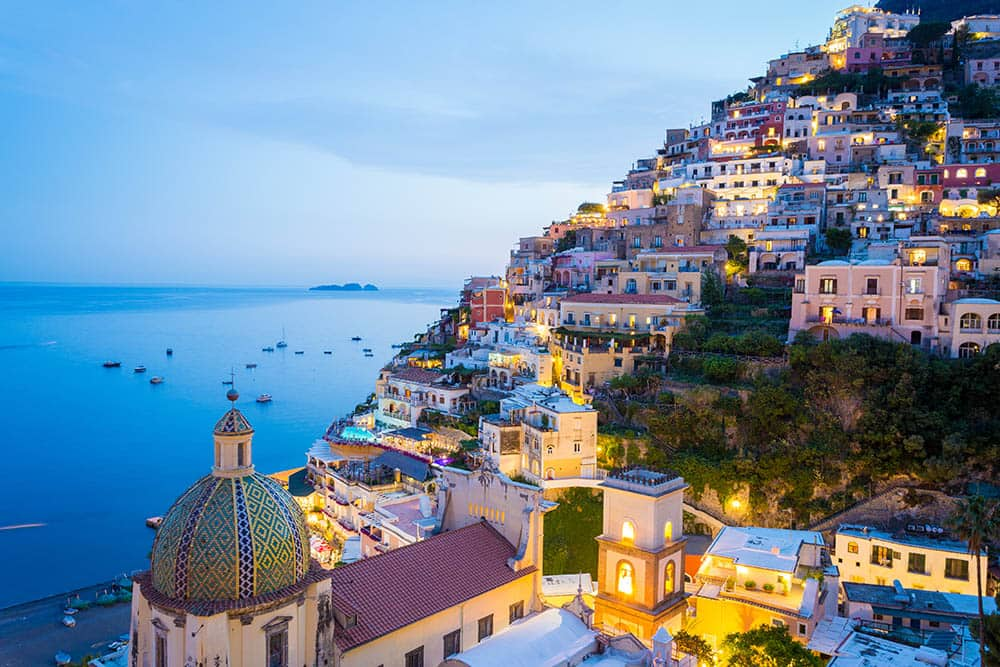 Greek Isles Cruises from Venice, Italy
If you're looking for cruises that depart from Venice, Italy, here are a few of Norwegian's 2021 Greek Isles cruises from Venice:
9-Day Greek Isles: This is a similar itinerary as the seven-day cruise, but with stops in Athens (Greece) and Split (Croatia).
7-Day Mediterranean: This cruise visits Dubrovnik (Croatia), Corfu in Greece and Italian ports Messina (Sicily), Naples, Florence/Pisa (Livorno) before disembarking in Rome.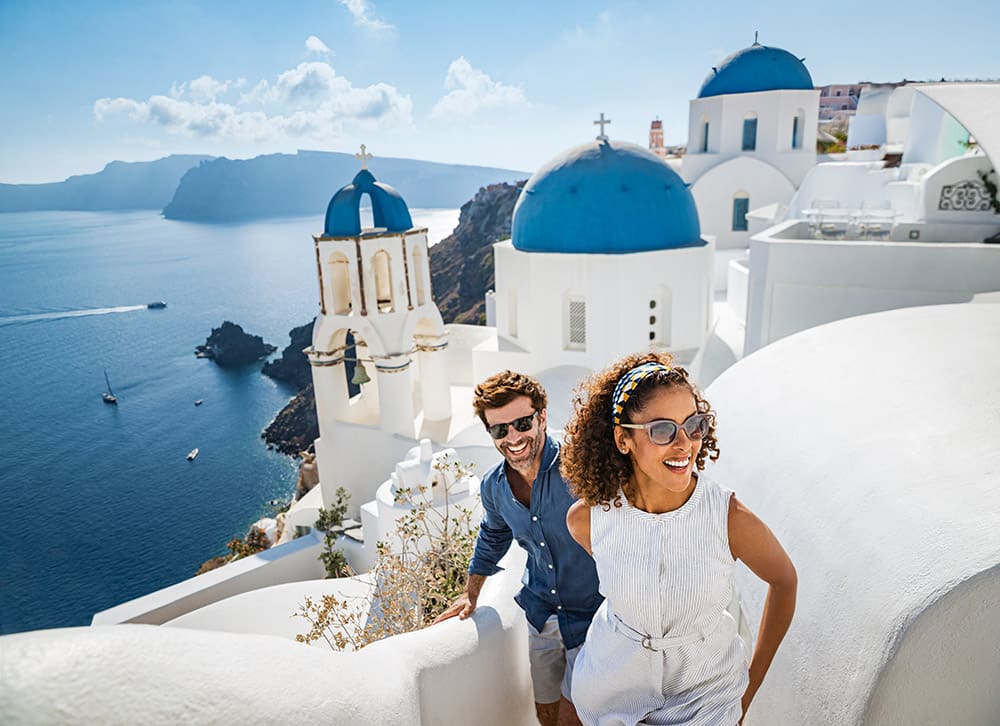 Greek Island Cruises from Rome, Italy
If you want a 2021 Greek Isles cruise departing from Rome, some options include:
7-Day Mediterranean: You'll start this cruise off by visiting Italian ports like Naples and Sardinia, then sail on to Palma (Majorca) and Barcelona in Spain, then back to Italy, where you visit Florence/Pisa (Livorno), before disembarking in Rome.
10-Day Greek Isles and Italy: Visit ports like Dubrovnik (Croatia), Corfu, Santorini, and Mykonos (Greece), and back to Italy, where you'll visit Naples and Florence/Pisa before returning to Rome.
11-Day Greek Isles and Italy: You'll visit Dubrovnik (Croatia), Greek islands Corfu, Santorini, Mykonos and Athens. In Italy you'll visit Naples, Florence/Pisa (Livorno) before disembarking in Rome.
Cruises to the Greek Isles from Athens, Greece
Norwegian offers several cruises from Athens that may also include countries such as Turkey and Israel. If you want to maximize your time in Greece, opt for the following cruise:
10-Day Greek Isles: Round trip from Athens, stopping in Rhodes, Ashdod, Haifa, Kusadasi and Istanbul, then back to Greece you'll visit Santorini before disembarking in Athens.
Cruises to Greece from Barcelona, Spain
If you want to see more than just the Greek Isles, you'll find some cruises from Barcelona that offer more stops in the Mediterranean. One suggested itinerary is:
11-Day Greek Isles: This cruise starts in Barcelona and ends in Athens, with ports such as Florence/Pisa (Italy), Rome, Naples, Dubrovnik (Croatia), Corfu, Santorini, and Mykonos.
No matter where you choose to cruise from, a 2021 Greek Isles cruise is a journey into a picture-perfect cruise vacation. From Santorini's iconic blue domes to the windmills that signal your arrival in Mykonos, you can't go wrong with a Greek Island vacation. Where will you choose to cruise this summer? Tell us in the comments! ¡Opa!