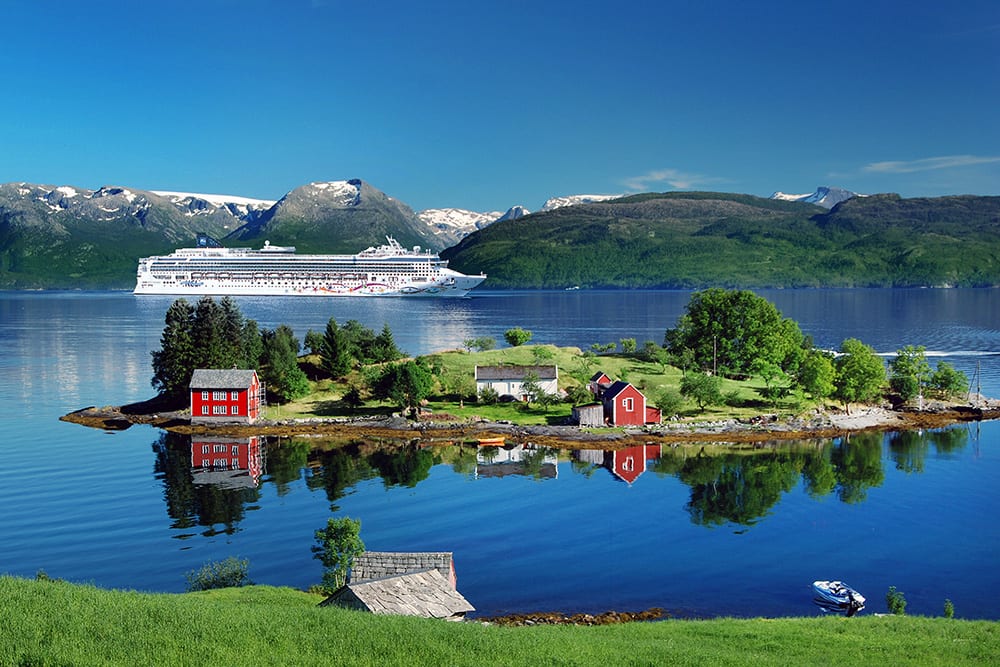 From the scenic fjords of Norway to the charming cities of the Baltic states, Northern Europe offers many experiences that make it an ideal destination for a cruise vacation with Norwegian. With such a diverse climate and varying seasons, choosing the best time to take a Northern European cruise can feel daunting. However, deciding when to cruise to Northern Europe doesn't have to be complicated. Read on to learn more about some of the best months to sail Northern Europe on a Norwegian cruise.
Ready to start planning? Explore all Cruceros en el norte de Europa.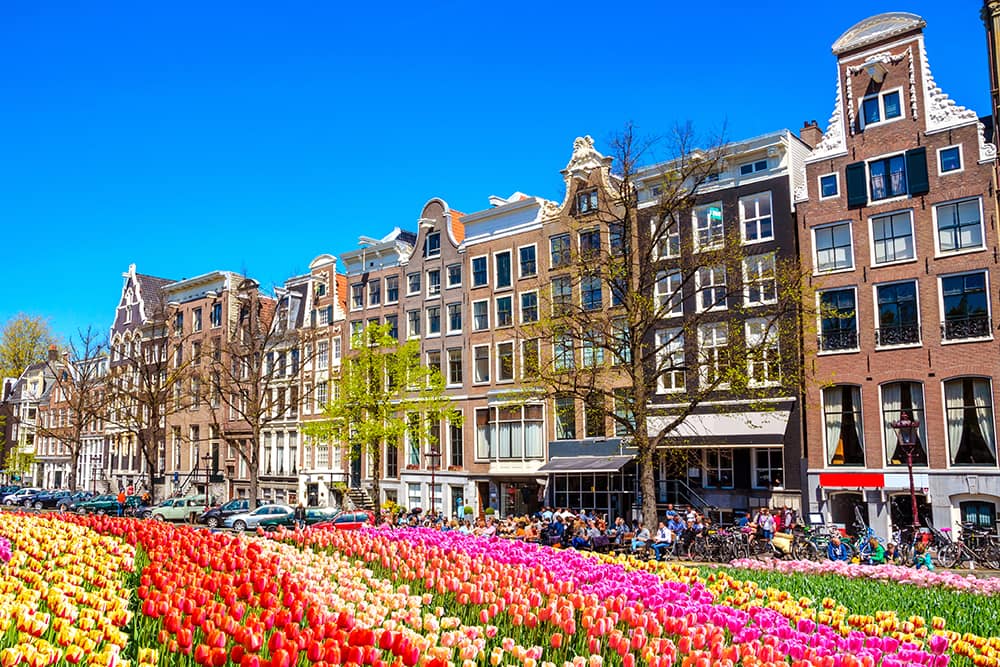 April: Springtime is in Bloom
For Northern Europe cruises, April is an excellent choice to see some spring blooms. Pulg. Ámsterdam, you'll find tulips and sakura trees depending on the time of the month you visit. If you're in Amsterdam at the end of April, you might luck out to attend events for King's Day celebrations. Held every April 27th, cities in the Netherlands become a sea of orange as people party to celebrate the King's big day. If April 27th falls on a Sunday, celebrations occur a day earlier.
May: Enjoy the Warmth
May is an excellent time to visit Northern Europe. With the arrival of spring, the region comes alive with colorful blooms, and the weather starts to warm up. Countries like Dinamarca, Norway, and Sweden already see up to 18 hours of daylight in some places. Explore the region's natural beauty, such as the Norwegian fjords, where you can enjoy scenic hikes or take a boat tour. May is also considered shoulder season, so you can expect fewer crowds and possibly cheaper cruise rates.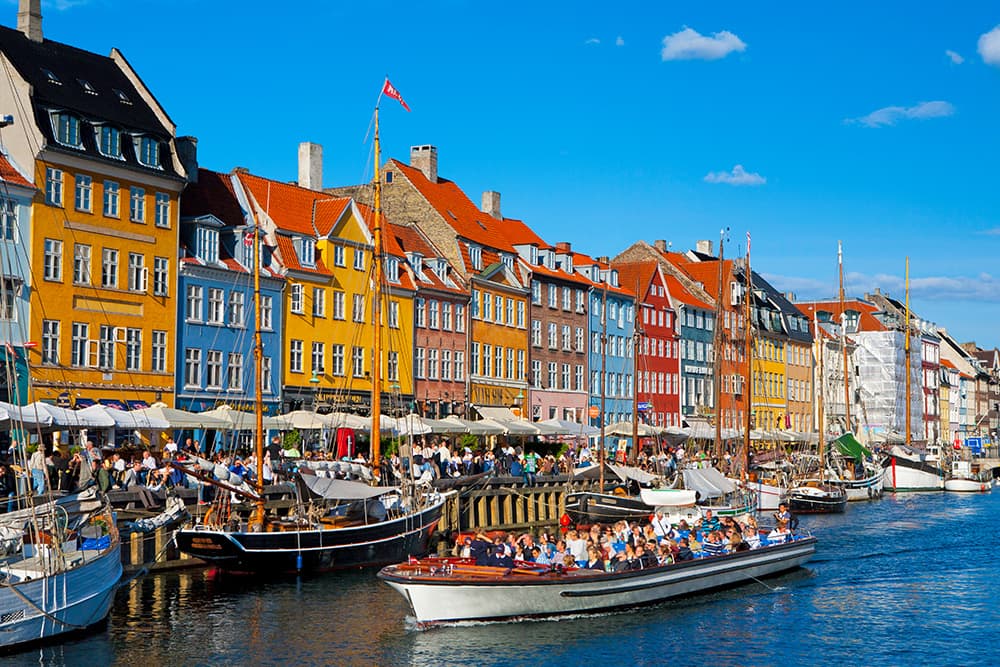 June: Welcome the Summer Solstice
June is another great month to book a cruise to Northern Europe, especially if you're interested in a Greenland and Iceland cruise. When the Summer Solstice hits, you'll have almost 24 hours a day of sunlight. Tourism is increasing, but you'll encounter fewer people in June than in July or August.
June is also one of the warmest months in the Baltic Sea, ideal for a Northern Europe cruise that includes one or more stops in the Baltic States, such as Estonia, Latvia, and Lithuania. The weather is perfect for many countryside excursions, including a visit to a local farmhouse in Riga, Latvia, o Juodkrante, Lithuania, the oldest fishing village on the Curonian Spit.
CRUCEROS RELACIONADOS:
10-Day Northern Europe Cruise: Iceland & Norway to London
16-Day Northern Europe Cruise: France, England, Ireland & Germany
10-Day Northern Europe Cruise: Dublin, Belfast, Cork & Galway
July: Longer and Warmer Days
July starts the peak travel season in Europe, including Northern Europe. Because it's the most popular time to travel, you're likely to find sailings might sell out sooner. With some of the longest and warmest days, July is ideal for Norwegian sailings that stop in Scandinavia. Consider a cruise that departs from Estocolmo, Suecia, and stops in several exciting port cities throughout Northern Europe. Or, book a cruise departing from Oslo and visiting iconic towns in Norway, Iceland, the Faroe Islands, and the Shetland Islands.
August: Summer is Winding Down
August is still a peak travel month in Northern Europe, filled with plenty of sunshine and long days. Summer is winding down, but pleasant temperatures will still welcome you. August is historically one of the hottest and driest months for the British Isles. Consider a cruise departing Copenhagen that visits Scotland, Northern Ireland, Ireland, and more. Embark on exciting excursions to explore majestic countryside castles or go in search of Nessie on Loch Ness. Learn more about Whiskey and Scotch and have a pint of Guinness in Dublin at the Guinness Storehouse.
September: Enjoy the Colors of Autumn
September is the beginning of the autumn season in Northern Europe, offering some picturesque landscapes as leaves begin changing color. You typically won't see the fiery red leaves like you're used to in the United States. Instead, you'll find a beautiful array of yellow shades.
Temperatures are starting to cool, and days are becoming shorter. However, the trade-off is fewer tourists and possibly cheaper fares, depending on the destination. Consider an Iceland cruise if you're hoping to see the Northern Lights. They typically start back up in September as Iceland is down to less and less daylight.
October: Northern Europe Cruising Season Winds Down
October is the end of the cruise season in parts of Northern Europe. If you want to travel to cities like París, Brussels, and Amsterdam, the summer crowds are gone. With the arrival of autumn, the region's landscapes are transformed into a riot of color. Expect to pack a heavy jacket as temperatures drop even more, especially the further north you travel.
Deciding Which Month Is Best For Cruising
The best months to cruise in Northern Europe depend on your desired experience. May to August are the ideal months if you're looking for warmer weather and want to enjoy outdoor activities. If you want to avoid crowds and enjoy autumnal landscapes, September and October are the best months. Like other destinations, weather in Northern Europe can be unpredictable. Packing layers and anticipating a destination might be warmer or colder than you expect is always a good idea.
Another factor that can impact your decision on when to cruise is price. Booking shoulder season might be the best option if you want to save money. Skip cruises over the peak travel months of July and August and look for more budget-friendly options such as May, September, or October.
Ultimately, the best month to cruise Northern Europe is a personal choice. Norwegian offers a wide selection of destinations and itineraries that will check off all your boxes and provide an unforgettable cruise vacation.
Are you still searching for the best Northern Europe cruise itinerary for you and your travel companions? Be sure to sign up for Norwegian cruise deals. You'll get the latest special offer and deals delivered right to your inbox. This way, you know you're getting the best deal possible when booking your dream Northern Europe cruise on Norwegian.