Think you need to wait until your kids are a little older to enjoy a cruise? Think again! Norwegian offers an abundance of family-friendly cruises that are sure to be a memorable getaway for the whole family. Cruising with a baby has its challenges, but Norwegian has thought of everything so that even new families can enjoy a much-needed getaway.
¿Listo para empezar a planificar? Explora todos los Family Friendly cruises.
Upgrading Your Room Is Worth the Cost
Gone are the days of cramped staterooms. When you cruise with Norwegian, you can choose the size room that best suits your family size. A balcony cabin will come in handy when you want to enjoy the ocean views while the baby is napping. Multi-family staterooms can hold up to eight, so you can bring along the grandparents for some new baby bonding (and maybe talk them into babysitting for a night).
Multi-room staterooms with balconies, living rooms, and full bathrooms give you all the room you need when cruising with a baby. The connecting staterooms are perfect for larger families who prefer to be close, but not too close. Upgrade to one of the exclusive enclave rooms for your own concierge and 24-hour butler. Packing with a new baby can be overwhelming, but that's another good reason to upgrade. The extra room will come in handy for all those extras. These rooms are where you'll create lasting, cherished memories of your new family's cruise.
Norwegian Joy also takes you on an immersive fall cruise with stops in Maine, Cape Breton Island, and Prince Edward Island. You and your family will enjoy the two-level racetrack or laser tag centers when you're not enjoying nature's fall show. Squeeze in a little adult time at the award-winning casino or memorable nightclub with its own acrobatics show.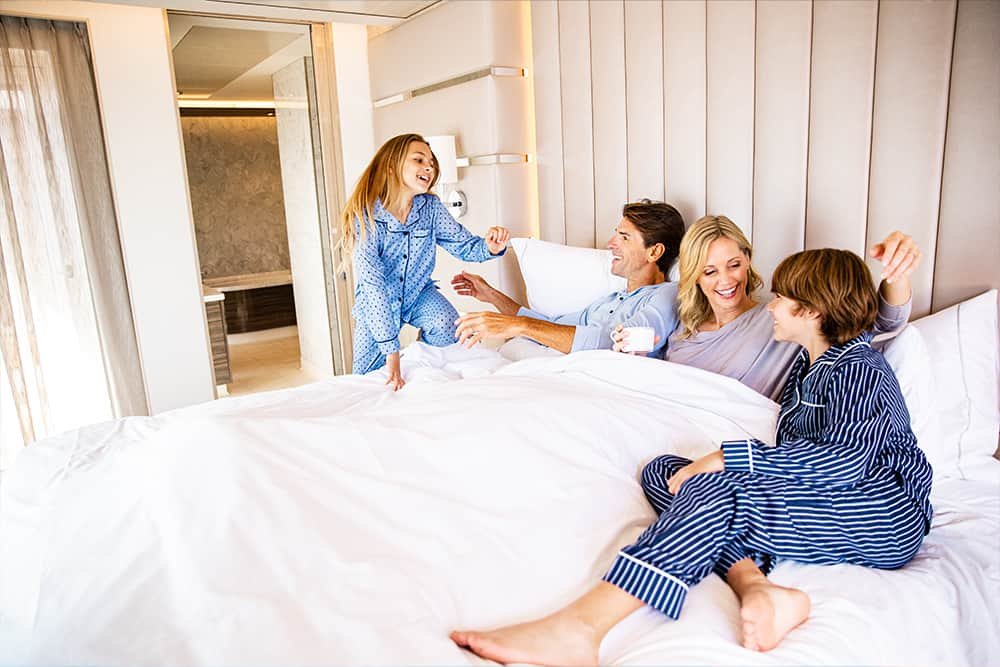 Family Friends Make the Trip More Fun
Access to onboard resources and programs means making friends with other families is a breeze. Norwegian's Guppies program is designed for kids from six months to three years. This program is specifically designed for parent-child time on your cruise vacation and are geared toward new families, which also makes them a great place to meet other new moms and dads on board.
Youth Programs Offer a Little Relief
Norwegian's complimentary youth programs mean you can drop the older kids off for a day of fun while you focus on a little "me" time. We could all use a kid-free meal or a day at the spa. Norwegian Cruise programs are designed to entertain your children. They'll be surrounded by other kids in their age range while they enjoy exciting entertainment in a safe, supervised environment.
Splash Academy focuses on a creative, energetic experience for kids from 3 to 12 years. Sending your teens off for an afternoon of video games, art, sports, and music just means you get more time to relax and unwind. Themed party nights are also a favorite among older kids.
Take Advantage of Quiet Retreats
Cruises often get a reputation for being lively. However, there are plenty of quiet retreats on Norwegian cruises, including atriums, card rooms, and decks lined with lounge chairs. Grab a seat on one of the waterfront lounges to enjoy a few moments of peace and quiet. Even watching the people on the onboard jogging walking track found on many Norwegian cruises is a great way to get outdoors with a new baby.
Know What To Pack
Knowing what to pack can help you keep luggage to a minimum. A compact stroller and baby carrier will come in handy for exploring the cruise. A comfy travel crib gives the baby a safe, secure place to sleep. Don't forget enough outfits for each day of the cruise, plus a few outfit changes. An inflatable bathtub is a must since most staterooms don't come with a bathtub.
Losing bottles is easy, so you can never have too many. Finally, don't forget to bring sunscreen that's safe for children under a year. A favorite stuffed animal or pacifier can also be a lifesaver as they get used to their new environment. Sun-proof outfits are also perfect for babies.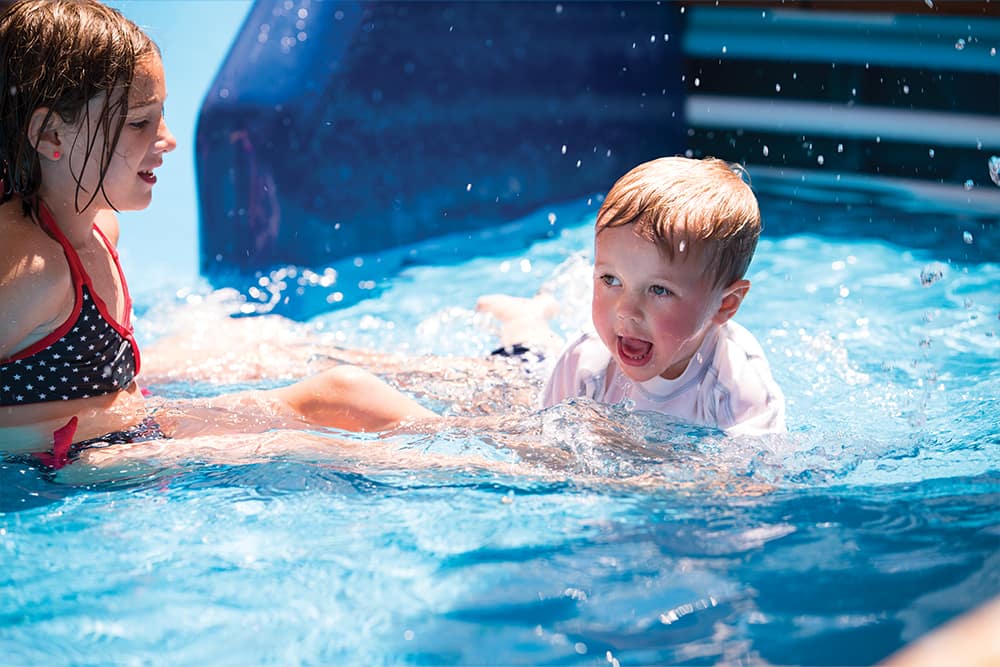 Go With the Flow
A cruise vacation can be enjoyable with a baby. Going with the flow and taking each day as it comes is a great way to manage expectations and learn how to cruise with your baby. Try to time family activities around the baby's mood for the day. Babies may sleep more after an exciting day cruising with Norwegian. Keeping the fun to a minimum before arriving at a busy port stop can also make the day go smoother.
Choose a Norwegian cruise closer to home with a shorter schedule to test out the waters. Cruising el Caribe and New England are both great options. Chances are, you'll have so much fun that you'll book your next cruise soon after you return!
Norwegian welcomes families with babies, as long as they're six months or older. With a little preparation and choosing the most family-friendly Norwegian cruises, you can have a memorable cruise vacation as a new family. Can't decide on your first family cruise destination? Make sure you sign up to receive information on the best deals.