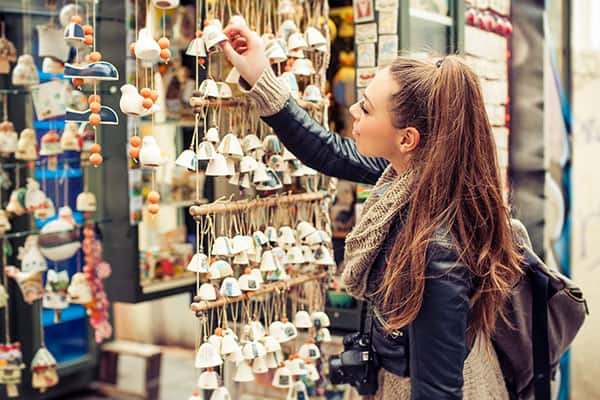 While you can always shop on board Norwegian Cruise Line Ships, the Mediterranean offers a vast array of gifts for yourself, or friends and family back home. Besides standard soccer shirts and Eiffel Tower key rings, there are much better choices that will invoke memories of your travels for months to come. Here are my picks for the best souvenirs to pick up on a Mediterranean cruise!
France
When I think of France, it conjures up delectables like indulgent chocolate, hot chocolate, and those oh-so-colorful (and gluten free!) macarons. Which are quickly followed by thoughts of sumptuous coffee and tea, or a glass of really good red wine. Any of these would make for wonderful gifts from France! But so would a perfumed candle or skin care products from a traditional pharmacy. Small coffee table art books and French fashion magazines, along with stationery items including notebooks and calendars, all make for meaningful gifts. There are also plenty of Parisian-inspired artwork and illustrations to choose from, including sets of framable postcards, plus you may find the perfect antique at a flea market. If you decide to break the bank, shop for a designer Hermès scarf.
Greece
The Greek Isles always make me think of enjoyment - celebrating life through good food, music and quality family time. Souvenirs to pick up on a Greek cruise include their famous local honey, olive oil, and fresh herbs, spices and teas. You can accompany these gifts with a bottle of wine, anise-flavored Raki or traditional Ouzo. Music fans may enjoy a bouzouki (Greek guitar), while others may love a handmade backgammon set. Natural cosmetics and skin care are big sellers, and the same applies to handcrafted leather sandals, as well as popular evil eye talisman jewelry.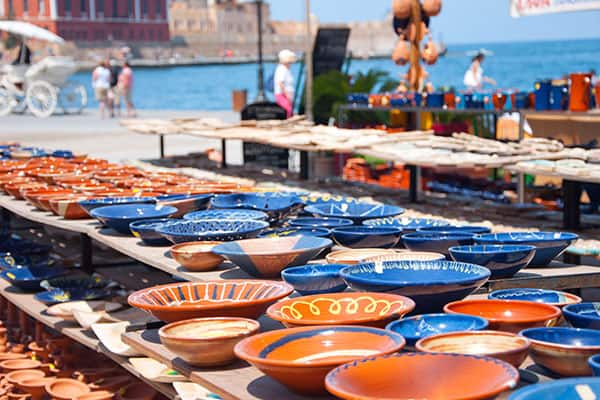 Italy
In my opinion, a trip to Italy is all about food and wine. Some of the best souvenirs to buy here include locally pressed olive oil, handmade dried pastas, balsamic vinegar, and wines or Linomcello, a popular lemon-flavored liqueur. Hand-decorated Amalfi coast ceramics could also satisfy culinary lovers. If you have an avid holiday fan in your family, consider Nativity figurines, while kids may enjoy hand-carved wooden marionettes. If Italian fashion is more your thing, take a look at colorful Murano glass jewelry, silk scarves and ties, as well as leather goods including belts and luxury, buttery soft gloves.
Portugal
Since Portugal is the worlds' largest producer of cork, it's no wonder some of the most popular items to pick up here include lightweight cork souvenirs like wine stoppers, jewelry, wallets and more. Olive oil and traditional port wine are always good choices, as are specialty liquors like Ginjinha (sour cherry liqueur) and Medronho fruit brandy. If you're visiting the Canary Islands, be sure to grab a bottle of Mojo sauce, that's widely used for dipping and marinating. Other great buys in Portugal include leather shoes and boots, along with glazed ceramic accent tiles (individual and mural sets).
Spain
Besides rich coffees and herbal teas, the Spanish love their sherry and Cava, a sparking white or rosé wine. A traditional guitar may strike a cord with your music loving friend, while Majorca pearls or gold and silver jewelry may be a better choice for the bling lovers. Castanets are fun souvenirs, as are colorful Flamenco fans and dresses for girls, or perhaps a Flamenco figurine would do the trick.