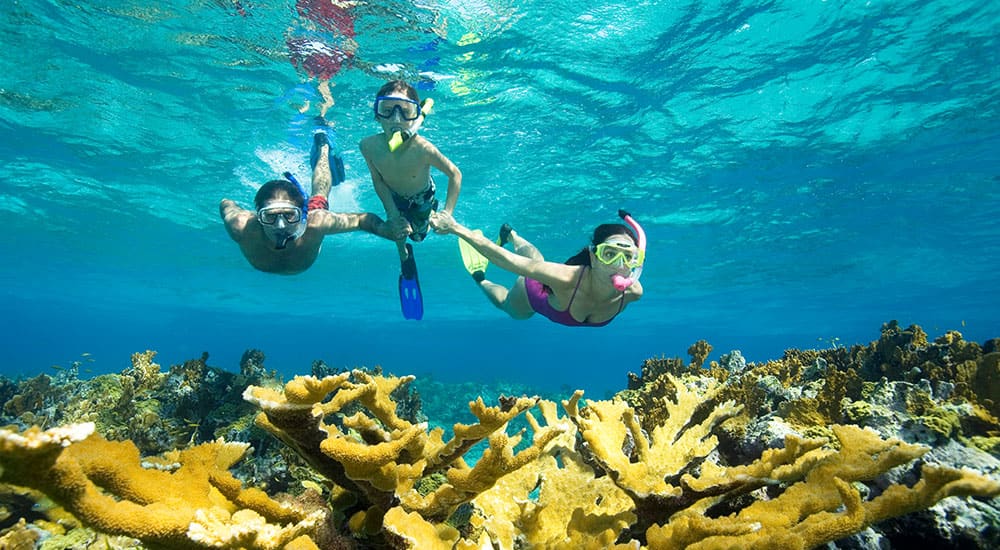 Dreaming of a Caribbean getaway to escape the freezing temperatures at home and cure your winter blues? Snorkelling is one of the best ways to enjoy the warm waters of The Caribbean. From the world's largest living barrier reef in Harvest Caye, Belize, to sunken ships off the coast of Bermuda, there's a whole underwater world just waiting for you to discover. In fact, you'll find some of the best snorkelling beaches and islands scattered across The Caribbean. Norwegian Cruise Line offers many exciting Caribbean itineraries, giving you the chance to explore them all.
Eastern Caribbean Cruises
Hit up one of Orlando's world-famous theme parks or the Kennedy Space Centre before boarding the Norwegian 7-Day Eastern Caribbean from Orlando. At your first port of call, Tortola, British Virgin Islands, snorkel the pristine waters surrounding an uninhabited island that's said to have inspired the Robert Louis Stevenson novel "Treasure Island." Alternatively, head to the island of Virgin Gorda to experience one of the best beaches in The Caribbean for snorkelling, The Baths. Sunbathe on the beach, or snorkel and discover the abundant marine life. The choice is yours.
When it comes to the best Caribbean islands for snorkelling, few compete with the U.S. Virgin Islands. Choose from a wide variety of snorkelling excursions during your time in St. Thomas. Enjoy a scenic safari bus ride to Mangrove Lagoon Wildlife Refuge & Marine Sanctuary for an unforgettable, fun-filled day kayaking, hiking, and snorkelling around the coral-fringed mangrove lagoon. You can even explore the underwater ruins of a shipwreck. Other exciting St. Thomas adventures include sailing on a catamaran or Turbo Power Cat to snorkelling spots in the clear, blue waters of St. John beach, Island Cove, and Buck Island.
Western Caribbean Cruises
For some of the best Caribbean snorkelling, check out Norwegian's 7-Day Western Caribbean from Miami cruise. In Harvest Caye, enjoy a short scenic boat ride to your snorkel site along the beautiful barrier reef. In addition to a vast array of colourful reef fish, coral formations, sponges, sea fans, and sea anemones, keep your eyes peeled for spotted eagle rays, starfish, queen conchs, and sea cucumbers.
Continue your snorkelling adventure when your cruise docks in Costa Maya, Mexico, one of the newest ports in The Caribbean. Once open only to the most seasoned underwater enthusiasts, Costa Maya now welcomes snorkellers of all skill levels. Experience an abundance of marine life, including butterfly fish, parrotfish, eagle rays, and angelfish on the Norwegian Beach Snorkel Adventure excursion.
In Cozumel, Mexico, visit one of the best beaches in The Caribbean for snorkelling, Playa Mia Grand Beach Park. Soak up the sun on the white-sand beach, and when you're ready to cool off, simply wade into the azure waters to do a little snorkelling. Be sure to visit Anthony's Key Resort, one of the best Caribbean snorkelling spots in Roatán, Bay Islands, Honduras. Here, enjoy swimming and snorkelling with more than a dozen Atlantic bottlenose dolphins. After your dolphin experience, enjoy souvenir shopping and sightseeing throughout the resort's incredible grounds.
Southern Caribbean Cruises
Check out Norwegian's 10-Day Southern Caribbean from New York cruise if you want to make memories that last a lifetime. Whether you choose to stroll the romantic streets of Old San Juan in Puerto Rico, hike at the base of the Piton peaks in St. Lucia, or breathe in the heavenly floral scents at the botanical garden in St. John's, Antigua, you'll have the time of your life. But no trip to the Southern Caribbean is complete without taking a dip in the deep-blue sea.
As noted earlier, you'll find no shortage of snorkel excursions in St. Thomas, U.S. Virgin Islands, but perhaps none more memorable than Sapphire Beach. Considered one of the best beaches in The Caribbean for snorkelling, enjoy panoramic views of nearby St. John and Tortola as you swim through reefs filled with tropical fish, turtles, and coral. In Basseterre, St. Kitts, grab your goggles and snorkel through virgin reefs teeming with volcanic corals, tropical fish, large turtles, eagle rays, saltwater chub, and snapper.
You'll also have the chance to enjoy some of the best Caribbean snorkeling with Norwegian's St. Lucia Catamaran Snorkel & Sail excursion, or for a once-in-a-lifetime experience, sign up for the Kayak & Snorkel Adventure in St. John's, Antigua. After a short, scenic drive, your kayak adventure begins in a remote lagoon surrounded by tiny islands and mangroves. After, head to an offshore reef to snorkel in search of local marine life.
Wish you could trade your sneakers for a pair of flip-flops and a few days of sun and sand? Why not say farewell to your busy timetable and escape to the warm waters of The Caribbean? If you're dreaming of your next underwater adventure, visit the Norwegian website to learn all about the best snorkelling cruises in The Caribbean. Whilst you're there, be sure to sign up for emails from Norwegian to stay up to date on the latest cruise deals, news, and itineraries.