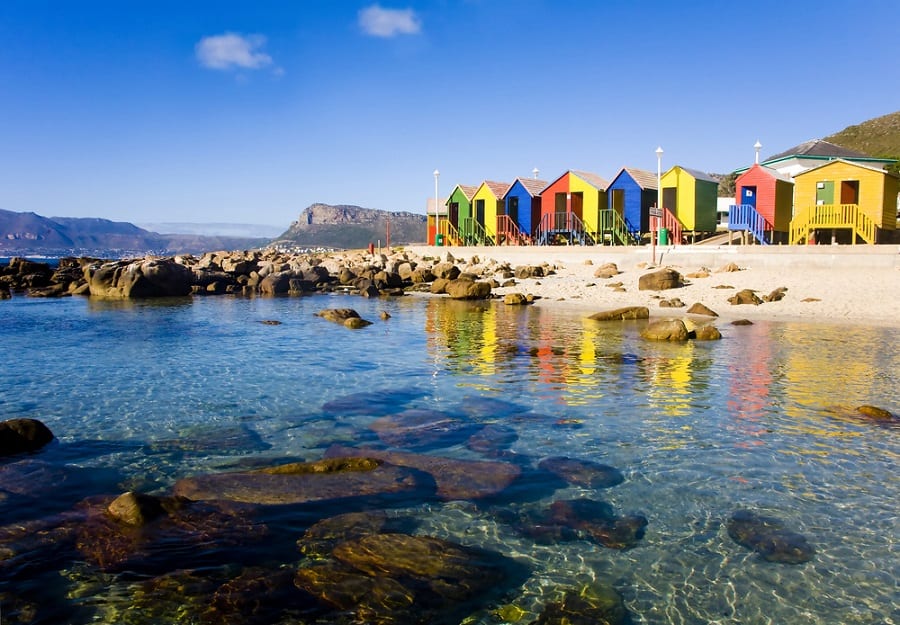 Are you considering an Africa cruise? Norwegian has three cruise ships traveling to exotic ports in South Africa to help challenge your idea of a great vacation. Currently, three Norwegian ships visit various ports in Africa — Norwegian Dawn, Norwegian Jade, and Norwegian Spirit. Here's what you can expect onboard each of these cruise ships.
1. Norwegian Dawn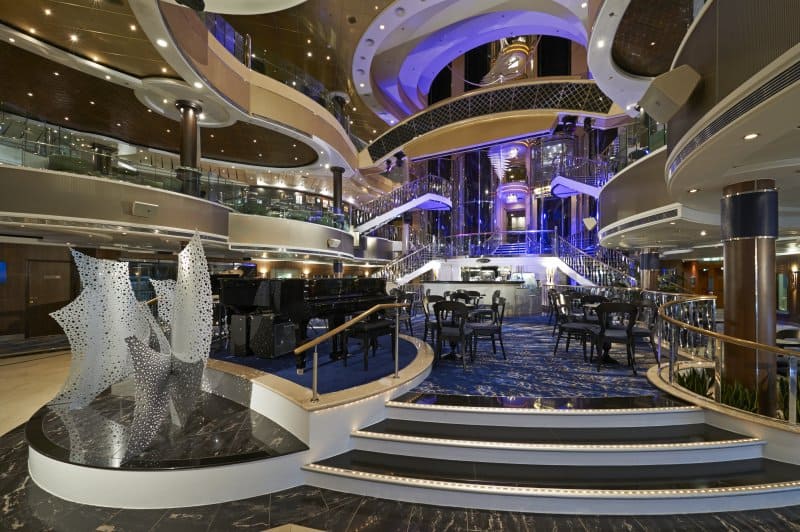 Norwegian Dawn was built in 2002 and underwent a major refurbishment in 2016. The ship holds 2,340 passengers and is 965 feet in length. This ship is great for couples, families, and even solo travelers.
Accommodations on Norwegian Dawn include:
Inside cabins, including family inside; these have a sitting area, TV, and more.
Oceanview cabins, either with a large picture window or porthole window view.
Balcony cabins with floor-to-ceiling glass doors, including aft-facing and family cabin options.
Mini-Suites with sliding glass doors, luxury shower and bath, room for four people, and more.
Suites that include luxurious options like a three-bedroom garden villa, deluxe owner's suite, penthouse suites, and owner's suite with two balconies.
Specialty dining options on board Norwegian Dawn include options like Los Lobos, offering authentic Mexican cuisine, and Moderno Churrascaria, a Brazilian steakhouse. Other options include sushi, an American-style steakhouse, Italian, French, and a Teppanyaki grill.
There's no shortage of places to get a drink onboard Norwegian Dawn either. Bimini Bar will make you feel like you're on the islands, while Gatsby's Champagne Bar and The Cellars - A Michael Mondavi Family Wine bar are perfect spots for a glass of Champagne or wine. Other specialty bars include sake and mojito bars.
Entertainment options on Norwegian Dawn include shows like Elements and Soul Rockin' Nights. When it comes to staying active onboard, you can shoot hoops, play a game of volleyball, run laps on the jogging track, or work out in the fitness center. If you want some downtime, schedule an appointment at Mandara Spa & Salon. If you are traveling with kids, there are several special kid zones onboard as well.
Currently, Norwegian Dawn is the ship you'll be on when you book a 21-day African safari and Seychelles cruise vacation. Your trip embarks in Dubai, and you'll visit Abu Dhabi before heading to the Seychelles, Madagascar, Mauritius, and Reunion. You'll finish with South African ports like Port Elizabeth, Mossel Bay, Richards Bay, and Cape Town.
2. Norwegian Jade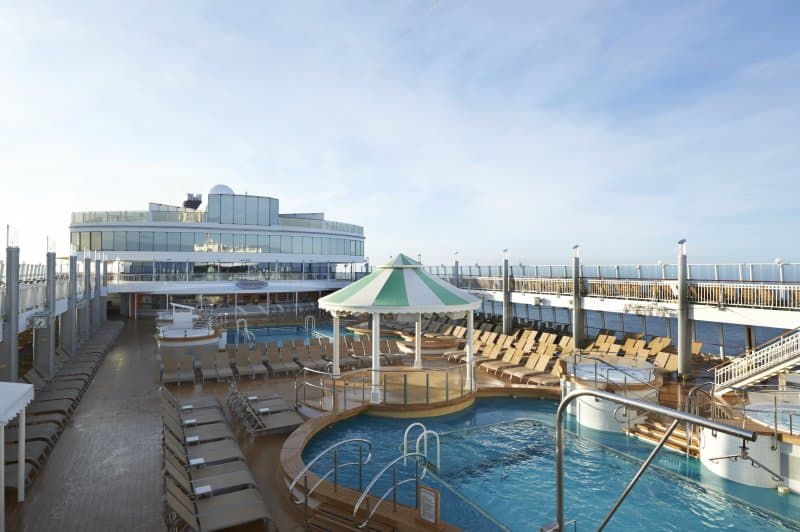 Norwegian Jade was built in 2006 and was refurbished in 2017. It can hold up to 2,402 passengers and has a crew of 1,037. There are more than 16 dining options onboard, including a number of specialty dining options. Make a reservation for restaurants Le Bistro, our signature French restaurant, or Cagney's, our American-style steakhouse. Other options include a Brazilian steakhouse, sushi, Teppanyaki, and Italian.
Grab a drink at one of Norwegian Jade's specialty bars like Malting's Beer & Whiskey Bar, the Sake Bar, Mixers Martini & Cocktail Bar, or Sugarcane Mojito Bar.
Accommodations on Norwegian Jade are similar to Norwegian Dawn. This includes multiple inside cabins, ocean view cabins with porthole and picture window views, balcony cabins with floor to ceiling glass doors, and mini-suites with luxurious baths and showers.
In addition to a collection of suites on Norwegian Jade, there is also The Haven collection. These are the most luxurious suites and are located at the top of the ship. Here you'll have 24-hour butler service, a private sundeck, and concierge service. Options in The Haven collection include:
Penthouse with balcony.
Two-bedroom family villa with balcony.
Owner's suite with large balcony.
Deluxe owner's suite with large balcony.
Three-bedroom garden villa.
Norwegian Jade offers similar activities to Norwegian Dawn, and entertainment includes shows like Elements. In addition, you'll find Blazing Boots, a pop-country tribute, and Palace of Lights, a lively musical.
Several Asia cruises also include stops in Africa, like the 20-day Southeast Asia and Abu Dhabi from Singapore cruise that hits the Seychelles or the 22-day Greece, Israel, and Egypt from Dubai cruise.
3. Norwegian Spirit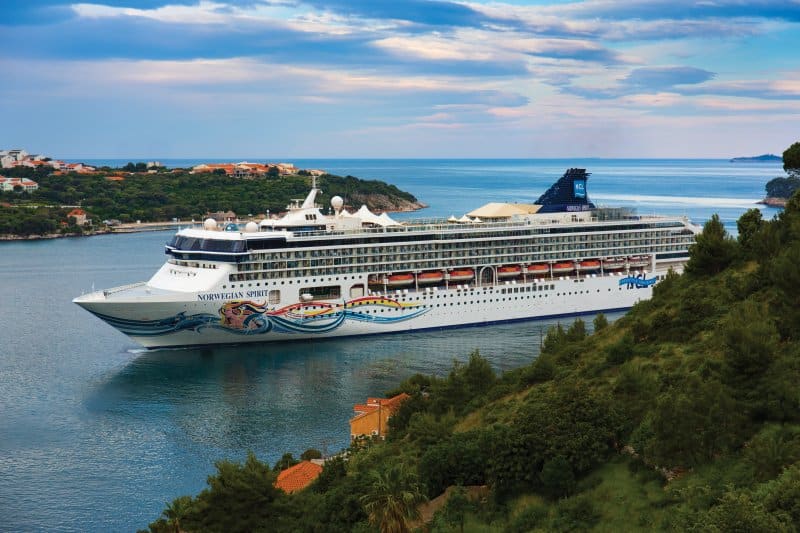 Norwegian Spirit was built in 1998 and was refurbished in 2017. It can hold 2,018 passengers and 912 crew members. Accommodations are similar to Norwegian Dawn, with inside and ocean view cabins, balcony rooms, and suites. There are no mini-suites on Norwegian Spirit, nor does it offer The Haven Collection Suites.
Bars onboard Norwegian Spirit include a Bier Garten, Henry's Pub, Champagne Charlie's, Shanghai Bar, Maharini's Lounge & Nightclub, and a cool Galaxy of the Stars Observation Lounge. If you are traveling with kids, they'll stay busy at Buccaneer's Wet and Wild Pool, the Celebrity Teen Disco, or the kids-only Splash Academy.
Onboard entertainment includes the Elements show and there is no shortage of things to keep you busy onboard either, including a basketball court, golf driving net, and fitness center. Looking for a quiet place to escape? Stop by the Writing Room where you can spend time journaling or writing a few postcards, or head to the Lifestyle Room & Internet Cafe if you need to connect and send a few emails.
Africa cruises on Norwegian Spirit include the 20-day exotic expedition to the Seychelles, Madagascar and South Africa that embarks in Dubai and the 24-day Indian Ocean explorer cruise that embarks in Cape Town and visits other South Africa ports like Mossel Bay, Port Elizabeth, and Richards Bay, as well as Mauritius, Reunion, and the Seychelles.
To keep up to date on the latest news and discounts, sign up with your e-mail to receive updates about Norwegian's latest cruise deals.