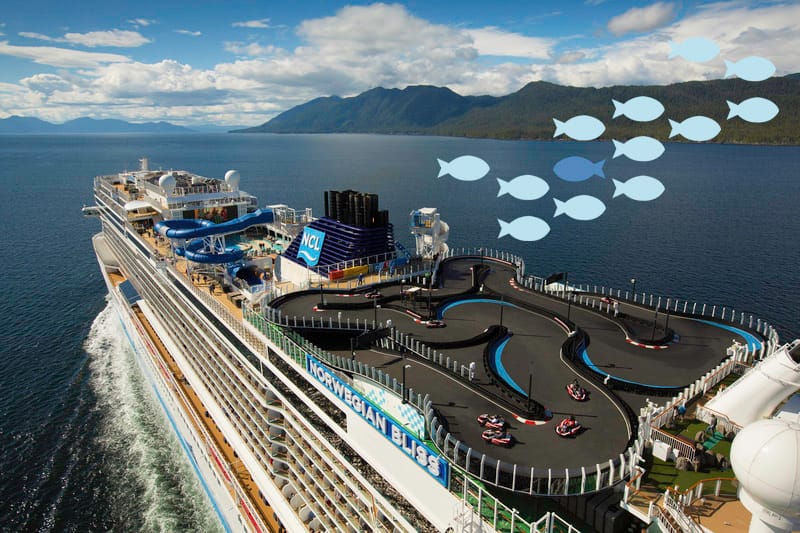 Rebel Fish: A Year of Firsts
As the calendar year begins to wrap up, some of us at Norwegian have been reminiscing about the trailblazing year we've enjoyed. This was the year we welcomed Norwegian Bliss to the fleet, with the largest race track at sea. It was also the year we announced a brand new cruise terminal at PortMiami, and the first time a ship became one of Time's "Word's Greatest Places." Of course, these are just a few of Norwegian's trend-setting moments.
Norwegian Cruise Line has been a leader in the industry for over 50 years. We were the first to offer an exclusive private island to cruise guests (Great Stirrup Cay), we were the first to offer WiFi on board, we were trailblazers in offering an air and sea program, and, most recently, we were the first to boast a race track at sea. It should come as no surprise then that in 2006, the rebel fish logo was born as one of our brand tenets, showcasing our tendency to always swim against the current. Twelve years have passed since the rebel fish found a home with our brand. But the innovation has only ramped up.
In keeping with that tradition, let's look back at some of Norwegian's top trend-setting moments. Here are some other facts you may not know about Norwegian Cruise Line.
In true rebel fish fashion, Norwegian was the first to:
Offer themed cruises (Jazz, Sports, Nascar)
Provide a kids' program on board, called Kids Crew (You probably know it now as Splash Academy)
Launch a website in 1995
Offer internet on board, with an internet café in February 2000
Sail roundtrip from Honolulu on a non-US flagged ship on Norwegian Dynasty
Offer Alaska sailings from Seattle in May 2001
Have a dual ship christening for Norwegian Star and Norwegian Sun in November 2001
Offer WiFi on board in September 2002
Offer cell service in June 2006
Have a ship with a bowling alley on board Norwegian Pearl
Were you on board for some of these exciting milestones? Share with us in the comments! We'd love to hear about our guests' favorite Norwegian moments!