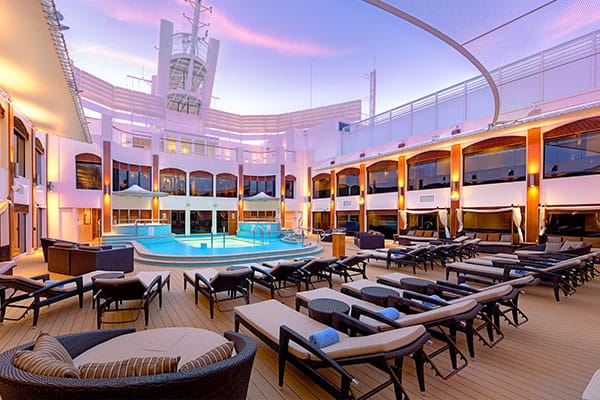 While there's plenty to love on a Norwegian cruise, there's one place on board that will turn your vacation from great to perfection. Hidden away at the top of the ship is The Haven by Norwegian, home to our most luxurious, well-appointed and spacious accommodations. Where glorious rooms meet unmatched pampering, a cruise in The Haven is like cruising in first-class. If you can swing it, here's why spending a little more for this exclusive enclave may be worth your whilst.
Ready to start planning? Explore all Norwegian cruises.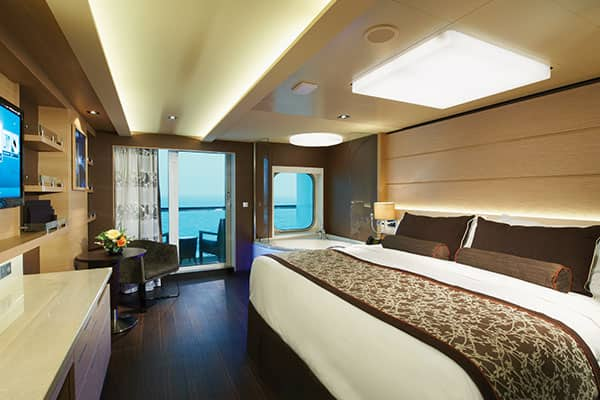 Accommodation
If you have to pick The Haven for one reason and one reason alone, let it be for their accommodations. Not only are these rooms beautifully decorated, they are the most spacious. If you are travelling in a big group there's nothing better than the 3-Bedroom Garden Villa, one of the grandest rooms Norwegian has to offer. Complete with a courtyard, hot tub and a sprawling living room with a baby grand piano, the 3-Bedroom Garden Villa is the ultimate way to cruise.
If you are travelling in a smaller group, stay in the Deluxe Owner's Suite with Large Balcony or Owner's Suite with Large Balcony. These rooms, though smaller than the 3-Bedroom Garden Villa, do not skimp on luxury. Sweeping floor to ceiling views and private balcony makes these rooms worth the price tag.
For those who are looking for something more intimate I suggest unwinding in The Haven Spa Suite with Balcony. Offering an oversized waterfall shower with body jets, in-room Jacuzzi, and free access to the Thermal Spa Suite, this room is the ultimate way to relax and rejuvenate.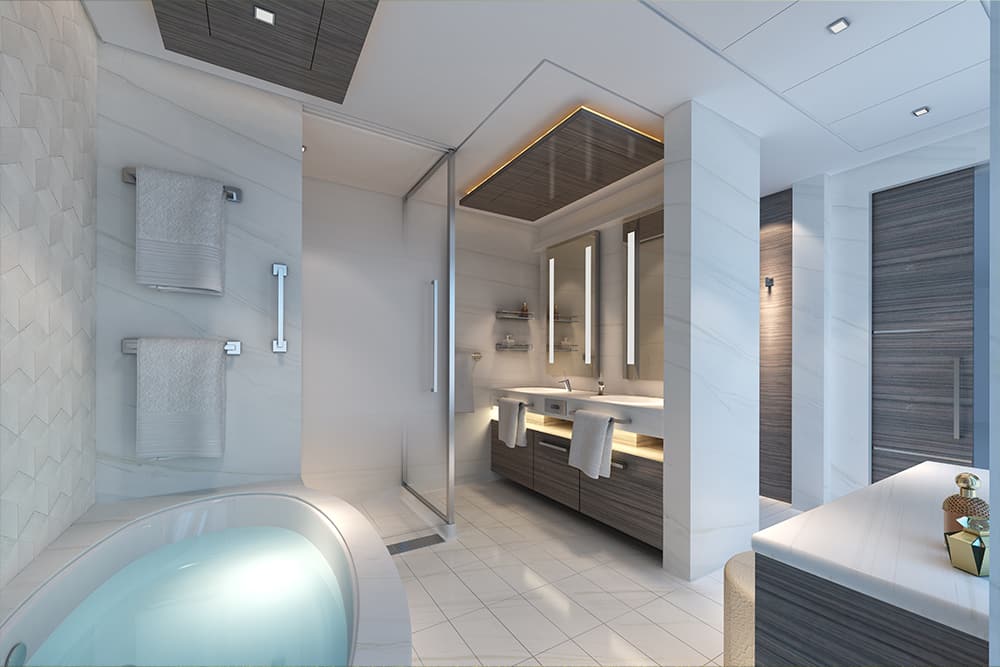 Private Venues
Gone are the days of elbowing through buffet crowds or fighting for the last deck chair because The Haven offers exclusive venues only accessible by Haven members. In The Haven Lounge you'll find a comfortable seating area perfect for meeting other Haven guests and a private bar ready to concoct your favourite drinks.
The Haven Lounge opens up to The Haven Courtyard where you will find a pool, multiple hot tubs and a private sun deck with plenty of loungers for you to enjoy. Keep an eye out for the deck valets who come around with complimentary wet towels and cold fruit skewers! If you have a hankering for something more, make your way to The Haven Restaurant where you can order items such as Foie Gras, Grilled Atlantic Cod, and Whole Roasted Prime Rib.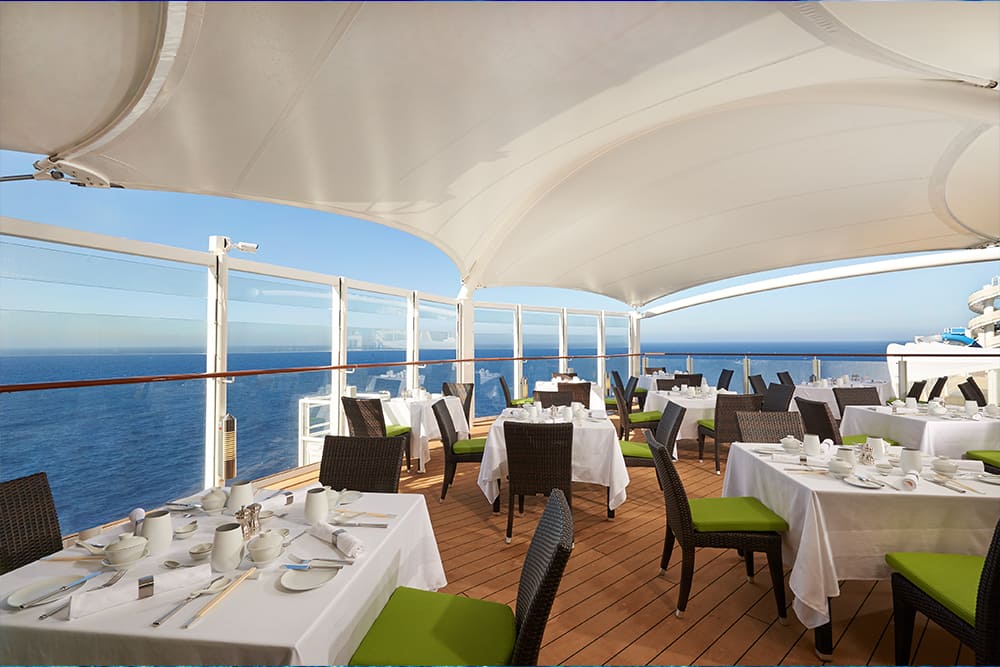 Unparalleled Service
If you like to be pampered you're in the right place. Haven guests are the only people on board that will have access to a 24-hour trained and certified butler. Waiting on your beck and call, your butler can assist with tasks ranging from pouring your champagne, setting up in suite dining, and even unpacking and packing your suitcase.
In addition to that you have access to a private concierge, perfect for a stress free holiday. Whether you want to make a last minute reservation in a Speciality Restaurant, attend a Broadway show or register for a Shore Excursion, your private concierge can pull together your plans in a drop of a hat.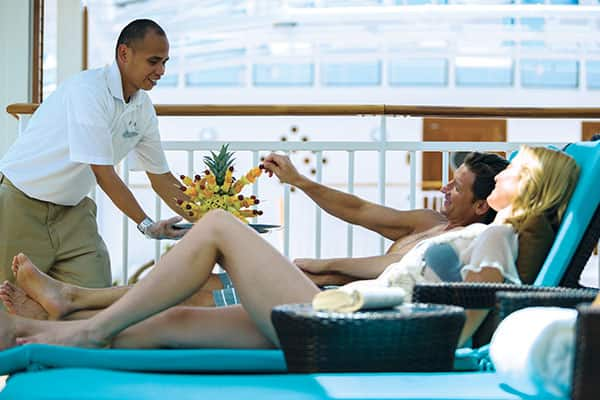 Exclusive Amenities
As if all of this wasn't enough, as a Haven guest you will receive exclusive extras. Personal favourites include a complimentary bottle of French Champagne or Sparkling Wine, a bottomless fruit basket, savory or sweet gourmet treats delivered to your room each evening, and a special cocktail party with the ship's officers!
A cruise on Norwegian will bring you to beautiful destinations on a ship with more options than you'll know what to do with. If you want a holiday experience like no other, cruise in The Haven, where luxurious accommodations, unparalleled service, and indulgent amenities are the standard. Once you have the best of the best in The Haven, you'll never want to cruise any other way.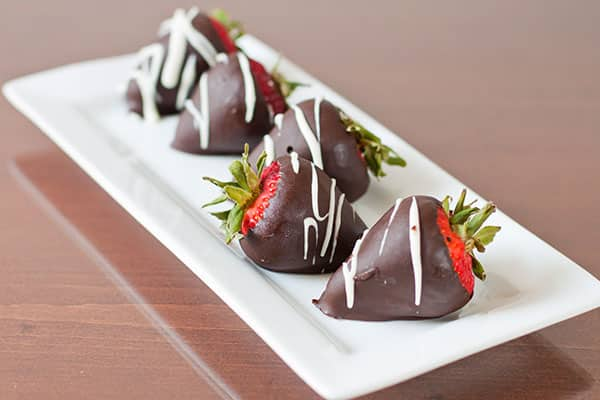 If you are still in the planning stages for your upcoming cruise vacation, be sure to sign up for Norwegian's cruise deals. You'll be one of the first to know about any new deals and special offers.
Where are you cruising next? Let us know in the comments!
EDITOR'S NOTE: This article was originally published on August 11, 2016. It has been updated to show related content and itineraries.