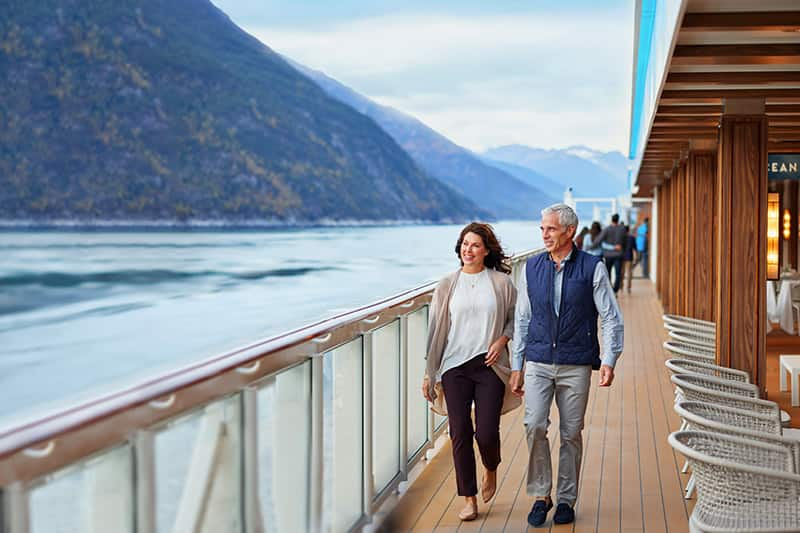 They say your golden years are some of the best of your life. Once the kids leave home and you retire from your job, your time is yours to do with as you please. If you're like many seniors, filling your passports with stamps is the perfect way to fill your free time. When it comes to the ideal escape, cruising gives you the chance to take in many amazing places in one easy-to-plan trip. It also offers a slew of exciting activities right on board the ship, from Broadway shows to spa experiences.
Whether you're a senior or someone traveling with a senior, a cruise vacation is ideal for multi-generational travelers, since there's such a huge variety of activities for everyone to enjoy. You can do as much or as little as you want, based on your level of ability and personal interests. Like a fine wine, so many things about seniors get better with age. But with age, there are often some special considerations to keep in mind, such as mobility issues or dietary needs. Check out these six travel tips for seniors to ensure a wrinkle-free cruise vacation.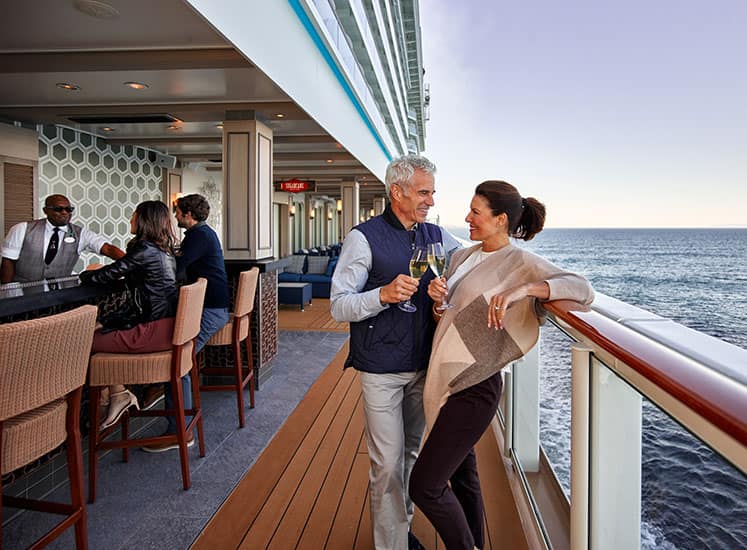 1. Buy Travel Insurance
From a missed flight connection on the way to the port to a sudden illness, things happen that are beyond your control. It's a fact of life. Health and travel insurance can help cover the costs of any unexpected incidents that take place either before or during your cruise. The costs of booking new flights, staying additional nights in a hotel before or after your cruise, or visiting a local hospital add up fast. It's important to make sure you're not on the line for a hefty bill in the event of an emergency.
Just because you have coverage at home doesn't mean it extends beyond the borders of your own country or to a cruise ship that sails under a foreign flag. Be sure to read the fine print and buy added insurance as needed. Keep in mind that some plans don't cover pre-existing conditions or charge seniors a higher premium. Do your research to find the best plan for your needs.
2. Pack a Travel Pharmacy
One of the realities of aging is that many seniors take regular medications. While it's often possible to find pharmacies in cruise ports, they may not carry the specific items you need. It's always a good idea to pack a full supply of medication to ensure you have what you need when you need it. Bring copies of any prescriptions as well, just in case you have a medical emergency. This can help the ship's doctors determine the best course of action.
Be sure to include any over-the-counter medications for motion sickness, aches and pains, and other common ailments in your travel pharmacy. While ships carry many of the most common medications in the infirmary, they will come at a cost to you. Save yourself some money and time by having everything you need on hand.
3. Choose the Right Stateroom
For seniors with mobility issues, choosing the right stateroom is key to having a good time. Try to choose one that's easy to access, whether it's close to an elevator, at the end of a hallway, or near the areas of the ship you plan to use most often, such as the dining room, pool, or theater.
Norwegian Cruise Line provides online maps for its entire fleet, that you can use to choose the perfect stateroom for your cruise. Cruise ships even offer accessible rooms with roll-in showers, wider doors, and other features to accommodate guests with scooters and wheelchairs.
4. Select Appropriate Activities
From dance classes and bingo to wine tastings and live shows, cruise ships provide nonstop fun. There's so much to do that it's a challenge for even the most active cruisers to fit in every activity. Remember, you don't have to do it all. Pick and choose the activities that you enjoy the most. Be sure to read your daily cruise planner and pace yourself accordingly so you have enough energy to enjoy all your favorite activities throughout the cruise.
While there is no obligation to get off the ship at any time, one of the best parts of cruising for many people is visiting different ports of call. Norwegian Cruise Line offers a range of shore excursions in each port that cater to different levels of abilities. Ask the Norwegian shore excursion team onboard your ship for advice about which ones best meet your needs. Be sure to ask about stairs, uneven ground, and other factors that could be an obstacle for seniors.
5. Enjoy Your Meals
Being tied to a specific restaurant or dining time is a challenge for many seniors who want to eat when it's convenient for them. The Norwegian Freestyle Dining program has no fixed dining times or pre-assigned seating plans. You have the freedom to choose when and where you want to eat each day of your cruise.
6. Look for Deals
Many cruise lines often offer special deals, such as onboard credits or past guest discounts, to help make cruising more affordable for everyone. A great way to stay in the know about the best deals with Norwegian Cruise Line is to sign up for emails. You can also visit the Cruise Deals page on the Norwegian website to learn more about the latest special offers.
Whether you're a senior or someone traveling with a senior, keep in mind any special travel considerations when planning your perfect cruise vacation. Follow these six travel tips for seniors to make the most of your cruise and enjoy every moment of your adventure.