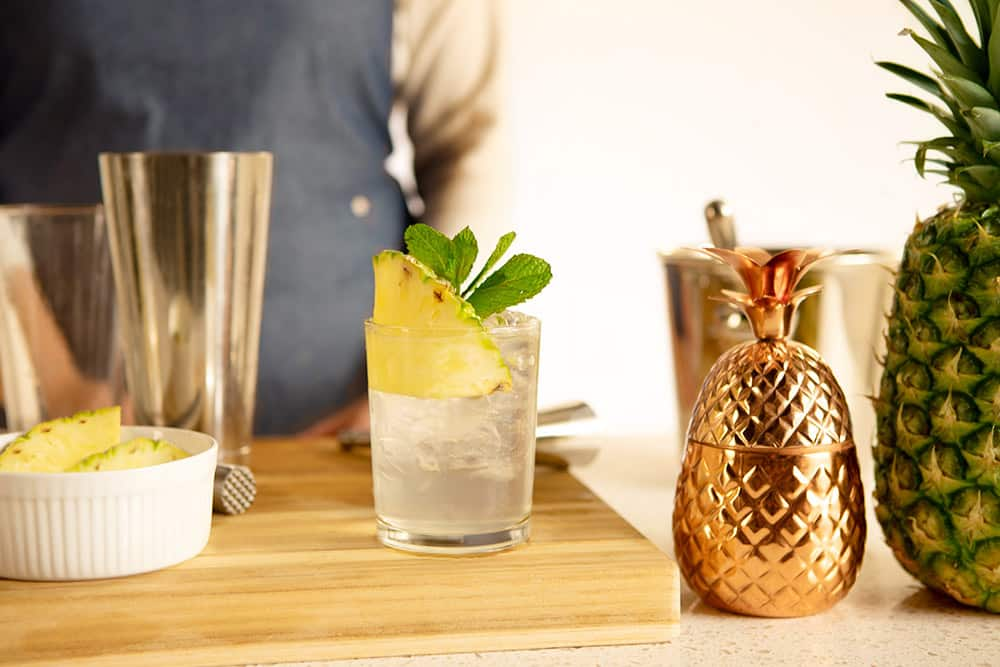 A guaranteed crowd-pleaser every time, Norwegian's Pineapple Coconut Mojito lifts spirits, induces smiles and transports you to paradise with each sip. If you're planning a cruise to the Bahamas or Caribbean, there's no better way to set the tone for those tropical vacation vibes. Learn how to prepare these glasses full of joy in your kitchen with a recipe provided by our Master Mixologist. Cheers!
Ready to start planning? Explore all Bahamas & Caribbean cruises with Norwegian.
PINEAPPLE COCONUT MOJITO RECIPE
Ingredients:
1.25 oz. Bacardi Coconut Rum
1 oz. Pineapple Puree
3 pcs. Lime Wedges
6 pcs. Mint Leaves
1/2 oz. Simple Syrup
Garnish:
Ginger Candy on a Pick
Orange Wheel and Mint Sprig
Instructions:
In a mixing glass, add all ingredients, shake well.
Strain over fresh ice and top with soda.
Share your creations with us on social and tag #CruiseNorwegian. Cheers!
Are you ready to ditch the real world in favor of sun-drenched beaches and tropical vibes? A cruise vacation with Norwegian features all the fun, adventure, and relaxation you crave on an escape from reality. Head to the Norwegian website to check out all the latest cruises and cruise deals. While you're there, sign up for emails to stay up to date on all the latest cruise news, activities, and itineraries.
Where are you cruising next? Let us know in the comments!
EDITOR'S NOTE: This article was originally published on Apr. 21, 2020. It has been updated to show related itineraries.