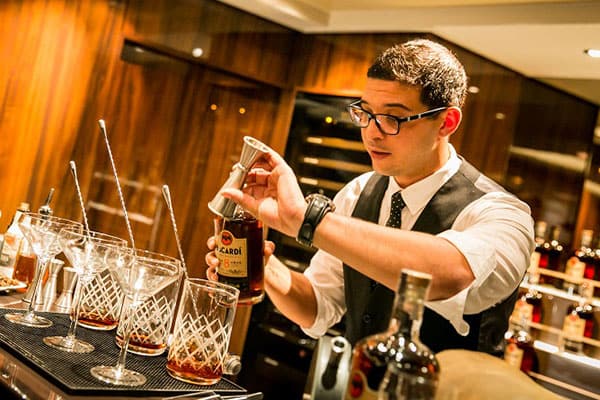 Wade Cleophas has bested competition from more than 2500 entries across 13 different cruise lines to win the title of 2017 BACARDÍ® Legacy Cruise Competition Bartender of the Year with his drink, Legend Reviver. As he prepares to compete in the Global Finals in Berlin, he took some time to give us the inside scoop.
Where are you from?
Langebaan, South Africa, it's about an hour outside of Cape Town.
What is your background?
I've spent 12 years in the bartending industry. I had started when I was 18 and over the years I have had the opportunity to study under some of the world's best bartenders.
Why make the switch from working on land to working on a ship?
Being able to work on a ship had been on my bucket list since I was 22. After working in a high-end cocktail bar in Dubai, I decided to follow my dreams and applied to Norwegian.
What is it like working on a ship?
This is a difficult question as it is hard to put into words what it's like to work on board one of the biggest cruise ships in the world. It is unpredictable, fast paced, demanding, fun. To sum it up I would say it is perfectly well organized chaos and I thrive in it.
What was the thought process behind the creation of the Legend Reviver?
When I received the details of the competition I was excited as this was an opportunity for me to showcase my skills as a mixologist again. The winning cocktail had to be unique but at the same time be easy to replicate. I went back to look at past winning cocktails and noticed that they were all some kind of Tiki style drink. Seeing that this was the first year we were able to use BACARDÍ® OCHO (8) ANOS, I thought this would be a good time to go in the opposite direction. I wanted something elegant that would highlight BACARDÍ® to the fullest and not kill the flavor like some kind of juice concoction will. It took me weeks to turn my ideas into liquid form and create the Legend Reviver. When I didn't hear back, I thought it was over, then I got an email saying that I made it into the Top 3! I immediately went to my room to do my happy dance.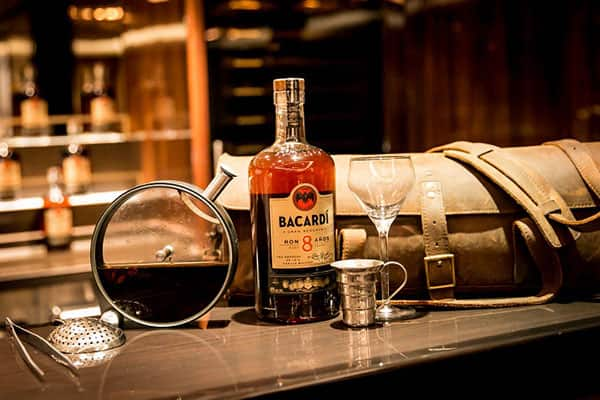 What inspired this drink?
When I think of rum the first thing that comes to mind is traveling to exotic places. It is fitting that I actually work on a cruise ship because I do just that. I started to think about what makes a classic cocktail a classic and how they manage to not fade away. They are easy to remember, simple enough to recreate, have a history and most importantly a taste that outlasts time. So I thought why not merge two exceptionally good classics, the Manhattan and the Sazerac to make something new with BACARDÍ® .
How did you come up with the name?
Do you remember how back in the day when folks use to tell stories they started off saying "As Legend has it?" Don Facundo Bacardi was a legend of a man for wanting to create rum that would stand the test of time. I wanted to revive and immortalized that vision he had. Hence the name Legend Reviver.
For those of us who haven't tried it, what does the Legend Reviver tastes like?
It's well balanced and smooth. All the flavors work together but you taste them in layers. It starts off with the aroma of licorice from the Absinthe mist, then you get a hint of sweet spice in the front of your palate from the caramel and cinnamon syrup, followed with body and depth from the star anise infused sweet vermouth. As you swallow you will find that long elegant finish of BACARDÍ®.
Can you pair this drink or is it meant to be enjoyed on its own?
This is a very versatile cocktail and it can be enjoyed in many different ways. It is good on its own or you can pair it with a cigar.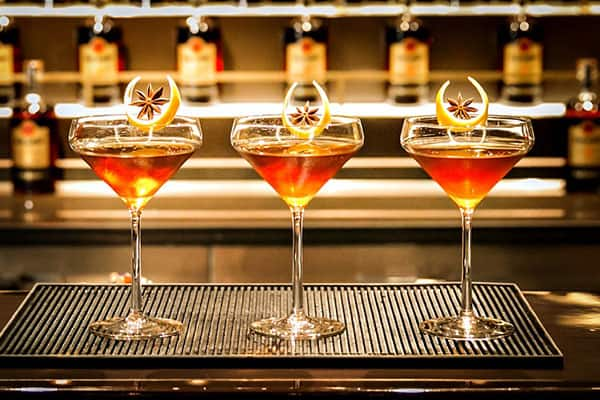 What was it like competing in the BACARDÍ® Legacy Cruise Competition?
I started practicing over and over for the 2017 BACARDÍ® Legacy Cruise Competition in Miami. When the day finally came I was told that I would present last, well that's what I thought for a whole 5 minutes. Right before the competition started they announced that I would be going first! That's when the sweat started dripping off my chin. I went on stage and did what I thought was my second best performance, the first being my practice run. It was an intense feeling watching the rest of the event when all you want is to hear a "yes, you are the winner" or "no, you didn't make it."
How does it feel winning the BACARDÍ® Legacy Cruise Competition?
When they finally announced the winner and I heard my name, I actually dropped to the floor. I was so happy. It took me a week for it to actually sink in.