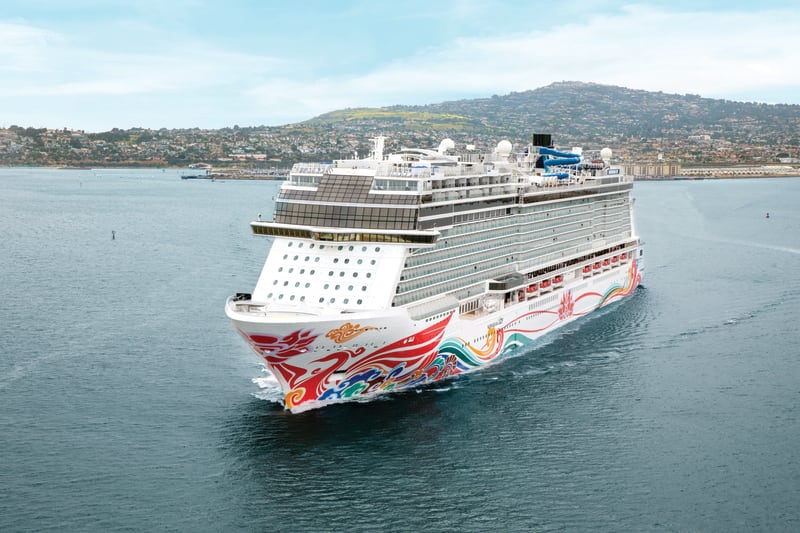 Are you searching for a relaxing cruise that combines history, culture, and breathtaking scenery with warmer weather? If so, a Panama Canal cruise should be at the top of your vacation list. This man-made marvel of the modern world is one of the most popular cruise destinations and with good reason. Here, cruisers have an opportunity to learn about the canal's intricate lock system, have the chance to explore and spot wildlife in the rainforest, travel on the Panama Canal Railway, and so much more.
Connecting the East to the West through Central America, the Panama Canal stretches 50 miles, and it dramatically transformed maritime trade upon its completion. One of the easiest ways for travelers to see the area is on a cruise to Panama, and with Norwegian being named the "Best Cruise Line to Panama Canal" in 2018 by Cruise Critic, there is no better time to explore this fascinating region.
Whether you want to immerse yourself in the history of the canal or prefer to explore the natural beauty of this area, there is plenty to see and do. Start planning your cruise bucket list now with our top six reasons to cruise in Panama.
1. Cruise the Panama Canal on Award-Winning Ships
Depending on your personality and what you are searching for in a cruise ship, you are sure to find it at Norwegian. Several cruise ships travel to the Panama Canal area, each offering a unique spin on your cruise experience.
If you are searching for a larger ship (that just happens to boast the largest racetrack at sea), you won't want to miss Norwegian Bliss. Cruisers who are seeking a more intimate experience that involves pampering spa sessions and distinctive food experiences may want to choose the recently revitalized Norwegian Sun. Other stand-out cruise ships that cruise the Panama Canal area include Norwegian Star, Norwegian Pearl, Norwegian Joy, Norwegian Jade, Norwegian Gem, and Norwegian Dawn.
2. Immerse Yourself in History & Knowledge
The creation of the Panama Canal is fascinating, and a cruise to this area allows you to truly immerse yourself in the history surrounding this massive undertaking. Learn about the canal's numerous "locks" and how they lower and raise ships, allowing them to sail from the Pacific to the Atlantic Ocean or vice versa.
Discover how Americans began working on the canal after the first attempt by the French had failed due to illness, disease, and dangerous work conditions. While these are just a few of the amazing facts behind the canal, a cruise to Panama is the ideal way to educate yourself on this modern wonder!
3. Enjoy a Distinctive Shore Excursion
Want to get a jump start on choosing your Panama Canal cruise shore excursions? With over 100 to choose from, you'll have no shortage of water sports, art, culture, and food experiences. Consider exploring the Chacchoben Mayan Ruins in Costa Maya or snorkeling the Underwater Sculpture Gardens in Great Stirrup Cay. You can also witness tropical sea life during a snorkeling excursion in Cabo San Lucas or try your hand at catch-and-release fishing in Harvest Caye, Belize. Foodies may want to consider an authentic Mexican fiesta (with a tequila factory tour) in Puerto Vallarta.
Whether you are seeking adventure and exhilaration or relaxation and culture, you will find it all with the many Panama Canal shore excursion options available through Norwegian Cruise Line.
4. Set Sail from Your Coast
Sometimes travelers forego their dreams of cruising because there is travel involved before they even step foot on the ship. To make a Panama Canal cruise the easiest sailing experience possible, Norwegian sets sail for the area from both sides of the United States. This can decrease your travel time and stress before you begin your dream cruise vacation. Depending on where you are located, you can begin your cruise vacation from Miami, San Francisco, San Diego, or Los Angeles!
5. Explore Some of Most Popular Cruise Ports in the World
While the Panama Canal will be a standout experience during your cruise, Norwegian's Panama Canal cruises will also transport you to some of the most beloved ports in the world. Depending on your itinerary, you may have the opportunity to stroll along the majestic beaches of Cabo San Lucas, Mexico, explore the lush rainforests of Puntarenas, Costa Rica, or snorkel and swim in the stunning blue waters of Roatan, Bay Islands, Honduras. Every port of call on Norwegian's Panama Canal cruises offers unique shore excursion options and the opportunity to make lifelong memories.
6. Cruise on Your Time Frame
Depending on your allotted vacation time, Norwegian has the perfect Panama Canal cruise for you. Itineraries can range from shorter 11-day sailings to more comprehensive 21-day cruises and are determined by the cruise ship you choose. Ports of call vary depending on the length of your trip but may include stops in Mexico, Great Stirrup Cay, Costa Rica, Columbia, and Aruba.
Are you ready to pack your bags, cruise to the Panama Canal, and bask in the sunshine? Let a Norwegian travel planner help you find the perfect itinerary for your travel needs. You can also stay on top of hot deals such as Free at Sea and Norwegian's Sail Away Rates by signing up for our emails. With summer on its way, there is no better time to plan your adventure and explore the Panama Canal the way it should be explored — in luxury!