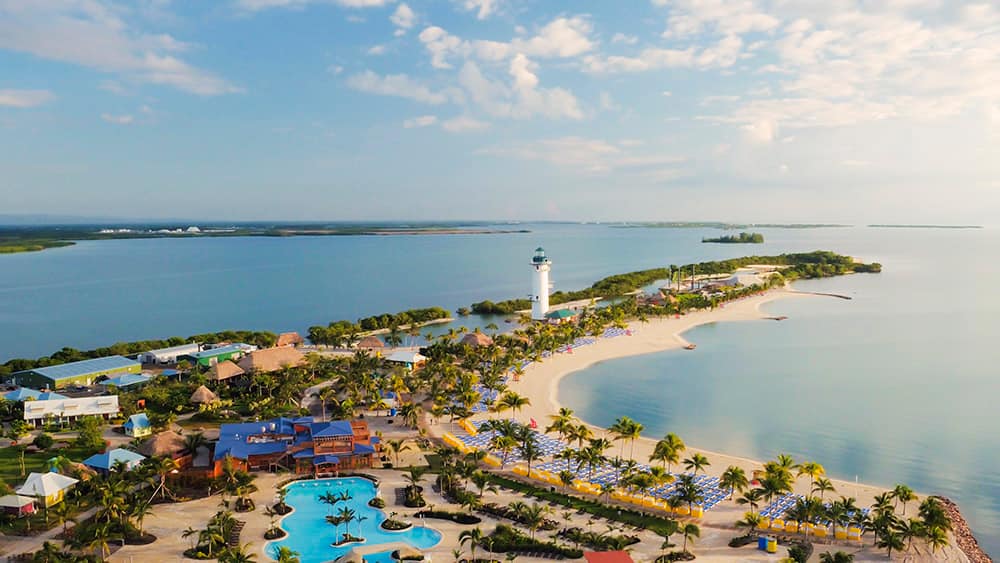 Cruising from Florida offers plenty of opportunities to explore the tropics with cruises that stop in The Virgin Islands, Belize, and even Mexico. If you are researching cruises out of Tampa, you'll find two different cruises departing in late 2021. December is a great month to cruise, and what better place to spend the holidays than the warm and sunny El Caribe. Here's everything you need to know about 2021 cruises from Tampa.
¿Listo para empezar a planificar? Explora todos los 2021 cruises from Tampa.
Cruceros por el Caribe desde Tampa, 7 días
Spend Christmas or New Year's Eve on a seven-day Caribbean cruise aboard Norwegian Dawn exploring Maya sites and snorkeling along the Mesoamerican Reef System, the second-largest coral reef system in the world. The Mesoamerican Reef extends from the northern tip of the Yucatan peninsula, off the coast of Cancun down to Honduras. Ports of call on this 2021 cruise from Tampa include the following destinations.
Roatán, Honduras
Roatán is part of the Bay Islands, located about 30 miles from mainland Honduras. The Bay Islands are renowned for their diving and eco-tourism. If you aren't a diver, you can go snorkeling or partake in the numerous other water-related activities you'll find on Roatan. Or, head inland for zip lining, off-road tours, and more.
Harvest Caye, Belice
Next up is Harvest Caye in the southern part of Belize. Spend your day parasailing or snorkeling around the island, or you can rent stand-up paddleboards, kayaks, and pedal boats. You can also explore Belize's mainland on one of Norwegian's cultural excursions. Learn about Maya culture and how cacao becomes chocolate, or explore a Maya archeological site and visit a Belizean spice farm.
Costa Maya, México
Costa Maya sits on the Yucatan peninsula, relatively close to Belize's northern border. Costa Maya is a great jumping-off point to explore some of Mexico's Maya history, including archeological sites like Chacchoben or Dzibanche. Head south to Bacalar where you can relax in the beautiful lagoon that is renowned for its seven shades of blue.
Cozumel, México
Cozumel is another island off Mexico's Yucatan peninsula. While many people come to Cozumel to dive, you can also snorkel, take a boat tour, or just relax on one of the pristine beaches. Take a taco tour, explore more Maya sites back on the mainland, or visit one of the region's eco-tourism parks.
Cruceros por el Caribe desde Tampa, 11 días
Set sail from Tampa and visit Key West before heading to some of the most iconic islands in The Caribbean. 11-Day Caribbean cruise departs earlier in December, so you'll be back in Tampa in time to celebrate the holidays. Some cruise travelers add a few extra days to their trip, spending Christmas at one of Florida's popular theme parks. Ports of call on this Caribbean cruise include the following countries.
Puerto Plata, República Dominicana
Puerto Plata is the ninth-largest city in the Dominican Republic. There are numerous historical sites you can explore here, including Fortaleza San Felipe, which was built in the 16th century and once served as a local prison. There is also the Amber Museum, where you can see an interesting collection of creations made with Dominican amber. For some of the best views in Puerto Plata, take a ride up 2,600 feet to the top of Pico Isabel de Torres Mountain.
Santo Tomás, Islas Vírgenes de los EE. UU.
Explore some of the beautiful beaches around Santo Tomás and the stunning harbor of Charlotte Amalie. Book a catamaran sail, island tour, eco hike, and more. Divers flock to St. Thomas for its stunning reefs and numerous wreck sites teeming with marine life. If you're certified, don't miss booking a dive here.
Willemstad, Curazao
Willemstad is often called the Amsterdam of The Caribbean. Wander around town and you will immediately notice the brightly colored Dutch architecture that the Willemstad is famous for. Take a city tour, or explore Hato Caves, an underground system of passages that extend from Curaçao all the way to Latin America. Don't leave the island without trying a cocktail made with the famous local liqueur, Blue Curaçao.
Oranjestad, Aruba
Aruba is renowned for its white-sand beaches and bright blue waters. There are plenty of water-related activities, including catamaran sailing and multiple snorkeling adventures. Certified divers can book a one-tank dive to the Wreck of Antilla, considered one of the best wreck dive sites in The Caribbean. It's 400 feet long and only 50 feet down, making it ideal for less experienced divers, too. You can head inland and do a half-day Land Rover safari or enjoy a UTV off-road vehicle.
Grand Cayman, Cayman Islands
Explore some of Grand Cayman's most famous sights like Seven Mile Beach or Stingray City. You can book shore or reef dives, or enjoy a turtle excursion to learn more about marine turtles and Grand Cayman's conservation efforts. Food travelers will want to book A Taste of Cayman to sample local cuisine and visit the Cayman Islands Brewery, which produces the only locally brewed beer.
2021 Tampa Cruises on Norwegian Dawn
Norwegian Dawn was built in 2002, refurbished in 2016, and has a guest capacity of 2,340. Specialty dining onboard includes options like Moderno Churrascaria, Los Lobos Cantina, Cagney's Steakhouse, and more. Entretenimiento options include ELEMENTS! the show, featuring the four elements of water, fire, earth, and air; Showdown; and Soul Rockin' Nights.
Keep busy on the jogging trail or gym, relax in one of the pools or hot tubs, and book a spa en el crucero treatment for a little pampering. If you are traveling with children, you'll find themed areas that are perfect for kids of all ages.
If you are deciding which of these two 2021 cruises from Tampa is right for you, be sure to sign up for Ofertas de cruceros de Norwegian. We will deliver all the latest deals and specials right to your inbox. That way you know you're getting the best deal at the time when you're ready to book.