Long before beautiful, tropical Hawaii became the 50th and last state in the USA, it was a kingdom ruled by the descendants of fearless Polynesian explorers. Visitors cruising to Hawaii today can still see the Polynesian influence everywhere on the islands, from its people to its language to its food. Some of the Polynesian island nations that have had the greatest influence on Hawaii are Tonga, Tahiti, Fiji, Marquesas, Samoa and Aotearoa (New Zealand and Maori).
Experiences
One of the best places in Hawaii to learn about the islands of Polynesia and their influence on the Aloha State is the Polynesian Cultural Centre. This living museum is spread out over 42 acres and is located about an hour northeast of Honolulu. It is a very interactive attraction where you and your family will not just learn about the Polynesian influences on Hawaii, but will also be drawn in and engaged by the centre's many activities and demonstrations. For example, you can:
• Take part in a race on traditional island canoes
• Learn how to throw a Tahitian spear
• Take a canoe tour of the grounds and the lagoon
• Watch native Polynesian dancers perform on top of double-hulled canoes during the "Rainbows of Paradise" water pageant
• Learn how the Polynesians who settled in Hawaii crossed the vast ocean in their small boats
• Visit replicas of Christian mission settlements
Village Life
The Polynesian Cultural Centre has created six villages that represent the island nations of Samoa, Aotearoa, Fiji, Tonga, Tahiti and Marquesas so that you can interact with the "locals' and discover more about their daily lives. For example, at the Islands of Samoa village, you can learn how to rub sticks together to create fire or help cook and then try Samoan fare.
Guests to the Islands of Aotearoa exhibit can watch masters at work carving tikis and also learn about the Maori's traditional facial tattoos. You can even get a tattoo if you so desire -- don't worry, they're just temporary. And at the Islands of Tonga village, you might be asked to climb on stage to see if you just might have some talent for the art of Tongan drumming.
Dining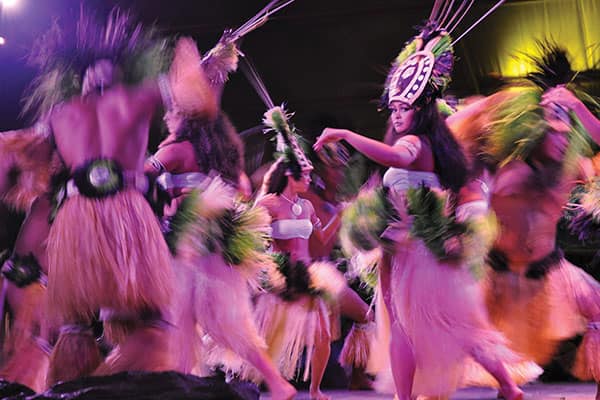 The Polynesian Cultural Centre offers several snack bars and also boasts Gateway, one of the largest enclosed restaurants and special events venues on Oahu. But this is Hawaii, so shouldn't you be celebrating your visit with a traditional luau? At the Polynesian Cultural Centre, you can enjoy a spectacular luau in a covered outdoor venue. And this is not just a dinner, but also an entertaining show with dancing as well as the presentation of the imu (underground oven). The centre's buffet menu includes a number of traditional Hawaiian dishes, including poi, Kalua pork, poke and chocolate Haupia cake.
Show Time
The Polynesian Cultural Centre also offers a separate indoor theatre show at night that features native dances and songs, as well as special effects and animation.