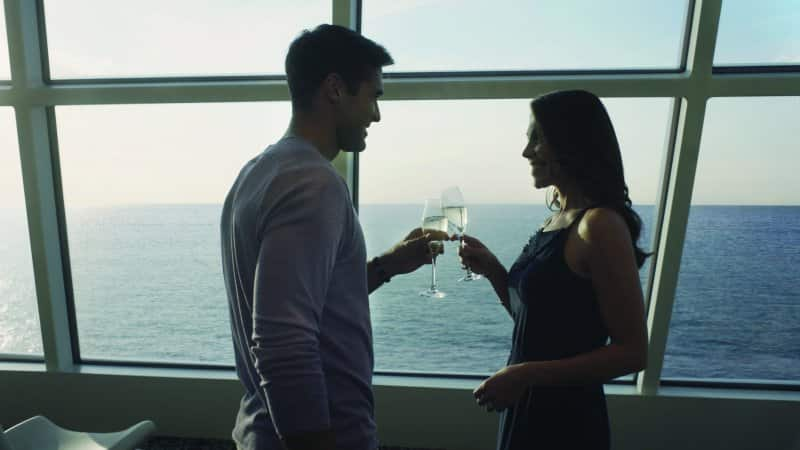 1. Sugarcane Mojito Bar
The atmosphere at the Sugarcane Mojito Bar just oozes a Havana vibe. You can sip one of the refreshing, freshly muddled mojitos in unique flavors such as the Raspberry Guava Mojito, Jalapeno Cucumber Mojito, or the Spicy Passion Fruit Mojito. Can't make up your mind? Order a Mojito Flight, where you'll receive six samples of Norwegian Cruise Line's signature mojitos, then you can choose your favorite and repeat. The Sugarcane Mojito Bar offers live Latin–Cuban music so that you can get into the rhythm of things. It's located on Deck Eight, with both inside and outside access from The Waterfront.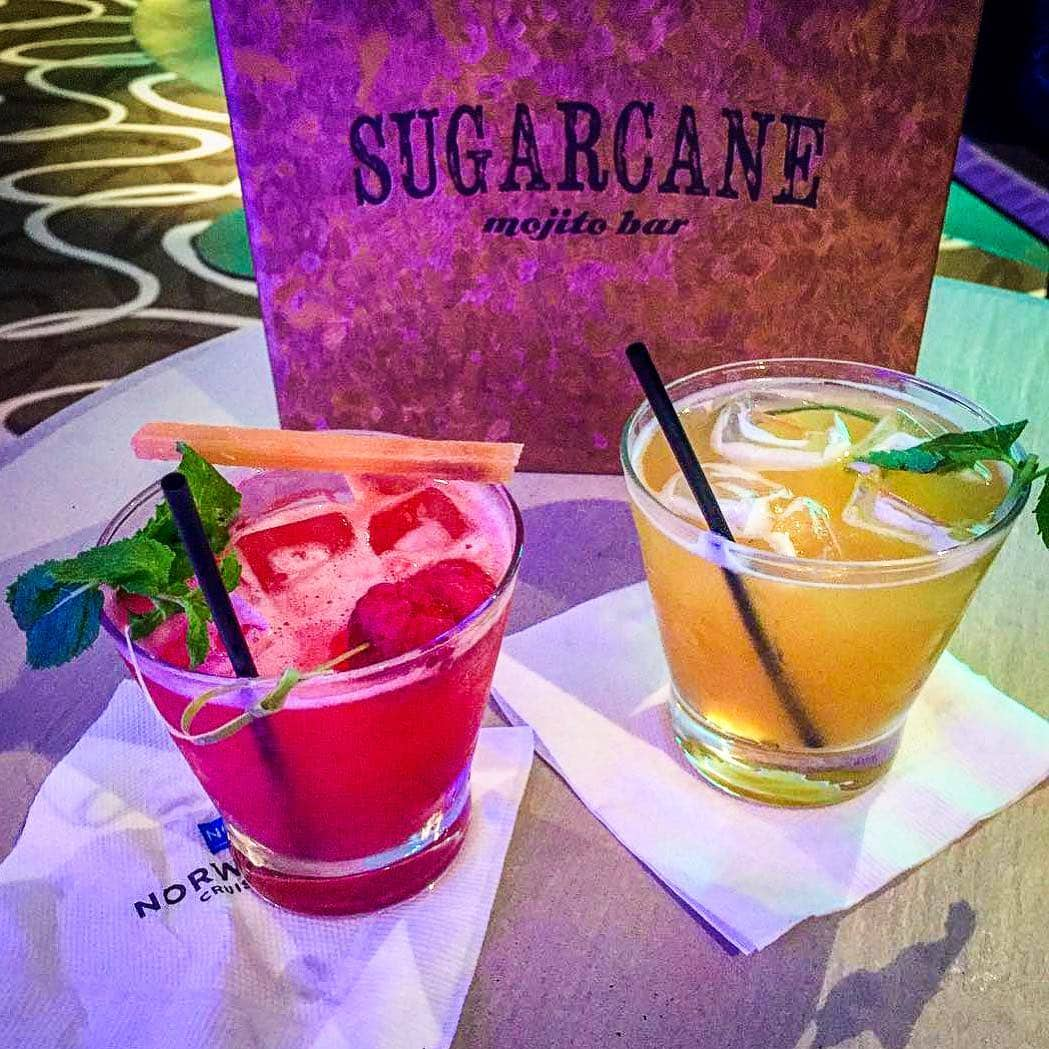 2. District Brew House
Beer lovers unite: Here's a pub you're going to love. This pub offers 24 draft beers on tap — which rotate regularly so you never know what you'll find — plus an additional 50 bottled and canned beer choices. If you enjoy a dark beer with full flavor, try a smooth Deschutes Black Butte Porter. Maybe an Alaskan Husky IPA with papaya and tangerine aromas will be more to your liking. District Brew House also offers beer cocktails such as the Cannonball, concocted with a Samuel Adams Boston Lager and bourbon, among other ingredients. You'll find the District Brew House on Deck Eight.
3. Atrium Bar
Located at the heart of Norwegian Bliss on Deck Six, you can think of the Atrium Bar as being the ideal hub for people watching. It's a busy area, which attracts fellow cruisers at all times of the day or night. The bar is quite accommodating with a variety of drinks. You can sip a glass of chardonnay in the afternoon, start off your day with a mimosa, or enjoy any number of cocktails available. Besides people watching, the Atrium area is home to events and entertainment, including live bands, so you'll always be close to the action.
4. Spice H20
The idea behind Spice H20 is based on a typical adults-only beach party in Ibiza, Spain. In other words, you can party it up here until your heart's content. The outdoor Spice H20 venue on Deck 17 comes complete with tiered lounging areas, hot tubs for relaxing and unwinding, and water features for cooling off. What's the bonus here? Without any kids, Spice H20 is a calming choice over the busy pool deck. At night, this transformative space becomes one of the trendiest nightclubs on the Norwegian Bliss where you can dance underneath the stars while watching the giant video screen.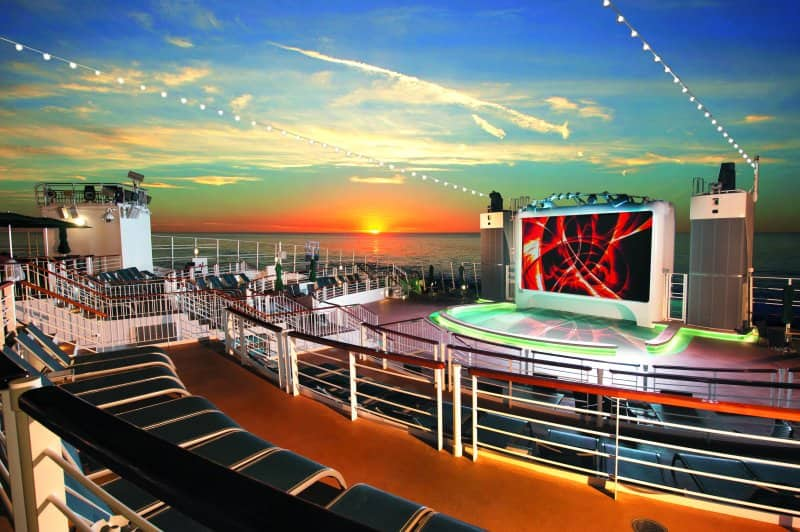 5. Whiskey & Cigars
Located on Deck Eight with indoor and outdoor access from the oceanside Waterfront, Maltings Whiskey Bar offers a selection of international whiskeys from around the world. Sip a Blackberry Bourbon Smash, a Rye & Rum Sour, or a classic Rusty Nail with Johnnie Walk Red Label Whiskey and Drambuie. You can also order your favorite whiskey blend and then meander over to the Humidor Cigar Lounge. Here you'll find comfy leather chairs and a relaxing atmosphere. It's the ideal place for a nightcap or an after-dinner drink following a day of cruising adventure, fun, and seemingly endless dining.
6. The Cavern Club
Great ready for a 1960s flashback when you enter this Beatles-inspired nightclub. Based on the iconic Liverpool venue where the Beatles played nearly 300 times in only three years, you can get a sense of this time gone by. A Beatles cover band plays all the hits, so you can "Come Together" with your friends and enjoy a blast from the past while twisting and shouting throughout the evening and into the night. You can order up wine, beer, and cocktails, but a Scotch Sour is a typical drink for the Beatles era.
And if you're considering a bar crawl through Norwegian Bliss, the majority of the 16 bars and lounges on board are conveniently located together on Decks Seven and Eight. You never have to worry about someone being the designated driver. You don't have to pay for Uber fees to get home. You'll discover a variety of unique venues to check out including The Cellars Wine Bar, the adults-only Vibe Beach Club, and cozy spaces such as The A-List Bar, The Local, and Mixx. Plus, you'll find a Social Comedy & Nightclub, the trendy Skyline Bar, and two observation lounges offering spectacular ocean views. Truly, there's no better way to experience Bliss.
Have you explored the bars and lounges on Norwegian Bliss? Which were your favorites?
EDITOR'S NOTE: This article was originally published on Aug. 27, 2018. It has been updated to show related itineraries.