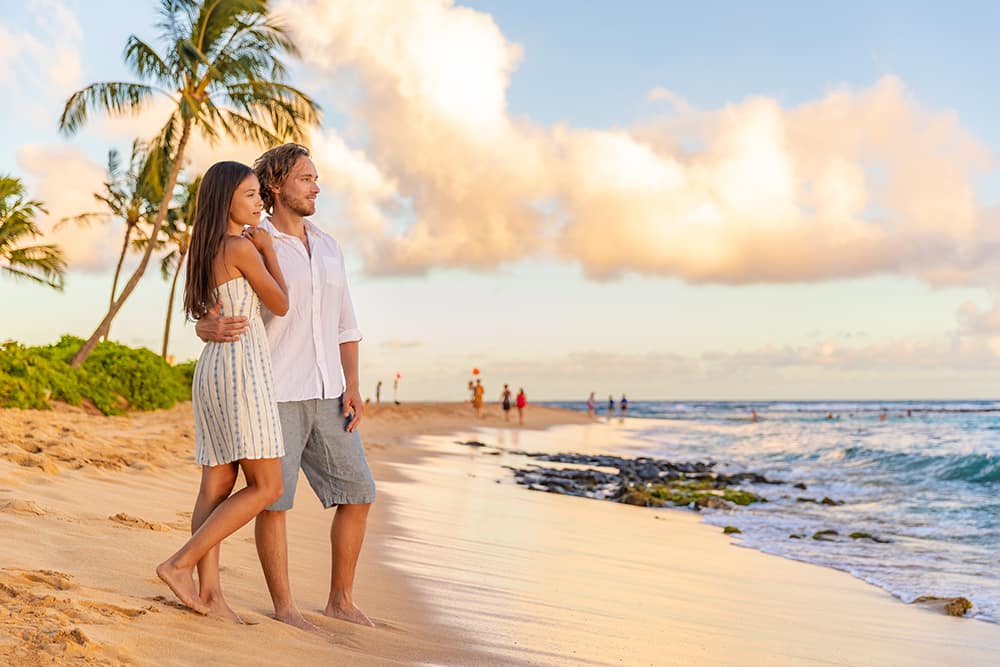 If there's one thing you don't want to leave home without on your Hawaii cruise, it's sunscreen and a swimsuit. The islands of Hawaii are ringed with beautiful beaches. Because you can't possibly see them all, we've assembled a list of the best to enjoy on your cruise to Hawaii.
Ready to start planning? Explore all Hawaii Cruises.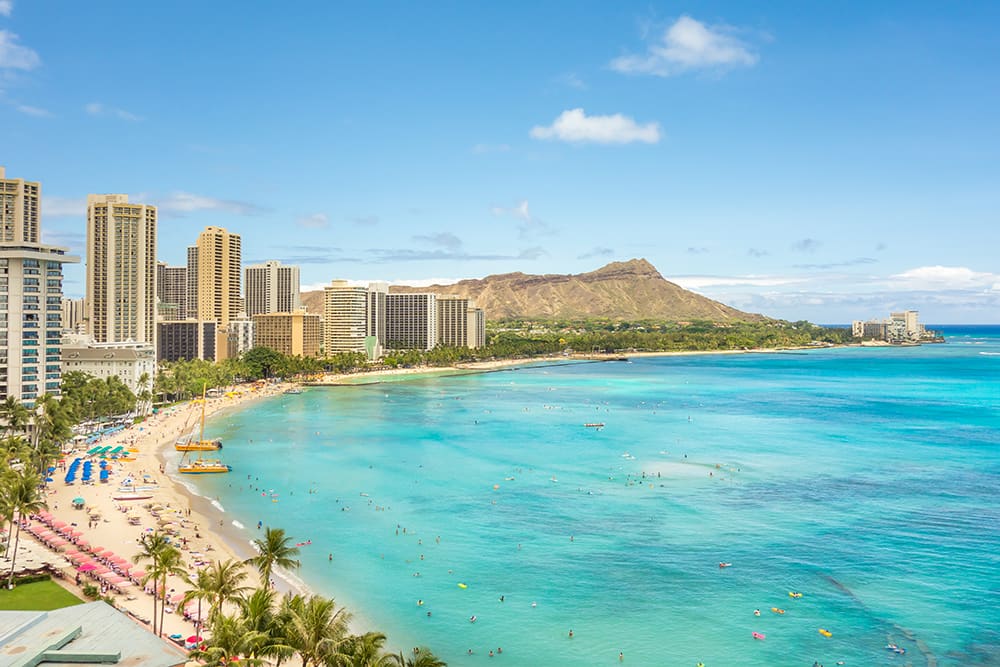 Oahu: Waikiki Beach & Lanikai
Waikiki is the beach that put Hawaii on the map. Sun worshippers have been flocking to Honolulu's most popular beach since the days of Hawaiian royalty. It's no wonder, with clear blue water and Diamond Head Crater towering on the horizon. Waikiki means "spouting waters," and this beach is a great place to take up surfing. Duke Kahanamoku, the "father of modern surfing," learned to ride here. Stop for a mai tai and a dose of history at the Moana Surfrider hotel. Opened in 1901, the historic hotel brought the first tourists to the islands, and is listed now on the National Register of Historic Places. Tours of the hotel are offered Monday, Wednesday and Friday at 11:00am.
Lanikai translates as "heavenly sea," and this beach is so beautiful that it's a popular spot for fashion photo shoots. An offshore reef keeps the water calm so it's one of the best swimming beaches in Hawaii. Those looking for postcard-worthy photos will enjoy the vista marked by two small offshore islands.
Big Island (Hawaii): Panalu'u & Hapuna Beach
Panalu'u is the famous black sand beach. Those fresh from nearby Hawaii Volcanoes National Park Rock will recognise that volcanic rock here has been reduced to black sand by years of pounding surf. Watch where you step, green sea turtles like to sun themselves on the beach. If you're leaving from the cruise port, it is an hour drive so keep an eye on the time.
If you are docked in Kona, check out Hapuna Beach, ranked as one of the best beaches in the United States by various travel magazines. There's plenty of room to spread out and wait for sunset. Aspiring or experienced boogie boarders will appreciate the even wake provided by a large sandbar that extends out into the ocean.
Kauai: Poipi & Ke'e Beach
Poipu Beach, a half hour car ride from the Nawiliwili cruise port is popular with families. Parents with babies and toddlers enjoy swimming in the bay that's protected from the surf by a large lava rock. Put those underwater cameras to use whilst snorkelling. Sightings of the vibrant yellow and black humuhumunukunukuapua'a trigger fish, the state fish of Hawaii, are common. Watch for humpback whales in winter and early spring, and be on the lookout anytime for endangered monk seals lounging on the beach. If you see a seal, count yourself lucky, there are only about 1,200 monk seals left in the world. Don't concern yourself with the drive there and back; select a shore excursion like Discover Kauai & Luau that will facilitate all of these wonderful experiences for you and your family.
Ke'e Beach is at the end of the road… literally. An hour drive on Highway 560 will take you to the end of the island and there you are. Cellphone reception is lacking so it's a good place to turn off and tune out. Those seeking shade will find a jungle of ironwood trees, coconut palms and guava trees that comes right down to the beach. Hikers will appreciate the nearby trailhead for the Na Pali Coast Trail and photographers will enjoy some of the best views of Na Pali anywhere. Keep those cameras ready to capture and unforgettable Hawaii sunset.
Maui: Ka'anapali & Wailea Beach
Ka'anapali Beach has something for everyone, perhaps that's why Hawaiian royalty once claimed this beach. Only 40 minutes away, you will get to take in Maui's stunning coast on the drive there. For those who get bored just lounging around, activities here include everything from parasailing and surf lessons, to fishing, volleyball and boat tours. Can't forget the shoppers. Within walking distance is Whalers Village, complete with fashionable boutiques and restaurants. But be back at the beach before sunset. Every evening as the sun descends, a cliff diver lights torches atop Black Rock, before diving into the sea below.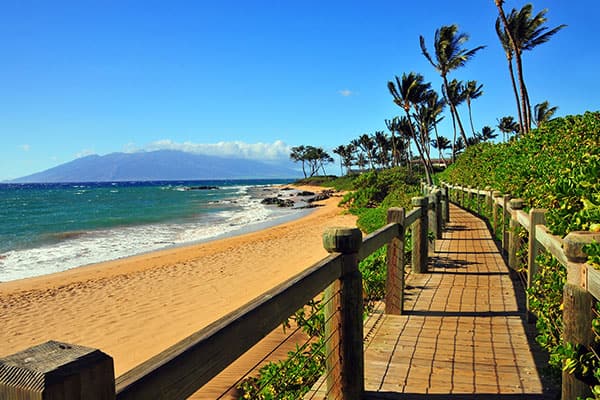 Wailea is the beach for stargazing, and we don't mean the night sky. Being home to the exclusive Grand Wailea Resort and the Four Seasons Maui at Wailea, keep those eyes peeled for celebrities the likes of Jennifer Aniston or Ben Affleck. If that's not your thing, how about shopping or golf? Wailea is home to three different championship golf courses and the nearby Shops at Wailea, boasting premier boutiques and world-class restaurants. Keep those cameras primed for humpback whales in the winter. An hour away, Wailea beach is a little further than Ka'anapali.
Let us know which island you want to see most on your Hawaii cruise. Also, don't forget to sign up for our Norwegian cruise deals, so you can get the latest offers delivered to your inbox.
EDITOR'S NOTE: This article was originally published on January 24, 2020. It has been updated to show related content and itineraries.