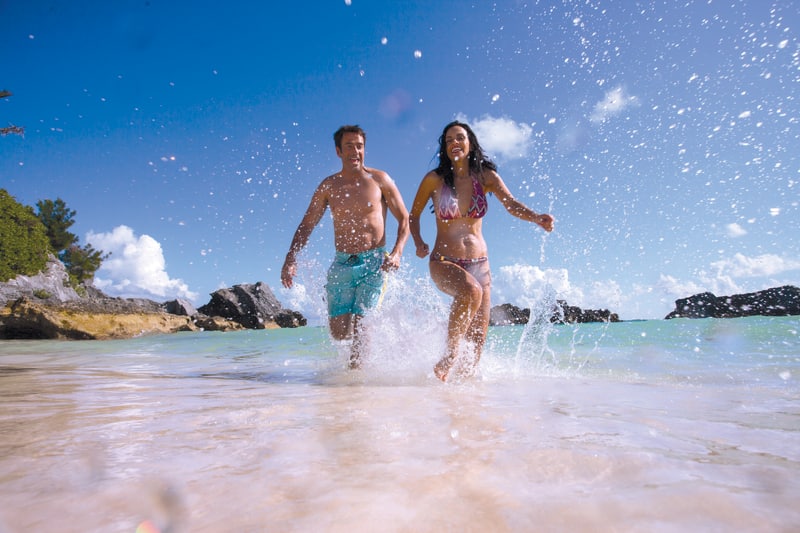 Thinking about where to go on your honeymoon? Why not consider a Bermuda cruise? You'll have tons of fun at sea and on shore in one of the world's most beautiful places!
Planning your Bermuda honeymoon cruise is as easy as choosing your ship, but no matter which 7-day itinerary you pick, you'll have 3 whole days on this picturesque island, including 2 overnight stays while docked at the historic Royal Naval Dockyard in the West End. Let's learn more!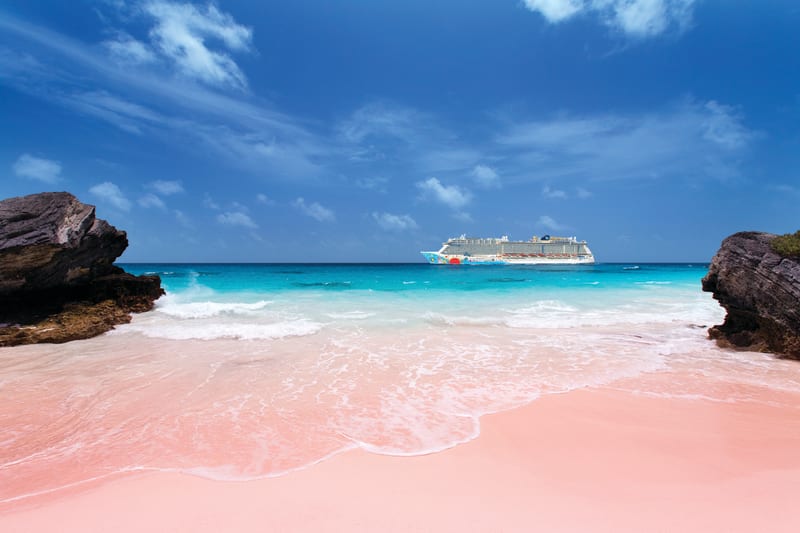 Planning Your Bermuda Honeymoon
Norwegian Dawn
Sailing from Boston, the Norwegian Dawn has recently been refurbished from bow to stern. There's an upscale Mexican cantina that's exclusive to the ship, a Mondavi Family Wine Bar, a steakhouse, and even a mojito bar! A variety of staterooms are available for every price range but for your Bermuda honeymoon, I'd highly recommend a balcony stateroom. And of course, there's also a casino, a sports court, and a spa.
Norwegian Breakaway
Sailing from New York, the award-winning Norwegian Breakaway boasts The Waterfront, a quarter-mile long oceanfront promenade that's perfect for strolling as a honeymoon couple. Besides the gorgeous ocean views, The Waterfront is lined with intimate bars and restaurants, including 3 seafood venues, just waiting for you. Enjoy Broadway-style performances onboard the Norwegian Breakaway with the energizing Burn the Floor, and the awe-inspiring Cirque Dreams & Dinner Jungle Fantasy experience.
Norwegian Escape
The newest Norwegian Cruise Line ship to sail to Bermuda is the Norwegian Escape. Offering an enticing combination of innovations, over 25 dining experiences.
There are also 21 bars and lounges, including a District Brew House. You can walk the Plank on the Ropes Course, slide down one of the fastest waterslides at sea at the Aqua Park, or just soak up the rays on the Lido deck.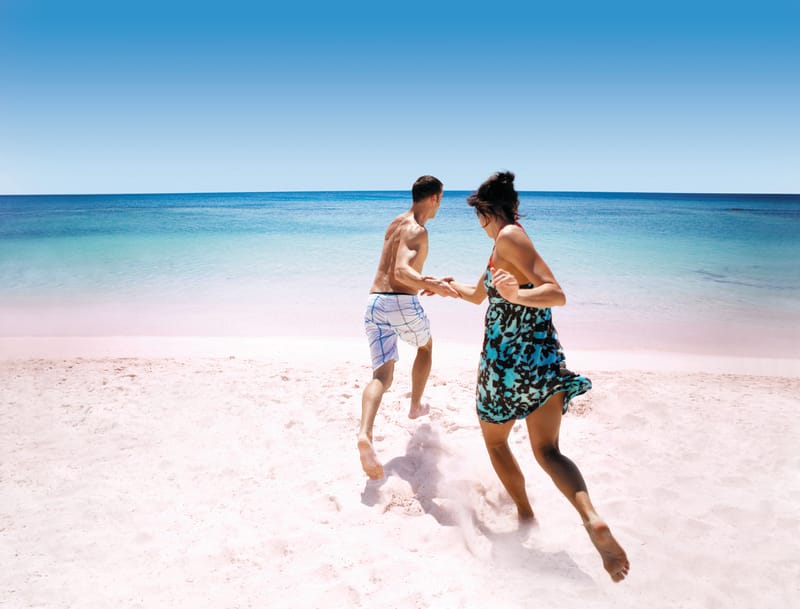 Romantic Bermuda Adventures
Bermuda is filled with romantic adventures to help commemorate your special honeymoon. You can picnic and sunbathe on the stunning pink sands at Horseshoe Bay and Elbow beach, or indulge in a couples massage in an ocean-fed cave at Natura Spa.
You can go horseback riding on the beach or kiss under a Chinese Moon Gate for good luck! There's one in Somers Garden, along with a Lover's Lane in Paget Marsh, the romantic Unfinished Church, and the secluded beaches at Cooper's Island Nature Reserve.
Exploring Bermuda
While you can't rent a car on this tiny island paradise of only 21-square miles, you can rent scooters, bikes or even electric bikes that will help get you up any hills (and there are plenty). There's also a variety of care-free shore excursions to choose from including world-class golfing, snorkeling and catamaran sailing, as well as a Bermuda Triangle Evening Cruise on board a glass-bottomed boat!
Bermuda offers tons of waterfront dining opportunities with amazing ocean views. Just imagine sipping a Rum Swizzle, while dining on fresh seafood like grouper or rockfish, followed by a Black Seal Rum Chocolate Mousse or Cinnamon Sugar Banana Fritters, just heavenly! You can shop 'til you drop along ocean-side Front Street in the capital city of Hamilton, or explore the island through by hiking or biking along the lush Railway Trail.