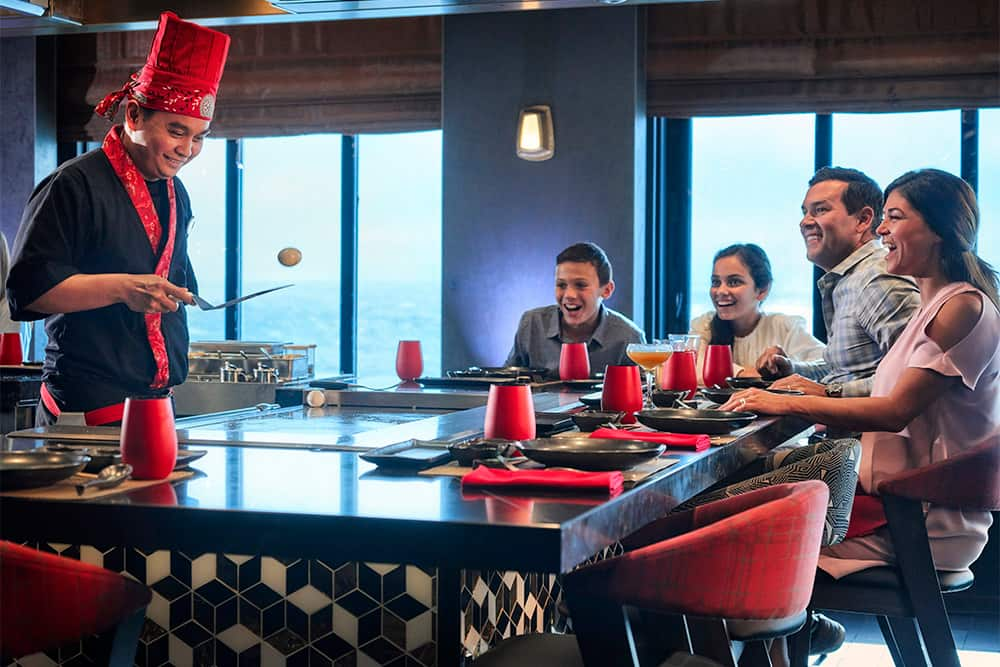 Cruising is about so much more than sailing from one beautiful port to another. From vibrant nightly entertainment to fun-filled poolside activities, you'll find loads of exciting things to do on the ship itself. One of the most enjoyable ways to spend your time is to try the wide variety of food on board. Norwegian Cruise Line offers some of the best dining at sea.
In the mood for a grab-and-go meal? Want to enjoy an over-the-top gourmet experience? No problem! From fine Italian dining experiences at Onda and La Cucina to casual treats you can indulge in at Coco's or The Bake Shop, there's something to tickle everyone's taste buds on each of the award-winning ships in the fleet.
Norwegian's complimentary restaurants include up to three main dining rooms, a buffet, and a host of casual eateries. But if you want to kick things up a notch, Norwegian's specialty restaurants take your mealtime to a whole new level. Whether you're a full-blown foodie or you're simply looking to try something new, you'll want to check out these seven restaurants on Norwegian's cruise ships. Kick back, relax, and enjoy your meal knowing you're in good hands.
Ready to start planning? Explore all of Norwegian's cruise vacations.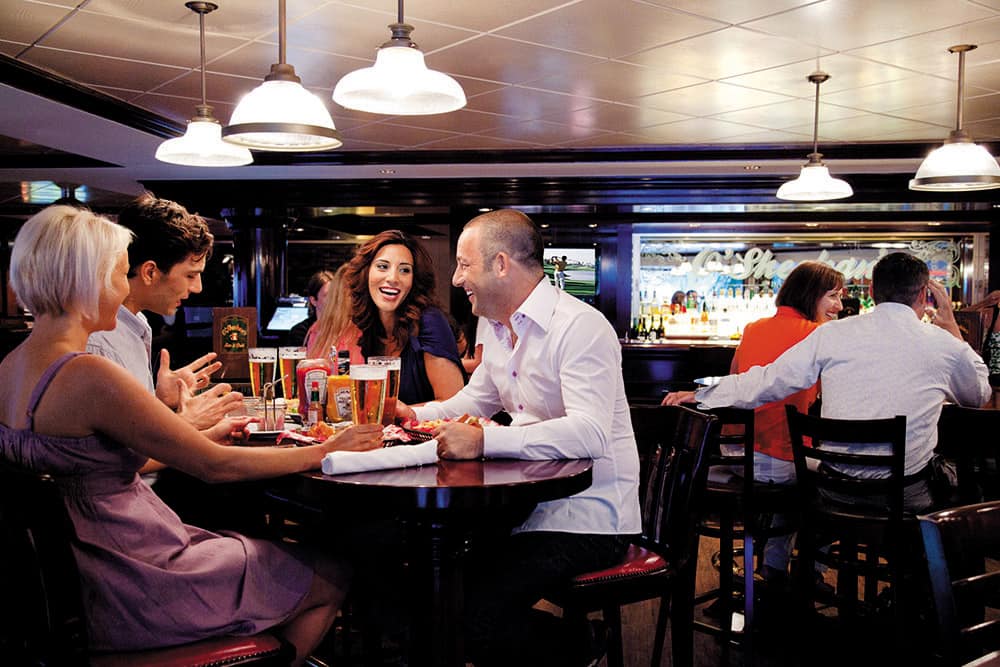 1. O'Sheehan's Bar & Grill
Do you love a late-night snack? Well, satisfy your hunger at O'Sheehan's Bar & Grill, one of the complimentary restaurants you'll find on several Norwegian ships. This Irish-themed bar and grill is open 24 hours a day, and it serves up some of the best comfort food of any cruise ship.
This pub-style venue offers a relaxing atmosphere where you can sip on a cold pint, watch your favorite sports on TV, or shoot a game of pool while waiting for your meal to arrive. Top picks at O'Sheehan's include the English Style Fish N' Chips, O'Sheehan's Burger, and the Chicken Pot Pie.
2. Dolce Gelato
On select Norwegian ships, be sure to head to The Waterfront for dessert at Dolce Gelato. For a small fee, you can try a range of traditional Italian-style frozen treats. The slow-churned gelato comes in a variety of flavors, including Strawberry, Vanilla Bean, Chocolate, Cappuccino, White Chocolate, Almond, and Cherry Sorbet.
3. Teppanyaki
Teppanyaki is so much more than a place to eat. It's an experience. Available on most Norwegian ships, this hibachi-style dinner show takes place around a large flat-top grill. Chefs showcase their knife skills as they whip up delectable Japanese classics, including miso soup, chicken yaki udon, and fresh fruit sashimi. Enjoy thrills and surprises from your front-row seat as you watch your chef slice, dice, juggle, and flip seafood, steak, and chicken.
Because Teppanyaki is one of Norwegian's specialty restaurants, there's an extra charge to eat here, but it's worth every penny. This restaurant is extremely popular, so make reservations as soon as possible.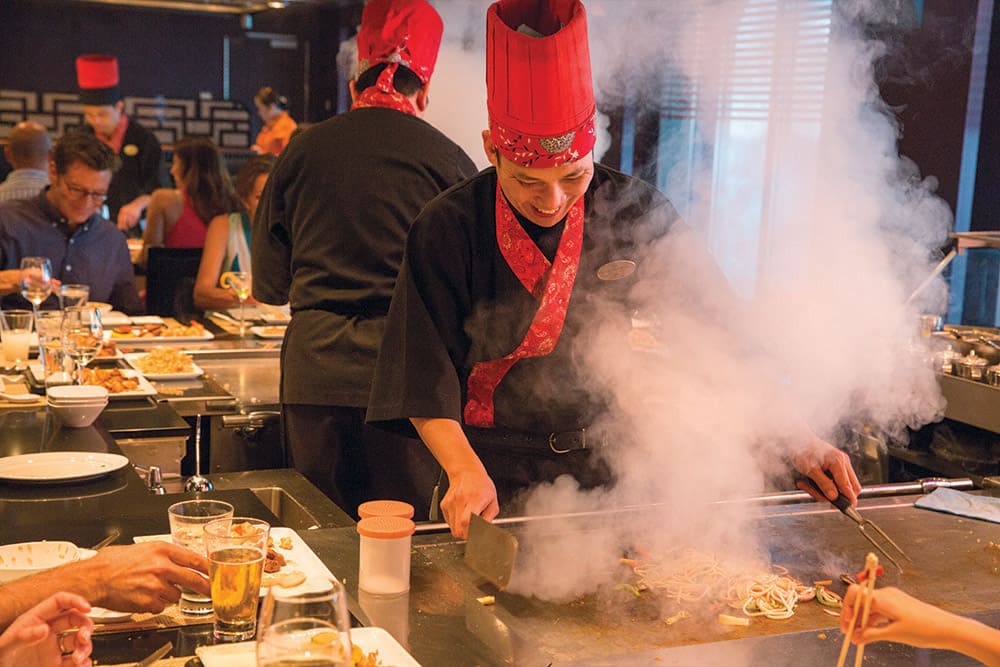 4. Moderno Churrascaria
For a truly unique experience at sea, head to Moderno Churrascaria. This signature Brazilian-style steakhouse is best-known for its mouthwatering slow-roasted meat skewers carved tableside by Norwegian's authentic Pasadores. Coupled with delicious sides, such as rice, black beans, mashed potatoes, and sweet fried bananas, it's a food lover's dream. And we haven't even gotten to the Caipirinhas yet.
Start your meal with an array of impressive appetizers, including a salad bar of imported cheeses, olives, cured meats, ceviche, and more. Don't forget to leave room for dessert. The coconut flan, papaya crème, and mango rice pudding do not disappoint. Reservations are recommended for Moderno, and diners pay extra to eat here, as it's one of Norwegian's specialty restaurants.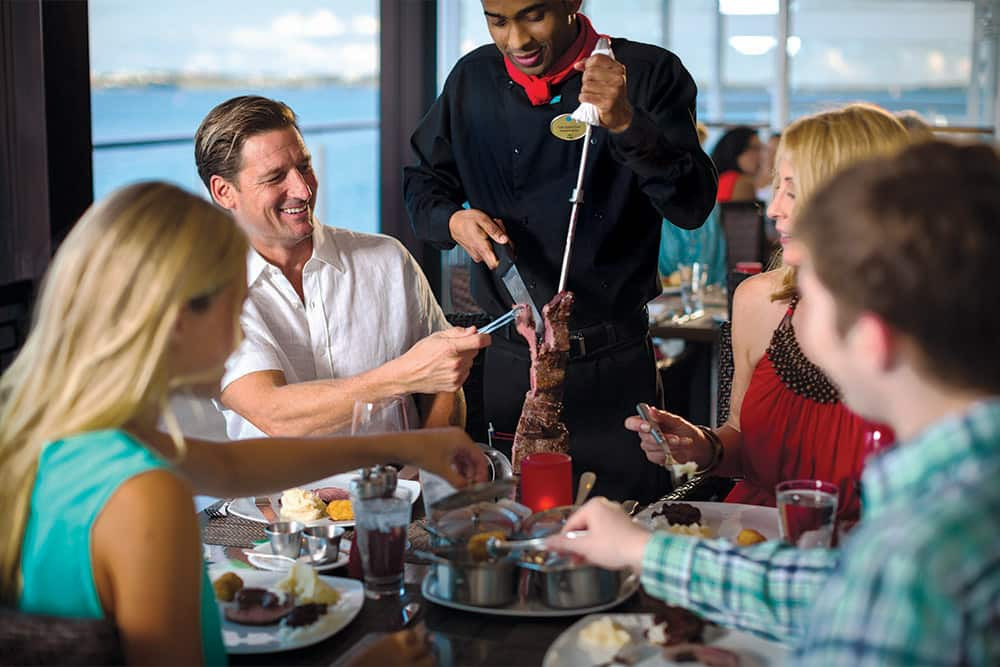 5. Garden Café
If you're all about all-you-can-eat buffets, the Garden Café is the place for you. As one of Norwegian's complimentary restaurants, you never need to pay extra or make reservations to enjoy dining here. The Garden Café opens for breakfast at the crack of dawn and also offers lunch, dinner, and late-night dining.
You can enjoy a made-to-order omelet in the morning or create your own burger in the afternoon. The best part of this buffet is you can try a bit of everything. Grab a plate, fill it up, and you can always go back for a second helping.
6. La Cucina
Is there anyone who doesn't love Italian food? La Cucina offers something to please even the fussiest palates. This colorful family-style specialty restaurant looks like it's straight out of the Tuscan countryside. Enjoy a glass of fine wine and freshly baked artisan farm bread as you wait for the chef to prepare your entrée. Popular dishes include the pasta carbonara and beef tenderloin carpaccio followed by espresso over vanilla or macadamia nut ice cream.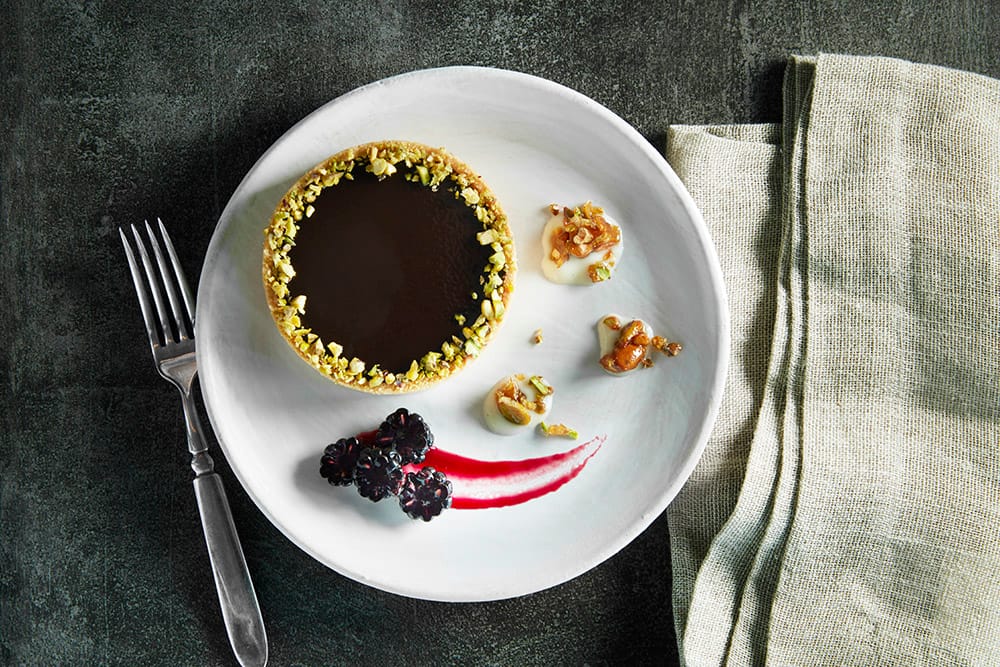 7. The Manhattan Room
Every Norwegian ship features up to three complimentary main dining rooms, such as The Manhattan Room. At this full-service venue, you can enjoy a different culinary influence every night of your cruise. Thanks to Norwegian's famed Freestyle Dining program, you can eat anytime you want. There's no need to make reservations or stick to a schedule. Simply show up when you're hungry, and let Norwegian take care of the rest.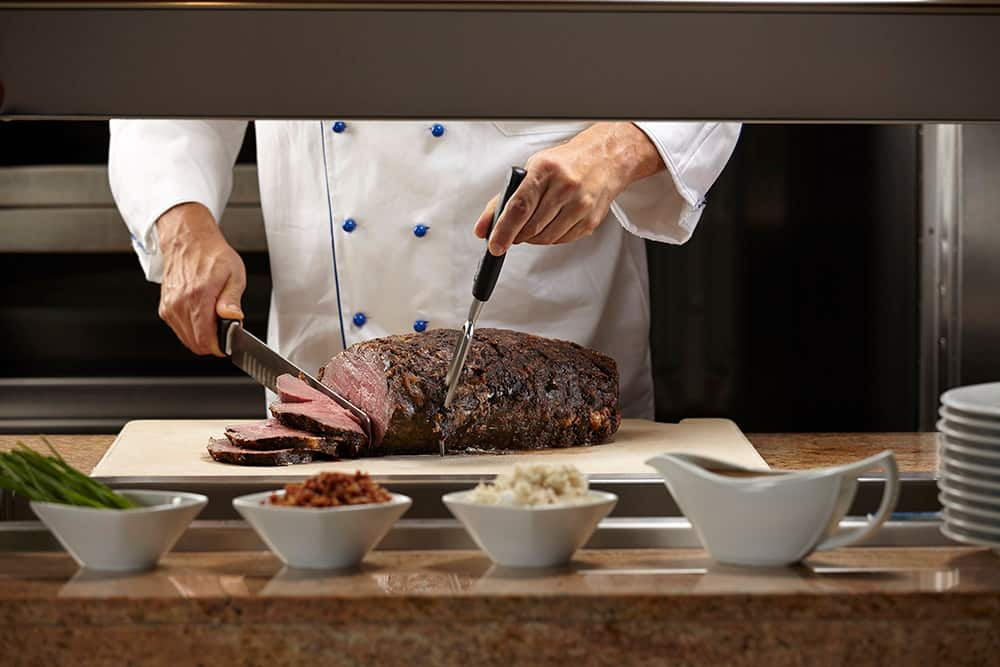 So, there you have it! The next time you hit the high seas, remember these seven restaurants to try on Norwegian cruise ships. Of course, this is just a small sampling to get you thinking about all of your delicious options on board. To learn more about the cruise dining options available on your cruise vacation, visit Norwegian's website. While you're there, be sure to sign up for emails to stay up to date on all the latest cruise deals.
Which restaurant are you ready to try on your next cruise? Do you have a favorite onboard venue? Share with us in the comments!