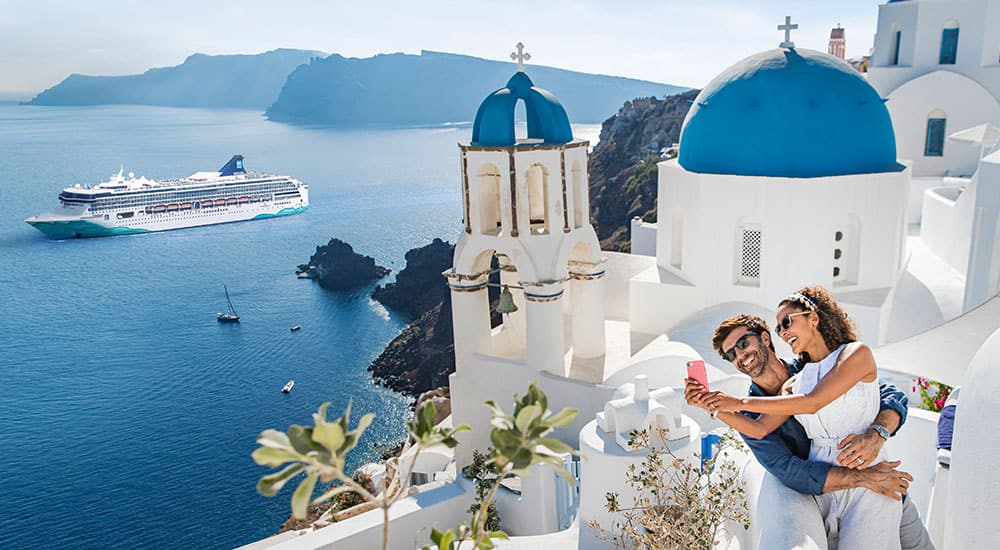 Are you researching options for a Mediterranean cruise? Have you dreamed about visiting postcard-perfect islands like Santorini? If so, now is the perfect time to book your Greek Islands cruise on Norwegian Cruise Line.
If you're ready to sail the Mediterranean on Norwegian, we have plenty of itineraries that include a stop in Santorini. Here, you'll find some of the world's most iconic landscapes, delicious eats, black sand beaches, award-winning wines, and more.
Ready to start planning? Explore all Santorini cruises.
1. Eat Some of Santorini's Local Specialities
Like other Greek islands, Santorini offers plenty of culinary gems if you know where to look. You can find all your Greek favourites here, but there are a few standout dishes and ingredients from the island that you should seek out.
Santorini Fava
Fava is found all over Greece, but Santorini's variety is special, earning it Protected Designation of Origin (PDO) status. It's more yellow in colour and has a smooth, velvety texture. You can find it served in different ways, but one of the best ways to sample it is just to order an appetizer of mashed fava.
Ntomatokeftedes
Another product Santorini is renowned for is this speciality tomato. This flavourful tomato is small and has a thick skin. Because it has less water than other tomatoes, it's the perfect ingredient for tomato fritters. It's similar to the meat-based keftedes you'll find in other destinations, but these are either tomato fritters or tomato meatballs, depending on the menu translation. Ingredients will vary, but most are made with a thick tomato batter mixed with pepper, onion, oregano, mint, and flour before they are deep-fried.
Melitzanosalata
This Greek dip is made with white eggplants grown on the island. These eggplants are unique and don't absorb a lot of oil during frying. They have few seeds compared to other eggplants, and their taste is sweeter. You'll find Melitzanosalata in other parts of Greece, but it's worth trying the local dip made with the white eggplants of Santorini.
2. Visit a Winery
If you are an oenophile, you don't want to miss wine tasting on Santorini. Winemaking on Santorini dates back thousands of years ago. The rich volcanic soil and the style of grape growing really sets Santorini wines apart. Because wind is a common problem across the island, many grapes are not standing tall on vines as you might expect. Instead, the vines are wrapped around in a wreath shape. They are low to the ground and resemble the shape of a basket.
When you are on a Norwegian cruise, choose an excursion like Charming Oia & Winery to visit a local winery, and taste award-winning wines.
3. Hike a Volcano
Santorini is part of an active volcano. Book a volcano hiking excursion to visit the crater of Nea Kameni. You'll need to take a 15-minute boat ride, and the hike is relatively steep and fast-paced. It's about three-quarters of a mile up, but you will be rewarded with spectacular views. Afterward, you'll have a chance to unwind and soothe your tired muscles in the thermal springs of Palea Kameni.
4. Relax on a Black Sand Beach
The main towns on Santorini sit along the cliffs and are far removed from the sandy beaches. If you want to relax on the beach and swim in the clear waters, book a transfer to Perivolos Beach. Perivolos is the longest stretch of black sand beach on the island, located about 6 miles from Fira.
5. Go Off-Roading
For a different view of Santorini, book a 4x4 island adventure that includes a short beach break. You'll visit smaller villages like Pyrgos and see Profiitis Elias, the tallest mountain on the island.
6. Explore Santorini's Ancient Past
Step back in time and visit Akrotiri, a prehistoric city once known as the Pompeii of the Aegean. It was destroyed by an eruption thousands of years ago, and excavations started in 1967. You'll find beautiful artwork, well-preserved frescos, and everyday objects that were recovered during the excavations. After exploring Akrotiri, you will also get to visit a winery.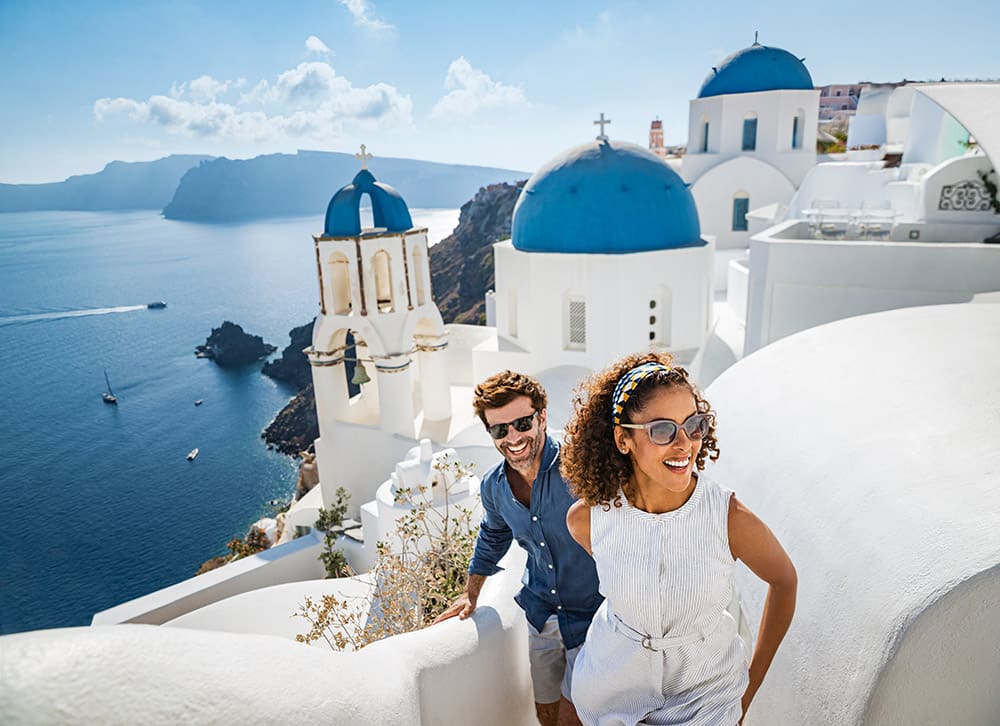 7. Snap Photos in the Best Island Locations
Everywhere you turn, you'll find another beautiful photography spot on Santorini. If you're looking for the views that grace postcards and book worldwide, don't miss the following locations.
Oia
The village of Oia draws millions of visitors every year, and for good reasons. It's renowned for its blue-domed churches, scenic cliffsides, and magnificent sunsets. Try to grab a photo of the cliffsides with the iconic Santorini windmill in the backdrop.
Akrotiri Red Beach
Akrotiri's Red Beach is literally a red beach with its red lava cliffs and red sand. On a clear day, the views are striking with the red lava against the bright turquoise water.
Fira
Fira is one of Santorini's main towns. It's where you'll find the cable cars and transport back to your ship. Fira is an iconic photo spot for views of the caldera and the cruise ships below.
Are you ready to visit Santorini on a Mediterranean cruise? If you are still comparing which cruise is right for you, be sure to sign up with your email for Norwegian's cruise deals to get the latest specials delivered right to your inbox.