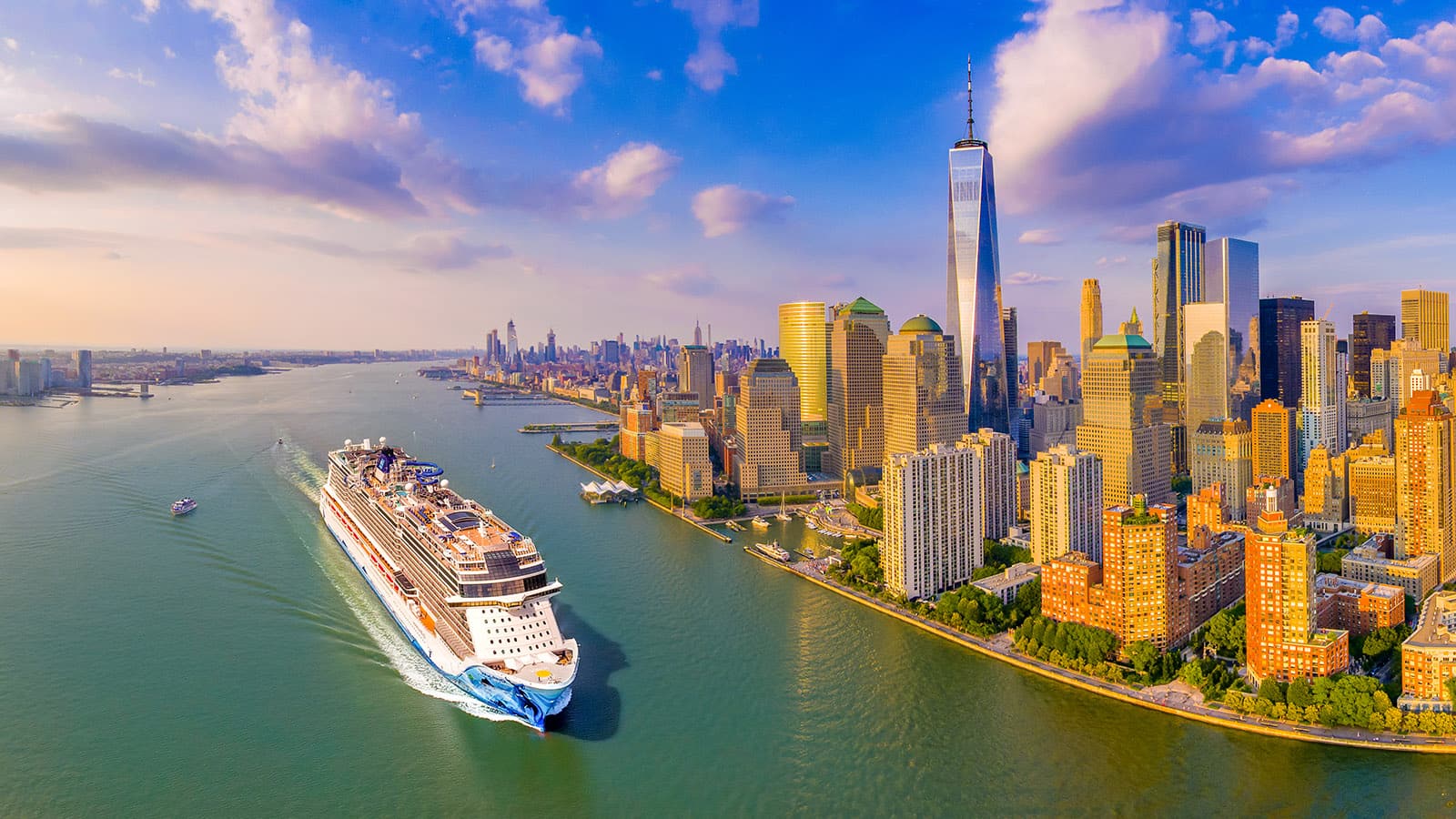 There is no better way to celebrate a wedding, birthday, or anniversary than with a cruise from one of the most recognized cities in the world - New York City. The Big Apple is overflowing with tons of energy, vibrancy, and class. But if you're a local, you'll agree that a getaway to warmer weather can only help you appreciate home that much more.
Norwegian conveniently cruises from NYC, for a stress-free commute to the vacation you not only want, but need. New ships. New experiences. Cruise from the city that never sleeps and wake up to sandy beaches down south.
Embark on a cruise that you won't soon forget on the cruise line that brings the New to New York. Options range from the quaint seaside towns of New England to the unforgettable experience of South America, overnight stays in sunny Bermuda, and sailings through The Caribbean on some of the newest ships on the seas. Here are just a few of the best cruises departing from New York City.
For a full list of Norwegian's New York City cruise departures, click here.
4-Day Bermuda Cruise from New York
A short Bermuda cruise is perfect if you want a quick warm-weather getaway from New York City. Best of all is that you'll get a full day in Bermuda. You'll sail on Norwegian Getaway, one of the newest and most exciting ships in the Norwegian Cruise Line fleet. There are more than 28 different dining options on board and you can enjoy everything from room service to classic pub fare. Many of the 28 dining options are complimentary and included in your cruise ticket.
After you're done eating, check out the many entertainment options onboard. Take in the Cirque Dreams and Steam show for spectacular performances. You can also do a bit of onboard shopping at any one of the shops. Pick up designer fragrances and cosmetics at huge savings at The Beauty Shop. Browse the latest trends in resort wear and fashion at The Tides. Forget your sunscreen? You don't have to worry. Pick up another bottle at The Marketplace, your go-to shop for everything you need for the beach or pool.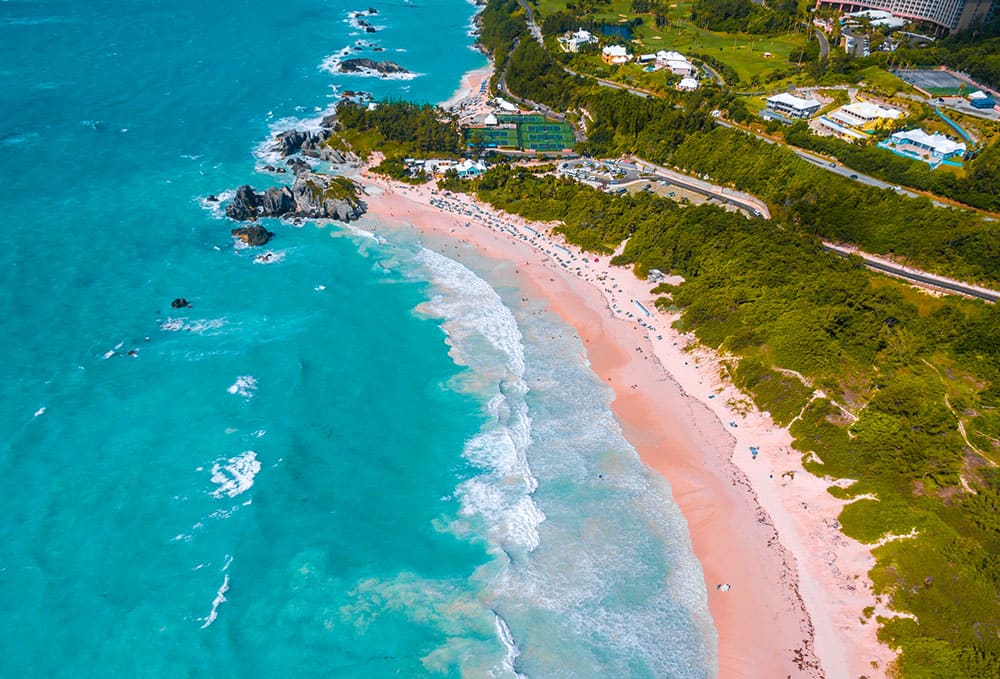 After you have fully explored the ship, you will then get to explore the Royal Naval Dockyard in Bermuda. Stroll along the streets and check out the interesting pastel-colored architecture. Enjoy a fresh local meal and a dinner cocktail at one of the seafood eateries.
To explore the undersea treasures of Bermuda without the challenge of learning scuba, try a SNUBA excursion. SNUBA allows you to breathe easily while you check out the undersea coral world. It takes just a few minutes of training to learn to SNUBA. Spend half a day deep sea fishing. If you are lucky, you can savor the thrill of capturing jacks, triggerfish, and other local catches.
Curious to find out what else Norwegian has to offer? Check out some of the many cruises departing from New York City.
Caribbean Cruises from New York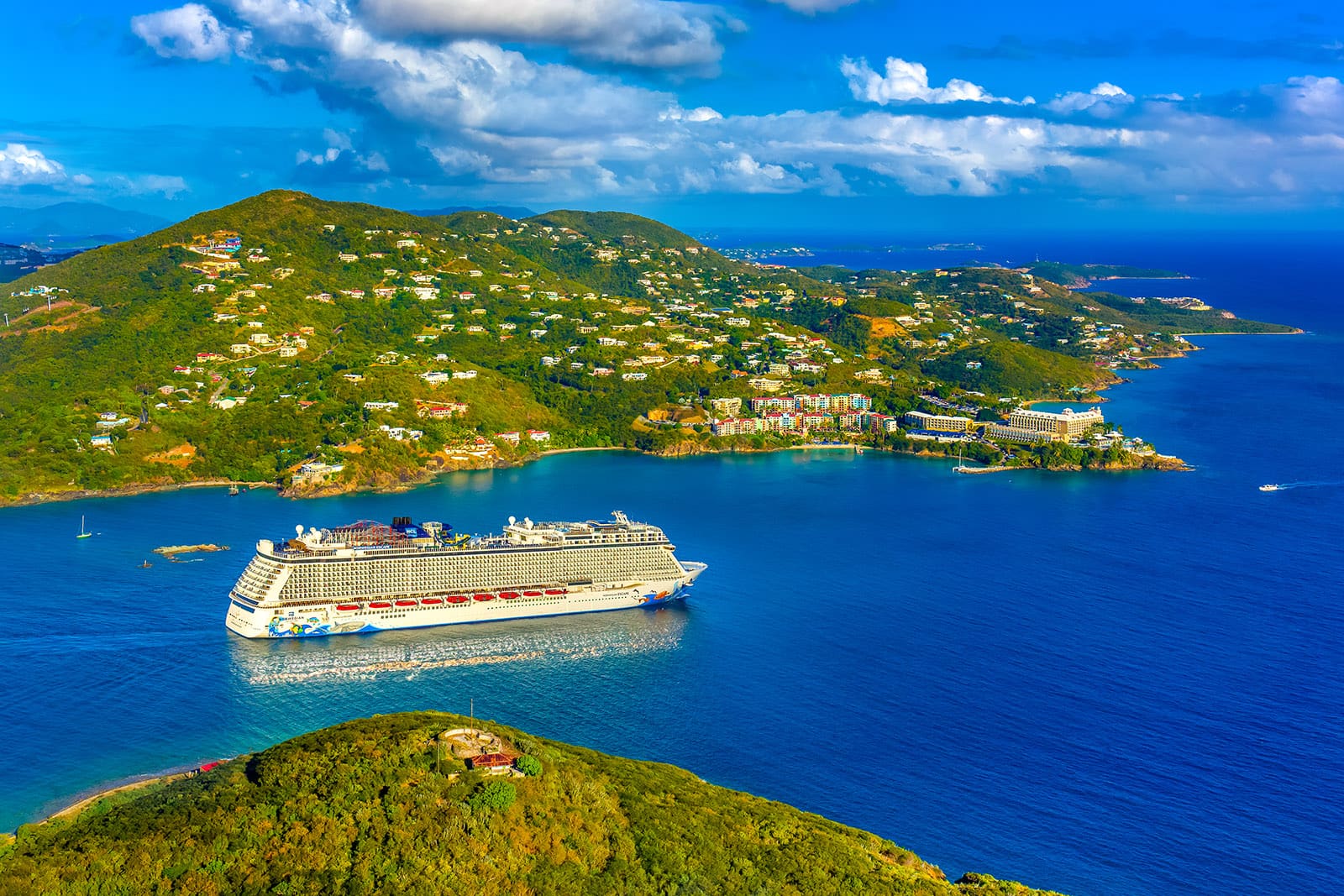 The Caribbean has two seasons: Summer and More Summer. Enjoy a proper winter break on a 14-day Western Caribbean cruise on Norwegian Escape. This rich itinerary stops in Norwegian's private island, Great Stirrup Cay, as well as Harvest Cay, winner of "Best New Cruise Port" in 2017 by Porthole Magazine.
Spend ten days sailing from New York to some of the sunniest spots in the Southern Caribbean on board Norwegian Gem. Uncover the secrets of Old San Juan, hike at the base of the Piton peaks in lush St. Lucia, or capture the beauty of tropical St. John on this warm-weather adventure.
Or choose an 11-day Southern Caribbean cruise vacation with port stops in colorful San Juan, Puerto Rico, St. Kitts, St. Lucia, Barbados, and the US Virgin Islands. Sugary sand beaches, turquoise waters, and warm weather abound in this winter getaway from New York on board Norwegian Gem.
There's never been a better time to cruise to The Caribbean, and it's easy to get away and treat yourself to days of sunshine and powdery sand beaches with a Caribbean cruise from New York.
18-Day Panama Canal Cruise from NYC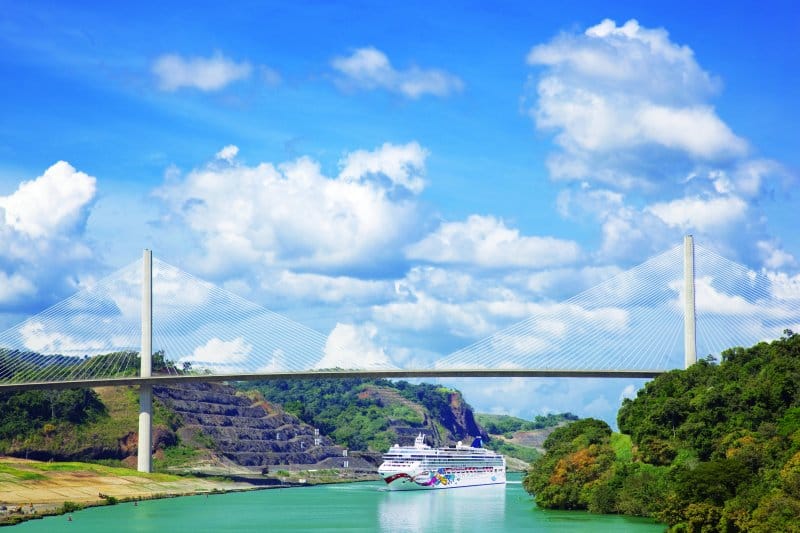 This 18-Day Panama Canal cruise from New York is a bucket-list New York Cruise vacation. If you are looking for a memorable way to celebrate an anniversary or honeymoon, this cruise is the way to do it.
Depart New York City on Norwegian Gem. You'll have three full days at sea to try your luck at the casino, relax by the pool, and join the party at any of the exciting nightlife opportunities onboard. Take in one of the spectacular full-scale production shows onboard, have a frozen coffee at the Atrium Café & Bar, or enjoy lovely views from the Thermal Suite while you melt tension away with water and heat therapy.
The first stop on this cruise is Willemstad, Curaçao, where you can marvel at the rugged cliffs, walk along miles of beaches, and explore a mystical underground lake. For a real thrill, explore the coastline, hidden caves, and cliffs on a canoeing expedition.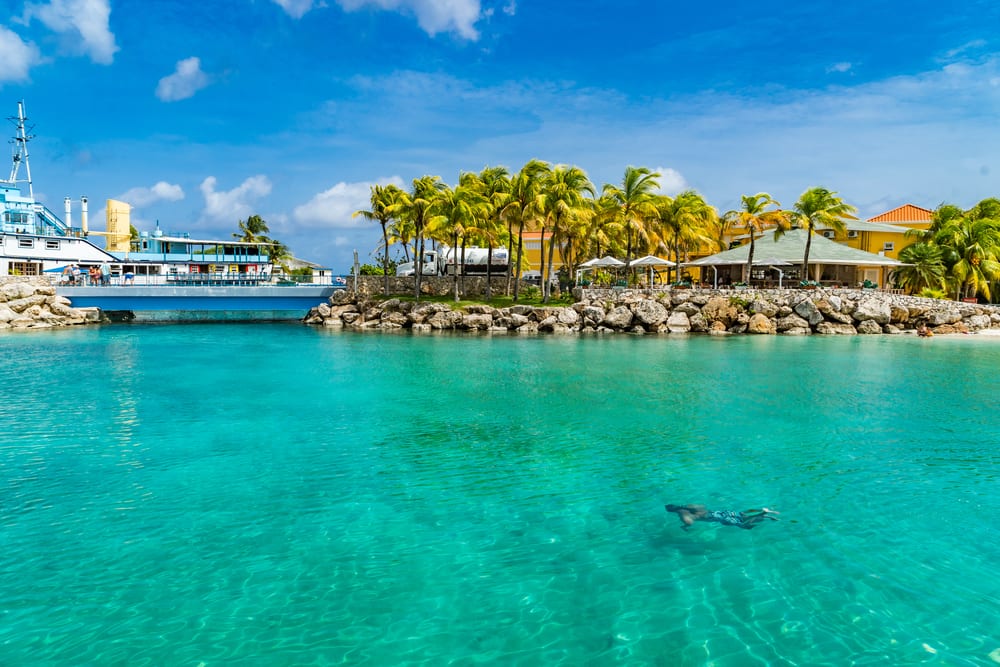 Another port stop on this exciting itinerary is Santa Marta, Colombia, which is the oldest remaining city in Colombia. It sits between the Caribbean Sea and the Santa Marta Mountains. You can explore the ancient cultures of the people who occupied the land thousands of years ago. Take a tour to the Tayrona National Park for a chance to see tropical plants, animals, and birds. Check out the Cartagena Cathedral and admire its beautiful architecture and learn about its fascinating history.
After traversing the Panama Canal, you'll arrive at Puntarenas, Costa Rica, a once-upon-a-time rough coastal town that is now a seaside paradise. While you are here, do not miss a visit to the Carara National Park. Listen for the sounds of the scarlet macaws and get a chance to see the unique fiery-billed aracari.
After making stops in Corinto, Nicaragua, the largest port in Nicaragua and Puerto Quetzal, Guatemala, this cruise travels to Zihuatanejo, Mexico, a sleepy fisherman's village on the Pacific coast of Mexico. Visit the nearby town of Ixtapa, a flashy tourist destination with glitzy high-rises, manicured golf courses, and beautiful golden beaches.
This Panama Canal cruise disembarks in Los Angeles, California, which is the perfect destination to finish a cruise from New York. You'll experience the two largest cities in the United States — on one exciting cruise.
New Ships out of New York in 2019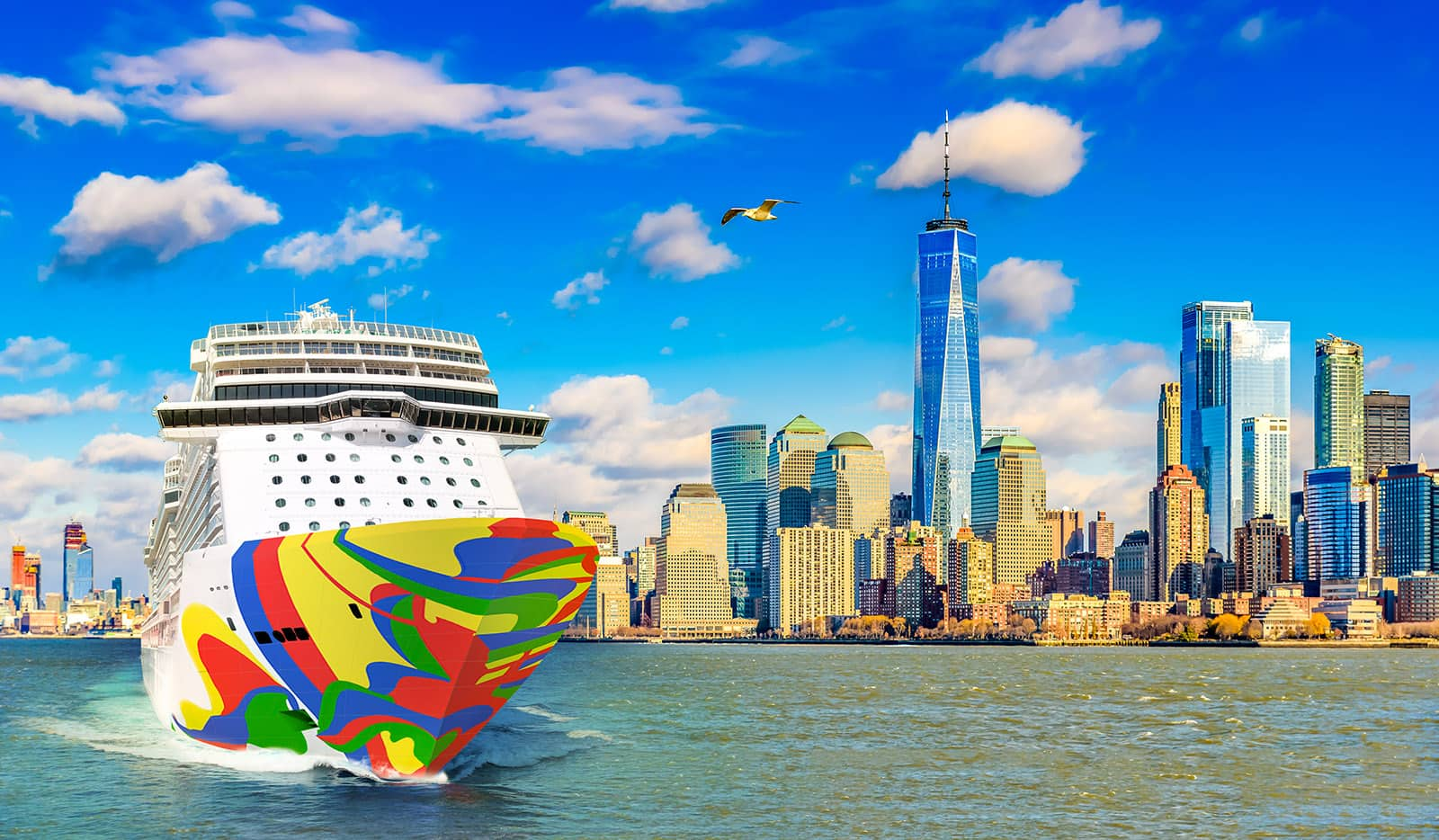 Plan ahead to 2019 and treat yourself to some tropical hustle and bustle on board our newest ships, Norwegian Encore or Norwegian Bliss, named one of the World's Greatest Places by TIME®. Enjoy some sun in The Caribbean, Bahamas & Florida, or Bermuda. Choose up to five free offers with our Free At Sea promotion and vacation on your schedule with no set dining times. Bid the Big Apple adieu on your way to the next big thing with Norwegian Cruise Line.