Departure Day
The countdown is over — your amazing vacation begins today. Before you board, here are some important things to know and essential items you will need to bring to make your departure day as smooth as possible.
YOU HAVE TWO ARRIVAL TIMES.
It's very important that you give yourself plenty of time to board before you set sail. Please note there are two important arrival times to note in your eDocs: embarkation time and departure time.
EMBARKATION TIME
Embarkation time is when you should arrive at the cruise terminal. We ask that you please do not arrive any earlier than one hour prior to the embarkation time noted in your eDocs, because security regulations might prohibit early entrance.
DEPARTURE TIME
Departure time is when your ship sets sail. We highly encourage you to board no later than two hours prior to the departure time noted in your eDocs. This will give you enough time to complete your check-in at the cruise terminal before boarding; your online check-in must be completed prior to arrival.
BOARDING CHECKLIST: Be sure to bring these
Government-issued photo ID
Passport, if applicable
eDocs (One copy per stateroom)
Luggage labeled with bag tags
Credit card for onboard expenses*
Small bag with essentials**
*We strongly recommend you NOT use a debit credit card.
**Bring along what you need to lounge by the pool deck while waiting for your bags to be delivered to your stateroom—medication, change of clothes, sunscreen, swim suit, sunglasses, camera, etc.
GETTING TO YOUR CRUISE PORT/TERMINAL
Take the guesswork out of getting to your ship. Get driving directions and arrange for transfers from your airport or hotel ahead of time. And if you are flying in, don't forget to claim your luggage at the airline's baggage claim area.
Motorcoach Programs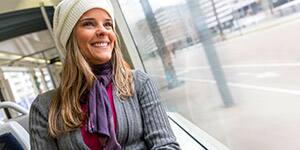 If you've made your own flight arrangements to your embarkation city and want to avoid the hassle of waiting at a taxi stand, Norwegian offers ground transfers between the airport and the pier.
Learn more
Limousine & Sedan Services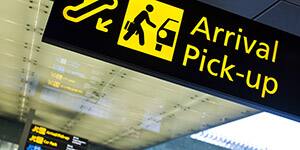 Norwegian Cruise Line has partnered with GroundLink to provide you with ground transportation via sedan or limousine. Get a ride to or from the airport or pier in style and comfort.
Learn more
Driving Directions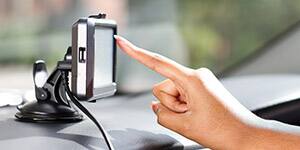 Download driving directions to all Norwegian Cruise Line departure ports.
Learn more
GET THE INSIDE SCOOP
Upon check-in at the cruise terminal, you'll receive your first issue of the Freestyle Daily, which details the day's activities and special events and is a great way to get a feel for the ship. The Freestyle Daily will be delivered to your stateroom every evening, with info to help you plan the following day.
Create an onboard account
Want to enhance your experience with any of our optional offerings? Simply establish a method of payment when you check in and you'll be ready to charge any onboard expense to your account.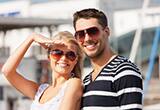 Make the most of your first day
Now that you're on board, there's so much to see, do and enjoy — even before your luggage arrives in your stateroom. Ahhh, welcome to your vacation.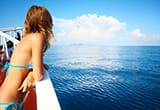 Get to know your ship
Join us for the Freestyle Cruising Presentation, where you'll hear about the ship, the many dining options and your itinerary as well as take a guided tour.
Relax poolside
Head to the pool deck, then sit back and relax. Why wait inside for your bags? Sip a cocktail or soft drink poolside as we sail out.
Grab some lunch
There's no need to kick off your cruise vacation on an empty stomach. We invite you to step aboard and enjoy a buffet.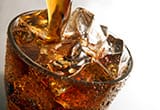 Purchase beverage packages
Enjoy endless fountain soda, the perfect bottle of wine with every meal and your favorite cocktails — for less. Learn more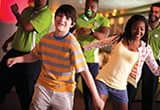 Register for youth programs
As soon as you board, be sure to register your kids and teens in Splash Academy or Entourage. Any Youth Counselor on board the ship can assist you.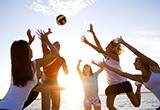 Book Shore Excursions, Spa appointments & Entertainment
Popular shore excursions, spa and salon treatments and entertainment sell out fast. Book on your first day to avoid disappointment.
HELPFUL TIPS & DOWNLOADS
Check out even more ways to make your first day on board — and every day of your cruise vacation — smooth sailing.
Watch Videos on My NCL, Freestyle Cruising, Embarkation & Disembarkation
PREPARE FOR YOUR CRUISE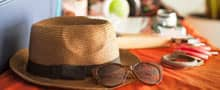 Already booked? Make sure you read this useful information to prepare for your cruise. Find tips on what to pack, what to expect on departure day, things to do onboard and more.
SHIP POCKET GUIDES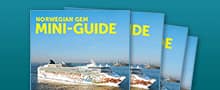 Our handy ship pocket guides feature detailed deck plans, helping you find your way around the ship. You'll receive on at check-in, but you can also download your pocket guide here.
iCONCIERGE APP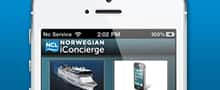 Our Norwegian iConcierge app keeps you informed about everything going on, lets you make reservations for Shore Excursions and more. Learn More
FLIGHT ASSISTANCE HOTLINE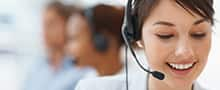 Get help with any flight delays or cancellations, whether they are booked independently or through Norwegian Cruise Line. Call 800.456.7179 or 305.468.2029.