Home > Freestyle Cruise > Prepare For Your Cruise >

Policies Medical
Policies & Medical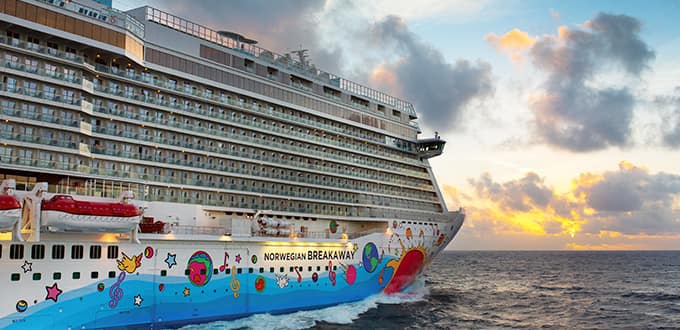 Guest Conduct Policy
The Guest Conduct Policy is intended to ensure that all guests enjoy their cruise experience while following our code of conduct throughout their vacation.
Related FAQs
What are Norwegian Cruise Line's Age Requirements?
Age Requirements for Travel
Note: These terms are effective at the time of boarding.
Traveling with Infants:
At least six (6) months of age on the day of boarding
At least twelve (12) months of age on the day of boarding if your cruise has 3 or more consecutive days at sea.
Traveling with Minors and Young Adults:
Norwegian Cruise Line's policy dictates that a minor or young adult under the age of 21 must be accompanied in the same stateroom (or a connecting/adjoining stateroom) by a guest 21 years of age or older at the time of boarding.
Minors – an individual under the age of 18 on the day of embarkation/boarding.
Young Adult– an individual between the ages of 18 and 20.
Note: Two people under the age of 21 may travel together in the same stateroom if they are a married couple and provide proof of marriage to a Norwegian Cruise Line representative at the pier prior to boarding.
Traveling with Minors Unaccompanied by Parent or Legal Guardian*:
For passengers under the age of 18 traveling with an accompanying adult, who is not the minor's parent or legal guardian, a Parent/Guardian Consent Form that authorizes the minor's travel and further authorizes medical treatment in case of an emergency must be delivered to a Norwegian representative at the pier during check-in. Failure to produce this letter at embarkation may result in boarding being denied. Both living parents/legal guardians must sign and complete this form and attach a copy of his/her driver's license or other government issued identification. Minors of the same parent(s)/legal guardian(s) may be listed on the same form:
2) Copy of both parents/legal guardians Driver's License or other Government Issued ID

Adoptive parents, legal guardians or persons separated or divorced are advised to keep legal and other relevant documents available in order to clarify custody rights.
*If travelling to Canada, you'll the following document in addition to items #1 and 2 (Alaska, Pacific Coastal, and Canada/New England Itineraries):
Canadian entry requirements stipulate that a child under the age of 18 traveling alone, or with person(s) other than both parents, should be in possession of a letter (preferably notarized) from the parents or legal guardian containing:
Authorization for the child to travel with another person and to be outside the country;
The name and a 24-hour contact telephone number of the parents or guardian;
The destination and length of stay in Canada.
What is the alcohol and beverage policy?
ALCOHOL CONSUMPTION POLICY
Passengers must be 21 years of age or older to purchase or consume alcohol while in US sailings.
Parental consent is required for guests 18 to 20 to consume only beer and wine while vessels is in international waters. Authorization will be given only when the accompanying parent completes the Young Adult Alcoholic Beverage Waiver form. This form can be obtained and completed at the Guest Services Desk upon embarkation of the vessel. In Alaska and Hawaii waters parental consent is NOT permitted for guests 18 to 20 years old.
Europe sailing permits young adults 18 to 20 to purchase and personally consume alcohol while onboard.
Please note that with the exception of Wine and Champagne, all guests are prohibited from bringing alcohol on board our ships. If you purchase any alcohol at one of our ports-of-call or in our onboard shops, we will safely store your purchase(s) and either on the final night of the cruise or the morning of debarkation it will be available for pick up in a designated area.
Wine & Champagne Policy
Guests may bring bottles of wine and champagne on board. When bottles are brought on board and served or consumed in any restaurant, public room area or in their stateroom, a corkage fee will be charged according to bottle sizes noted below.
750 ml Bottle: $15.00 USD
1,500 ml Magnum: $30.00 USD
Wine or champagne sent directly to the ship by travel agents, friends, family, etc. or from another retail source, are subject to the same fees. Box wines are not allowed on board.
Corkage Fee is not applicable to guest with beverage package.
* Norwegian encourages the responsible use of alcohol and accordingly reserves the right to permanently or temporarily revoke the drinking privileges of any guest who violates Norwegian's Guest Code of Conduct or who is deemed a danger to himself, herself or others by vessel management. Continued abuse of alcohol while sailing and/or violation of Norwegian's alcohol policy may result in immediate disembarkation.

Non-Alcoholic Beverages Policy

Effective for sailings July 15, 2016 and beyond, guests are prohibited from bringing any beverages -- including liquor, beer and non-alcoholic drinks such as water, soda and juices -- on board either as carry-on or checked luggage, with the exception of purified or distilled water in factory-sealed containers for use in conjunction with medical devices or for the reconstitution of infant formula; and fully sealed and/or corked wine bottles for personal consumption onboard that is subject to screening and a corkage fee (for guests 21 years of age or older). Open beverages of any kind must be consumed or discarded at the security check-point, on embarkation day and at any port of call. This revised policy brings the company in line with other best practice travel security protocols and reduces the need for individual time consuming screening and package inspection of large volumes of beverages.
For more information read our FAQ about "Can I bring water or soda on board?"
.
What not to bring onboard
Passengers should not bring the following items onboard any Norwegian Cruise Line ship:
Drones (Game Flying Device)
Guests are not permitted to bring drones onboard for safety of other guests, as well as the welfare of the vessel.


Samsung Galaxy Note7
In light of recent safety issues with the Samsung Galaxy Note7, we are asking our guests who own this model to please avoid traveling with this mobile device. The Federal Aviation Administration has banned the Samsung Galaxy Note7 from all air travel, and until further notice, this device will be restricted from all Norwegian Cruise Line ships. Fire is one of the greatest threats at sea and due to the safety concerns these devices present, if one is found in a guest's possession or unattended in a stateroom onboard, our policy instructs the crew to confiscate the device for safekeeping. The device will remain in our possession, in a safe, monitored location, for the duration of the cruise. Guests can reclaim their device at the conclusion of the cruise from the reception desk.


Alcoholic or non-alcoholic beverages of any kind including water, soda and juices*
For more information read our FAQ about "Can I bring water or soda on board?".


Unsealed food items will not be allowed onboard.


Firearms, weapons of any kind, ammunition, explosive substances or any goods of a dangerous nature


Irons / Ironing Boards and Steamers
Guests are not permitted to bring and use their own irons or steamers onboard. Norwegian Cruise Line carries a limited number of irons and ironing boards which can be loaned to guests for a few hours at a time. They can be requested through housekeeping or Guest Services Desk.
Irons and steamers would both be taken from guests at embarkation and returned at the end of the sailing.


Animals of any kind, except service or guide animals, provided the passenger notifies Carrier prior to the cruise of his intention to bring such animal and agrees to take sole responsibility for any expense, damage, injuries or losses associated with or caused by such animal.


Large Batteries, Emergency Position Indicating Radio Beacons (EPIRB), ham radios, satellite phones, transformers, lasers and laser pointers are not allowed onboard.


For a full list of items that are prohibited onboard, please CLICK HERE
Is there a doctor on board?
A physician and nurse are on each ship to provide medical care and services at customary charges. Commonly used medications are kept on board and may be prescribed by the ship's doctor.
What if I'm pregnant?
Norwegian will make every effort to accommodate you, providing you have not entered the 24th week of pregnancy when the cruise ends. Please include your cruise details in an email to the
Access Desk
with a medical certificate establishing your due date prior to your cruise.