There's no better time to enjoy the healing benefits of a spa treatment than when you're on a cruise. Why? Because in the vacation world on board your ship, you don't need to rush back to work or pick up the kids. Mandara Spa offers over 50 specialty spa treatments designed to relax, refresh, and revitalize. For more pampering, book a Spa Suite where you'll have complimentary use of the sauna, steam room, heated loungers, hydrotherapy pools, and the Thermal Spa Suites. It's no wonder Norwegian Cruise Line was voted the World's Best Cruise Spa by World Spa Awards.
Trendy European Salt Therapy Treatments
Chances are you've already heard about trendy European salt therapy, but have you had a chance to experience it for yourself? Now you can reap the rewards of salt therapy, also known as halotherapy, exclusively on board Norwegian Breakaway, Norwegian Escape, and Norwegian Getaway. You'll enter a tranquil, softly lit grotto with shimmering crystal walls and sandy floors designed to mimic the salt caves in Europe. Enjoy the soothing scent of fresh ocean air as you relax and unwind. Salt therapy is known to aid in strengthening the immune system and to help alleviate breathing and some skin conditions.
The Chill and Thrill of the Snow Room
Want to experience one of the coolest things at sea? Check out the thrill and the chill of the Snow Room on board Norwegian Bliss and Norwegian Escape. Yes, a Snow Room. But why, you ask? A snow room encompasses the therapeutic concept of going from hot to cold. First, you heat up in the sauna before entering into the chilly 14-degree Snow Room, where you'll actually experience flurries of falling snow. Rebooting your body's temperature helps to encourage blood flow and is good for your immune system, as your blood vessels are encouraged to dilate and constrict.
Mandara's Hot Stone Heaven Massage
The healing properties of crystals and stones have been revered for centuries. In some countries, it's widely thought that river rocks absorb healing powers from the water flowing over them. These same types of rocks, including stones such as basalt - a volcanic rock with heat-retaining properties - are heated and used in therapeutic massage treatments to help release tension and soothe your tired, aching muscles. The hot stones can be placed along certain areas of your body, and in this case, your therapist will hold the stones as they massage you with strokes and circular movements. It truly is heavenly.
Spa Pampering for the Men in Your Life
After relaxing with a couples' massage, and before your big night out on board your ship, treat the man in your life to a Deep Cleanse Grooming treatment. It's a two-part shave and deep cleanse designed to revitalize the skin, along with a facial and scalp massage for the ultimate relaxation. You could also opt for an Express Shave if you're looking for that finishing touch — or the granddaddy Shave of All Shaves, which includes the Deep Cleanse Grooming treatment with the addition of an anti-aging treatment, as well as a soothing arm and hand massage. Very manly.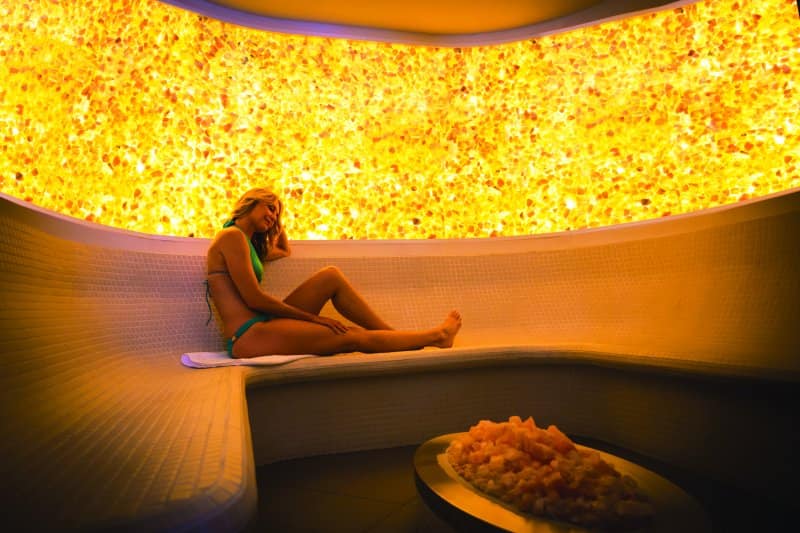 The Art of Acupuncture
Whether you're looking for pain relief, want to rebalance your body, or are just curious about the ancient Chinese practice of acupuncture as a whole, there's a Norwegian Cruise Line spa treatment for that. Pain Management with Acupuncture helps to reduce or even eliminate chronic aches and pains. If you're not sure what acupuncture can do for you, book a Just to Try introductory treatment. If you're feeling stressed, acupuncture can refocus your body and mind by working on targeted acupoints. This holistic medicinal treatment can also be used to aid with smoking cessation, weight loss, and even seasickness.
Body Wraps and Facial Treatments: Seaweed and Silk
Mandara Spa offers a huge array of body wraps and facial treatments to enjoy, but here are some of our favorites. The Elemis Japanese Silk Booster Facial is the quintessential holistic skin treatment designed to restructure and lift mature skin by combining pure phytoamine biocomplexes, Absolute Pro-Collagen Lift, and Absolute Vita-C Harmony. The Ionithermie Sea-Algae Detox Wrap, developed by a French surgeon, will detox your body while offering inch-loss even after just one treatment. The natural benefits of sea algae will also help to firm and tone your body, including any annoying cellulite areas.
Medi-Spa Treatments Designed to Give You an Instant Lift
Did you know spa services offered by Norwegian Cruise Line include select non-surgical cosmetic treatments? That's right, you can receive cosmetic medical treatments administered by a licensed Medi-Spa doctor during your cruise vacation so you'll look even more rested upon your return home. This includes popular Botox Cosmetic treatments, which can help to reduce wrinkles and soften lines. If you're looking for an instant pick-me-up, Restylane and Perlane will help to provide fullness and a plumping effect to the skin, along with those sought-after long-lasting results. You know you want to.
The pampering continues in the Thermal Suite relaxation area, where you'll find a selection of soothing hot tubs, saunas, and a steam room, as well as a Vitality pool, warm waterfalls, and cozy heated ceramic lounge chairs. It easy to stay a while, so consider a Thermal Suite Pass that's valid for your entire cruise vacation, with no limitations. Of course, Mandara Spa also offers traditional manicures and nail polish changes, plus a full array of salon treatments, including coloring services. After a day at the beach, enjoy a little pre-dinner pampering by booking an up-do.