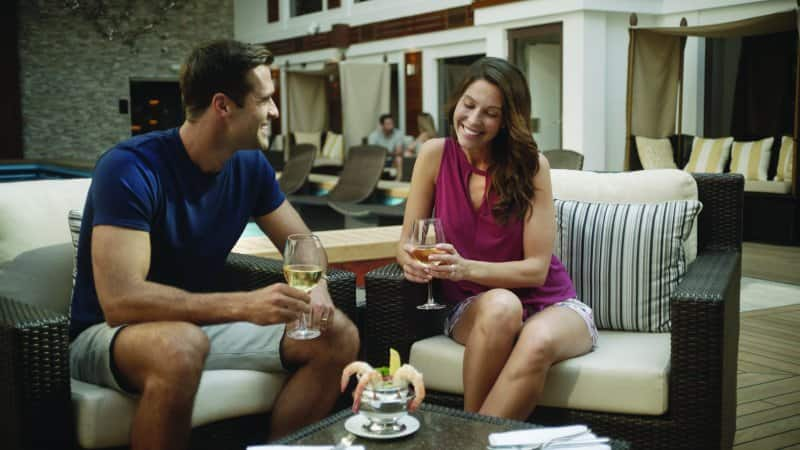 What makes sailing Norwegian's Suites and The Haven so sweet? In a word: EVERYTHING! In a world where every cruise line offers special perks for their suite guests, no other cruise line even comes close to the comprehensive offerings on Norwegian. If you're looking to enjoy pampering and perks on your next cruise vacation, they've got that and so much more. From the moment you arrive at your embarkation port, until you're departing on disembarkation day, you'll discover a level of service and benefits that make your cruise vacation stress-free, and that truly puts the "sweet" in suite living!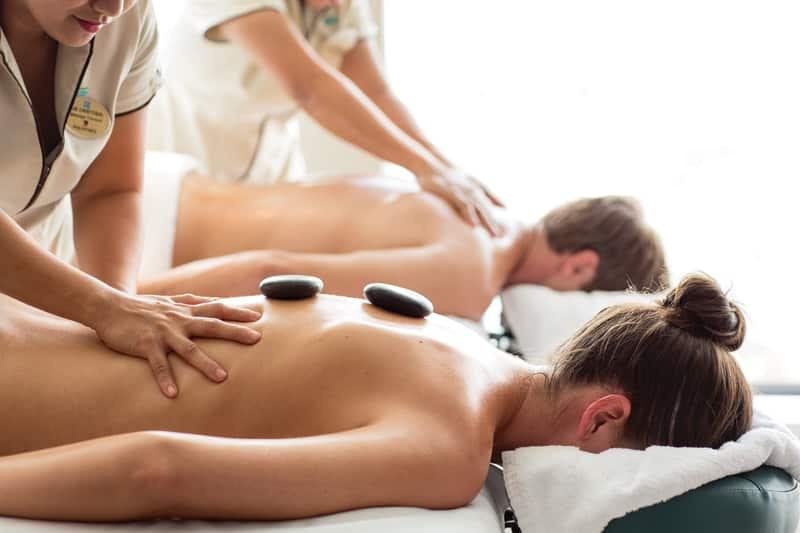 Before You Cruise
The pampering begins at about 45 days prior to your sailing, when you receive your welcome letter from the pre-cruise concierge service. With one quick phone call or email, you can arrange for a variety of special requests which will be handled before you even arrive on board the ship!
Would you like a special pillow, or perhaps you're a fan of chamomile tea? No problem. Maybe you only drink milk with your coffee? If so, they'll have a pitcher of milk waiting in your mini-fridge. Perhaps you'd like to start off your first sea day with a massage and facial at the cruise spa… they'll arrange that, or specialty dining reservations, shore excursions, and more! Inside the letter, you'll also find pre-printed self-adhesive Priority luggage tags as a special touch.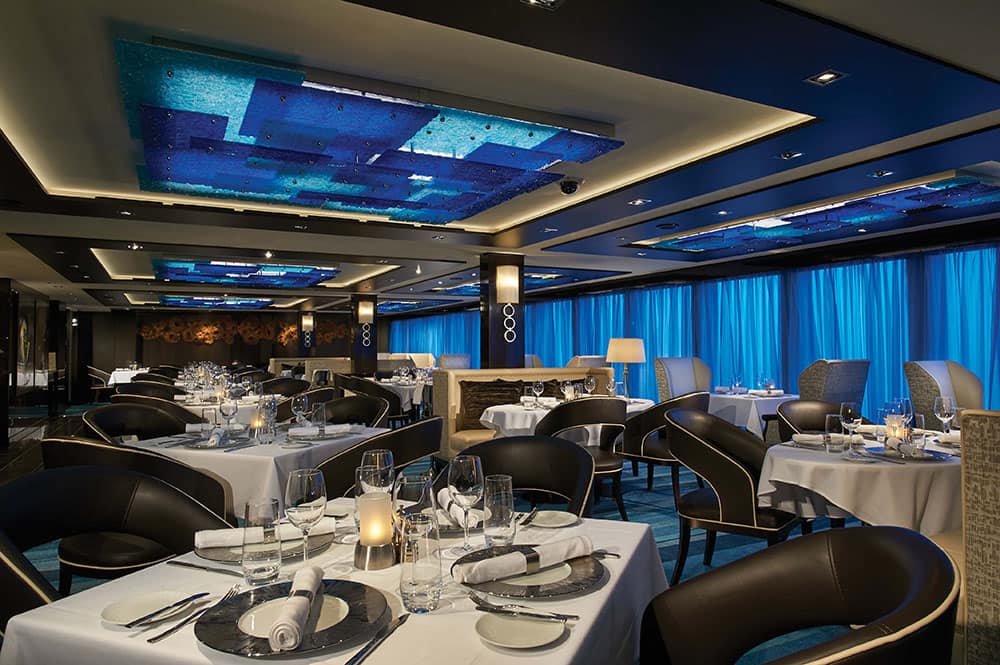 Checking In
Picture yourself arriving at the port where you'll encounter the commotion of people disembarking, arriving to embark, porters and cabbies and busses galore. You enter the cruise terminal and immediately the commotion ceases as you're directed to the Suites & Haven check-in lounge, where you'll find yourself quickly checked-in, keycard in hand, and relaxing with a cup of coffee and some pastry or a sandwich from the small buffet set up in the lounge.
Before long you'll be escorted onboard by the Concierge staff or one of the ship's Butlers, and you'll enjoy lunch in the private Haven restaurant or in the designated suites-only breakfast and lunch dining venue. This is the moment when you realize that you're not going to wait in a line of any kind for the duration of your cruise, you're going to enjoy a superior menu every day, and that your Concierge and their staff are right there ready to handle whatever you need.
After a wonderful lunch, perhaps a conversation with the Concierge to make some specialty dining reservations, or arrange for shore excursions, show reservations or perhaps to book those spa treatments you've been dreaming about, you're off to explore your suite.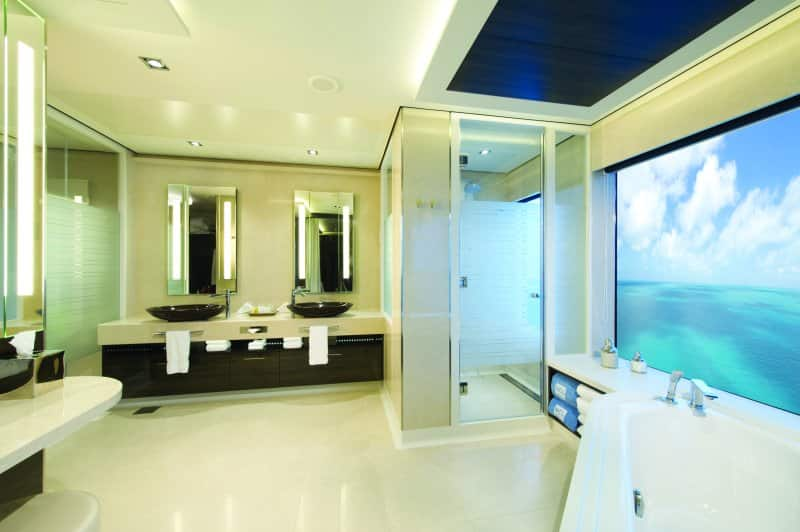 In Your Suite
You slide that keycard into the slot and open the door to your private paradise where you'll be greeted with fresh flowers on the table, a bowl of fresh fruits, a bottle of sparkling wine or champagne chilling in ice, and either a Nespresso or Lavazza coffee/cappuccino/espresso machine. Your Butler will have stocked your suite with stemware, flatware, tableware, and napkins, along with supplies for your coffee and tea, etc.
If you've made any special requests via the pre-cruise concierge service, you'll find that special pillow is already on your bed, or that pitcher of juice is already in your mini-fridge. On the table, you'll find a plate of fresh chocolate-covered strawberries, alongside your Invitation to a private cocktail reception with the ship's Captain and Senior Officers, exclusively for Suite and Haven guests. You'll also find a special pressing service offer, to help with all those packing wrinkles!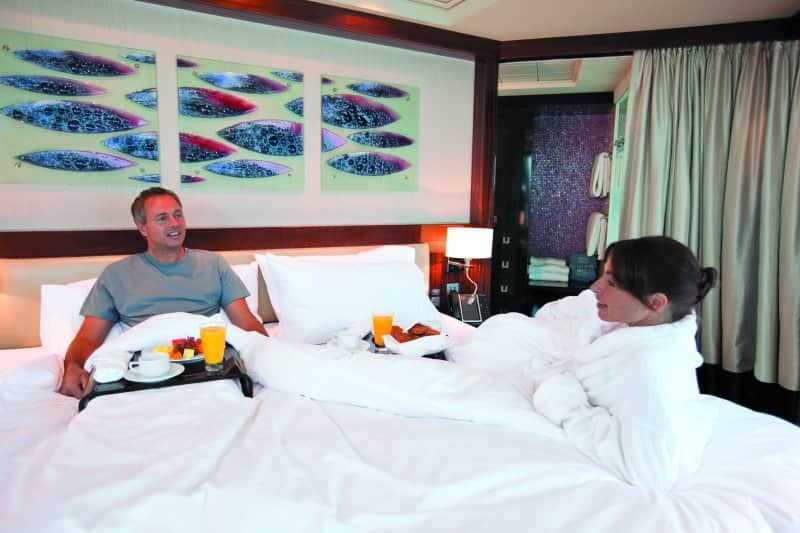 Luxe Details
Exploring the suite you find luxurious terry-lined bathrobes hanging in the closet, and comfy slippers you can't wait to slide your feet into. You realize that your needs have been anticipated down to the smallest detail, as you find the golf umbrellas in the closet, the portable phone which goes with you anywhere on the ship, and the binoculars in the desk drawer!
Wandering into your luxury bath you'll be anxious to try out that amazing shower, enjoy the sensual Bulgari brand toiletries that are provided for you, and make use of those thirsty, oversized luxury bath towels. The ladies will be especially delighted to discover the huge vanity, complete with powerful hairdryer, huge lighted mirror, ample drawers and a lighted magnifying mirror.
It's been a busy day already, and that king-sized Bliss Collection bed is beckoning you to take nap! It's called Bliss Collection with good reason, which you discover as you fold back the luxury linens, slip under that feather-filled duvet, and snuggle into the most amazing mattress imaginable. Blissful sleep finds you quickly, and you awake refreshed and ready to head off to the mandatory muster drill before returning to the suite and opening that champagne in time for sail away.
In my next post, I'll walk you through the benefits of Butler and Concierge service for The Haven and Suites.
Have you cruised Norwegian? What's your favorite perk?