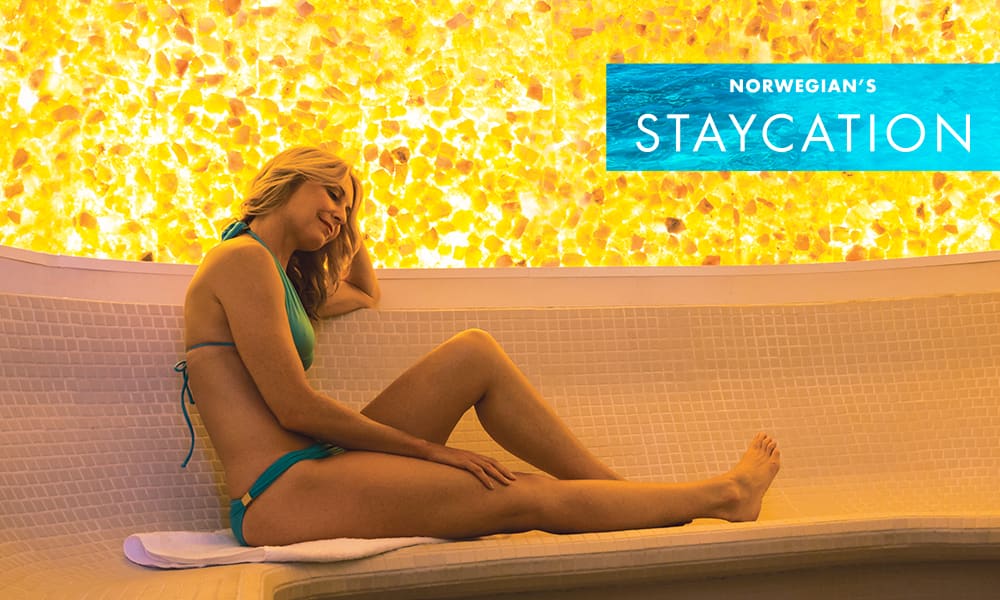 Pampering our guests is what we look forward to the most-and it's what we're missing the most! So, we're bringing all the ahhh's on shore and into your home with Mandara Spa's at-home treatments brought to you by Norwegian's Staycation. Enjoy smooth sailing with our uplifting Green Tea Body Exfoliator. Share your creations with us on social and tag #NorwegianStaycation #CruiseNorwegian. And, be on the lookout for more easy-to-make elixirs coming your way!
GREEN TEA BODY EXFOLIATOR
Ingredients:
1 TB dried Green Tea Leaves (2-4 tea bags depending on size of tea bag)
1 Cup Salt
1/2 Cup Extra Virgin Olive Oil
2 TB Honey
10 Drops your favorite Essential Oil (optional)
Instructions:
In a medium-size bowl, combine all the ingredients. Store the exfoliator in an air-tight container in a cool, dark place (the linen closet or medicine cabinet).
To Use:
Apply a tablespoon of exfoliator at a time to your hands. Gently massage the body with the exfoliator for 30 seconds. Rinse the exfoliator from your skin with water.

Tip: This recipe can be modified by switching the salt for a softer, small granule sugar and safely used on the delicate facial skin.
Green Tea
Green tea contains antioxidant properties that may help to reactivate cells and fight against damaged skin. There are many ways to use green tea in a skincare regime (and many companies now include this ingredient in high-end beauty products). In this recipe, the green tea leaves are added directly to the scrub to exfoliate the skin and get rid of unwanted pollutants.
Salt
Sea salt and Epsom salt are some of the most common salts used in body polishes. The type of salt you use isn't as important as the grind. For a salt polish, choose finely ground salt over coarse salt because fine salt is better for exfoliating. You can also combine different types of salts together in one body polish.
Olive Oil
Olive oil contains three important antioxidants which may help keep the skin from aging prematurely. Oil is also known to help cleanse the skin by drawing out unwanted oils.
Raw Honey
Honey (particularly honey that hasn't been pasteurized) is a powerhouse of nutrients for the skin. It's loaded with antioxidants and natural enzymes to help cleanse and nourish. Honey may also fight against acne thanks to the antibacterial properties.
Sugar
Good ol' sugar is a humectant which may help the skin retain moisture. Sugar also contains glycolic acid which may help encourage cell turnover and fresh-looking skin. Not all sugar is created equal when it comes to homemade skincare. We highly recommend using a softer sugar (such as: organic white or brown sugar) for homemade exfoliating scrubs. The abrasive nature of more natural sugars (sucanat, coconut sugar, raw sugar) may leave the skin irritated and red.