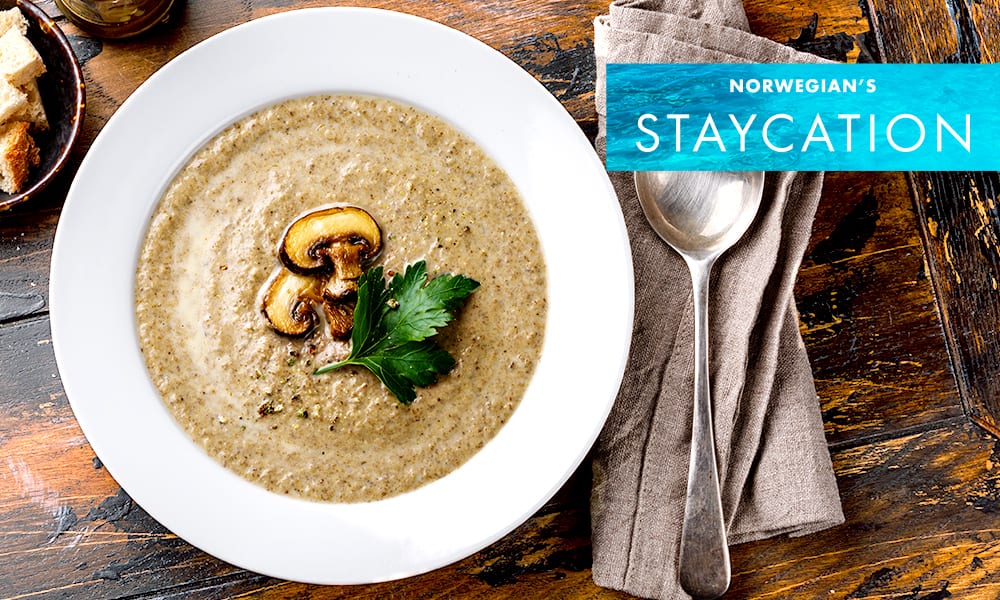 Looking for a new dish to try during your Staycation? If you love mushrooms or are in the mood for some hearty soup, we have the perfect recipe for you. This mushroom soup is a guest favorite at our onboard fine dining restaurant, Le Bistro, especially when cruising the cooler climates of Northern Europe and Iceland. Settle in with a bowl of our special soup, served with a side of daydreams of Norway's dramatic fjords, Iceland's famed blue lagoon and the colorful dome-topped buildings of St. Petersburg.
Mushroom Soup
Ingredients:
2.5 Tbsp Olive Oil
1/4 cup Onions, Diced
1 ea. Fresh Peeled Garlic
2 ea. Fresh Thyme Spring of Thyme
1/2 ea. Dry Bay Leaf
1 cup White Button Mushrooms
1/8 cup Dry Porcini Mushrooms
1/8 cup Dry Morel Mushroom
1/3 cup White Wine
3/4 cup Chicken Stock
3/4 cup Heavy Whipping Cream
1 ea. Shallot
1/2 cup Portabella Mushrooms
1/4 cup Maitake Mushrooms
5-6 ea. Fresh Sprigs Tarragon
5-6 ea. Fresh Sprigs of Parsley
1/4 cup Butter
Pepper to taste
Salt to taste
Instructions:
Step 1: Re-hydrate dry mushrooms in water, minimum 1hr, strain through fine mesh and reserve water. Cut in small pieces after.

Step 2: Clean fresh mushrooms and reserve mushroom trimmings to add to soup in step 4. Cut white button mushrooms in quarters. Dice portabella mushroom in ½ inch pieces. Cut maitake in thin and even slices. Chop thyme, parsley and tarragon. Finely dice 1 shallot.

Step 3: In a heavy-duty pot on medium high heat add olive oil, and sauté white button mushrooms (only) until browned evenly. Add the onion and cook until translucent. Add garlic, bay leaf and thyme and sauté well.

Step 4: Add white wine and reduce by 50%. Add mushroom trimmings.

Step 5: Add stock and strained liquid from rehydrated dry mushrooms (about 7FL OZ.). Continue to simmer soup for 10 minutes and stir occasionally. Add salt and pepper to taste. Remove bay leaf.

Step 6: Add heavy cream and simmer for 5 minutes.

Step 7: Blend soup with stick blender to consistency desired. Add cold butter. Set aside for plating.

Step 8: Heat a sauté pan on medium heat. Sauté porcini, morels, maitake and portabella mushrooms. Finish with shallots, tarragon and parsley. Season to taste.

Plate by combining soup and ingredients from step 8, and garnish.
Share your creations with us on social and tag #NorwegianStaycation #CruiseNorwegian. Cheers!