Home > Sail And Sustain >

Waste Mitigation
Waste Mitigation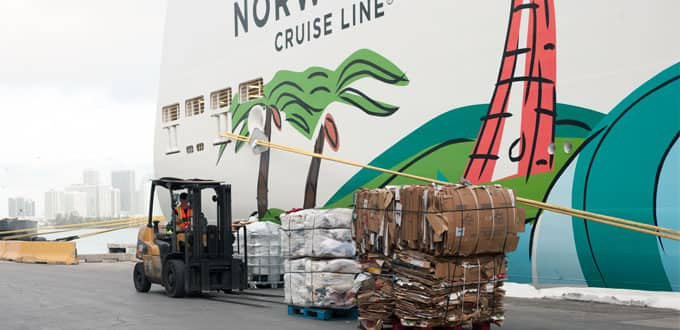 Waste Mitigation
Our ships call on sensitive areas of the world, and we strive to lead by example as we strive to continue to be effective stewards. Norwegian enforces a zero-tolerance policy for any items thrown overboard. If an environmental incident is observed, guests, crew and shoreside employees are encouraged to use our environmental hotline.
Proper implementation of a progressive waste management program lessens the environmental impact of our operations, reduces pollution, promotes diversion of material from landfills, conserves natural resources, saves energy and lowers ship fuel use. Waste is reduced through reusing and recycling, with clear benchmarks serving as our measurement for waste minimization.
We have pioneered recycling of used oil and it is often offloaded for use at shoreside installations as bio-fuel, with our vessels recycling over 95% of the cooking oil that is landed ashore.
Over the past decade, as the availability of recycling programs and options has increased, we have taken advantage of these programs wherever possible. One example is when Norwegian partnered with Waste Management in 2010 to develop an industry-first Live Load offload operation. This partnership reduces offload time of waste, truck on-site time, port congestion, transportation costs and the use of pier-side containers. Our ships that used the Live Load model in 2017 were able to conserve the following:
Norwegian Employees Working To Mitigate Waste
Both shoreside and shipboard employees have been involved in food and clothing drives
Our shoreside employees and various crew members participate in beach clean-ups and community clean-ups throughout the year
During ship refurbishment, options to recycle and donate both technical equipment and hotel furniture are always explored