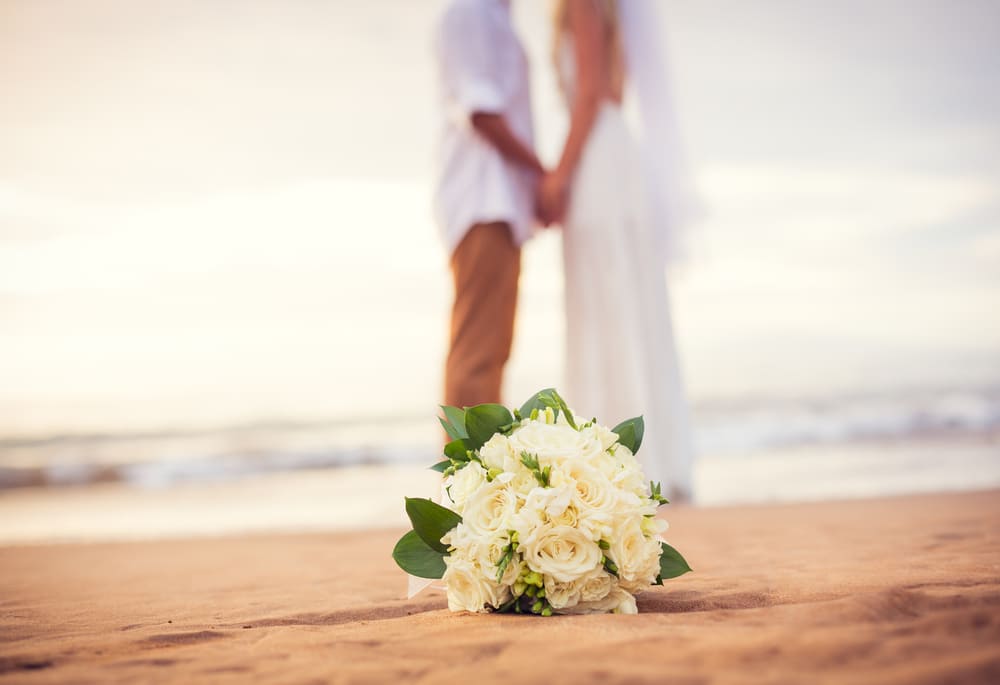 Whether you want to get hitched at sea or say 'I do' on Bermuda's amazing shores, we've asked insider Tiffany Bell, Program Manager for the Norwegian Cruise Line Wedding Program at Royal Ocean Events, for her insight. It doesn't matter if you'll be exchanging vows for the very first time or vowing to do it all over again, Tiffany has all the information you'll need about getting married while cruising to Bermuda. Plus, we've asked her about recommended romantic spots for your big day. Let's take a look!
Getting Married in Bermuda: What You Need to Know
As a couple, you'll be assigned a designated Royal Ocean Events coordinator who will plan your wedding with you. In fact, there will be three team members working with you throughout the process:
Your Designated Wedding Planning Team
A wedding planner based in Vancouver
A group service coordinator that's on board your ship for the week
An onsite coordinator in Bermuda who will organize your day-of wedding plans
The Legalities
Royal Ocean Events will provide you with assistance in obtaining your Bermuda marriage license including instructions and applications. It's as easy as filling in your information and providing all of the required legal documents, which are then submitted to your wedding coordinator, who will forward them to the courts on your behalf. Please note: this needs to be completed at least 60 days prior to sailing.
The Ceremony
With Bermuda wedding ceremonies ranging from couples only up to 50 guests, you can also choose to have unlimited guests attend with additional costs being associated to transportation, reception menus and ceremony decor chairs required. If you have non-sailing guests who've flown to Bermuda, they're welcome to join your ceremony, too!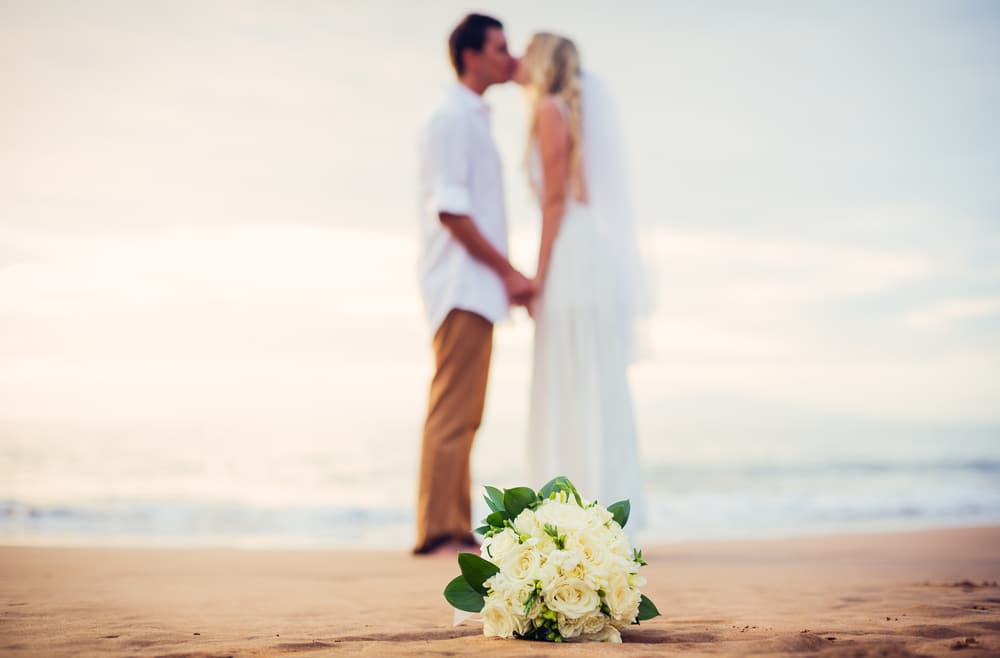 Top 3 Wedding Ceremony Locations on Bermuda
Besides getting married on board the ship, there are also some beautiful ceremony locations on Bermuda. While we know the entire island is gorgeous, we asked Tiffany for the top 3 locations on Bermuda for afternoon wedding ceremonies:
Warwick Long Bay: A quiet, secluded, picturesque beach with gentle ocean breezes
Stonehole Bay: Pink sands and turquoise waters framed by large ocean rocks
Astwood Park: Another quiet, secluded beach with a panoramic ocean view cliff
If you'd prefer to do a morning ceremony, Jobson's Cove will provide that quintessential pink sand on a small cove surrounded by jagged rock formations.
The Reception
You can choose to enjoy a cocktail reception on the beach directly after your ceremony, or return to the ship for an on-board reception where you and your guests can savor a selection of hot and cold hors d'oeuvres.
What's Included in Your Bermuda Destination Ceremony:
Tiffany explains what your basic Bermuda destination ceremony will include:
Round-trip transport to/from the ship for the bride and groom
Bridal bouquet and matching boutonniere
Bermuda marriage officiant fee
Wedding Coordinator (onsite) for first 25 guests
One hour of beach photography with digital images
Served on the beach: small couples cake (a gluten-free version is available) and one bottle of pink sparkling wine
Pre-recorded music
Traditional wedding vows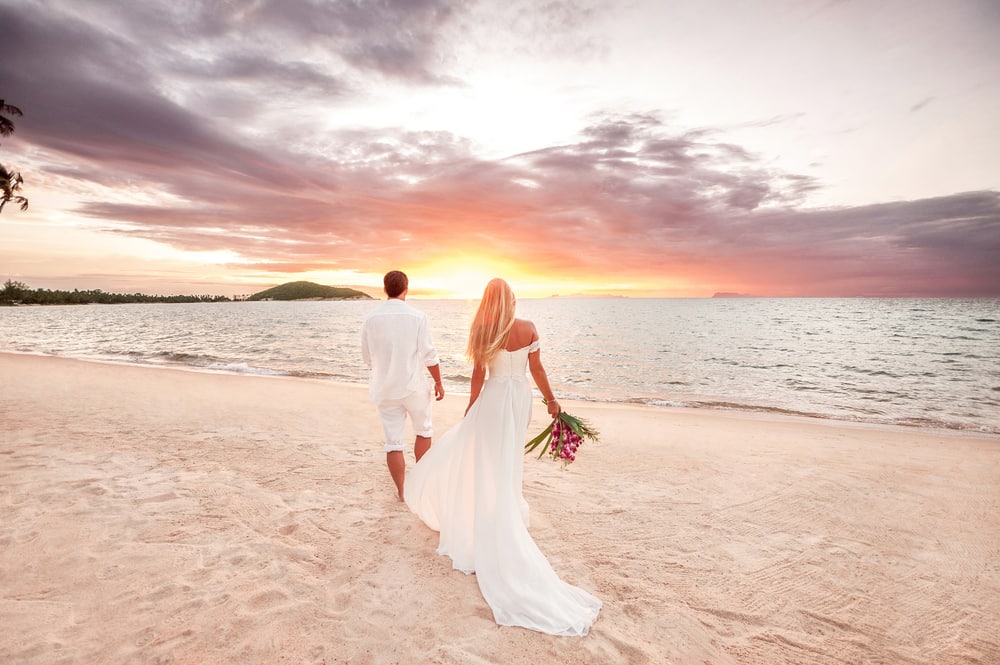 Make it Perfectly Yours
Of course, you're able to enhance your Bermuda wedding by adding on little touches to make your day even more special. For your ceremony, you could choose to include orchid petals, a bamboo archway and videography, or you could have a calypso trio or string quartet serenade you! Get pampered with couples spa appointments before your ceremony, and add a music DJ to your reception so you can dance to your happily ever after.
On Your Wedding Day
Wondering how your perfect wedding day in Bermuda is planned out? We asked Tiffany to give us a sample timeline of a typical Bermuda wedding. Not that any wedding in Bermuda could ever be typical!
4:15-4:25 p.m. - Groom and guests are picked up from cruise ship
4:25 p.m. - Bride and attendants are picked up from the cruise ship (all locations are about a 30 minute drive from the port)
5:00 p.m. - Ceremony
5:30-6:00 p.m. - Finishing of 1 hour photography
Followed by your choice of either:
6:00 p.m. - Return to the ship, 6:30 p.m. onboard reception
6:00-7:00 p.m. - Cocktail on beach, with a 7:00-7:30 p.m. return to the ship
For more information, view the complete
Norwegian Cruise Line Wedding Brochure
.