If you're contemplating a Norwegian European cruise, chances are you're eager to sample sumptuous menu selections and culinary-themed excursions. After all, Europe is the epicurean center of the world.
All the same, you won't want to come home wearing extra weight, and you don't have to. Some might think of Europe as one giant landmass of thick stews, carb-packed pastas, and heavy creams. But the food culture is steeped in centuries of organic, farm-fresh, lean ingredients. What's more, portions are traditionally smaller.
Here are some suggestions for how to eat your way from Cannes to Copenhagen without gaining a pound around the waist.
Go Fish
From the Mediterranean port cities of Cannes, Barcelona, and Naples to the Baltic Sea, including Helsinki, Copenhagen, and Stockholm, fish is the freshest, tastiest, most prevalent protein around.
In Italy, for instance, it's all about clams, calamari, squid, and even eel! My favorite fish preparation is a peppery puttanesca sauce made with garlic, olives and capers. For France, fresh mussels served in light garlic and wine broth is a must. But Barcelona offers one of the most quintessential Mediterranean seafood dishes: paella, a hodgepodge stew of shellfish simmering in a spicy saffron broth. You can also add chorizo, or ham, for savory lean meat in your meal.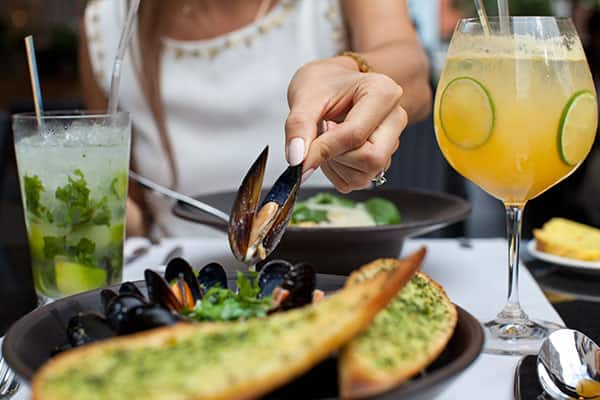 Or, if you're sailing the Baltic Sea , prepare for pescatarian offerings at every meal. The specialty of the region is smoked fish such as herring, salmon, and lutefisk. The latter is perhaps the most famous fish dish associated with Scandinavia, and consumed by everyone, from peasants to kings. When you're on board, be sure to reserve at least one meal at Ocean Blue, one of Norwegian's more elegant restaurants. Here you'll find the freshest ingredients, and fine wines. It's a perfect pairing of sophisticated taste with a health-minded menu.
Veg Out
With Norwegian cruises, there are plenty of options for vegetarians and anyone seeking a healthy diet. Keep it lean with the sushi selection at Norwegian's Asian Fusion, for instance. You can also order meals, such as a pasta primavera with fresh vegetables, made to order. Special meals are available including low-calorie, vegetarian, no MSG, low/no sodium and low/no cholesterol meals, as well as sugar-free and fat-free desserts.
Off shore, you must seek out specialties in your favorite port cities. You'll find everything is prepared with fresh ingredients. What could be more wonderful than an arugula salad with dollops of light mozzarella or goat cheese that come from local dairy farms?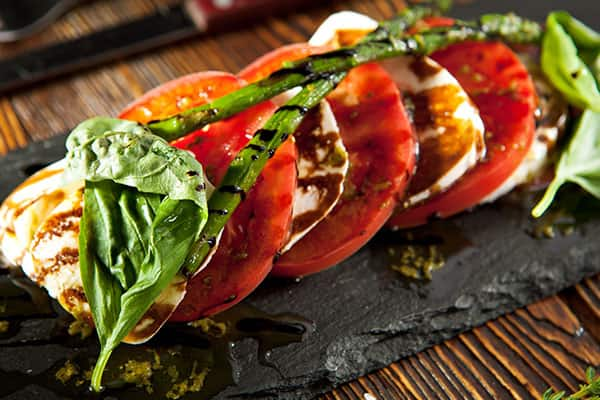 Lean In
There's a good reason why nutritionists claim a Mediterranean diet is one of the healthiest in the world. And it's not just because of the fish and veggies. Wherever you travel, you'll find savory meals prepared with lean meats such as chicken, veal, lamb, and fish. In Italy, try a chicken risotto, prepared with sun-dried tomatoes, olives, and baby spinach. In France, enjoy your chicken or veal simmered with a delicate broth of wine, light butter, garlic and lemon. Greece is all about the gyro! It's a spicy lamb served on a pita with shredded lamb and a cool cucumber and mint sauce called tzatziki.
If you're cruising the Baltic Sea, we're told that some of the finest restaurants serve reindeer as an entree. While it may be lean meat, I can't claim to have taste-tested this just yet!
Dance Off
Maybe you're feeling ready for an extra-rich meal. The good news is that when you want to treat yourself to something creamy, sweet, or rich, the Europeans have a calorie-saving solution for this too: Lunch is traditionally the largest meal of the day, which means there's ample time in your afternoon to burn off your meals.
Norwegian cruises also offer some the most convenient ways to work off a little extra Fettuccine Alfredo. In addition to their state-of-the-art fitness center, and evenings filled with dancing underneath the stars, you can always have your cake and eat it too!