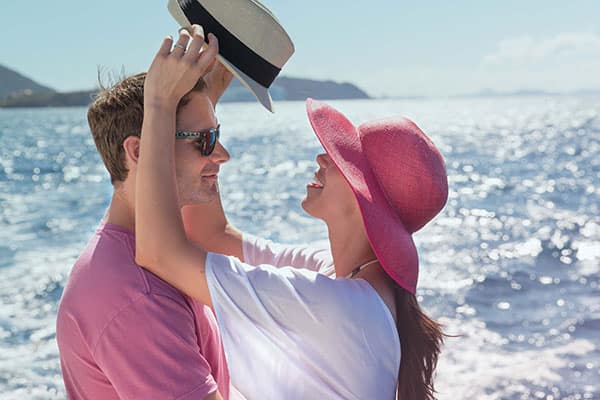 Lights Up: Imagine you're cruising The Caribbean, leisurely sailing from the British Virgin Islands to the Bahamas. See yourself sprawled on a lounge chair. What are you wearing? A super-cute bikini, or your favorite old college t-shirt? Is your hair tucked under a hat, or twisted up with a giant scrunchy? (Yes, you still own one. So what?) Or maybe your fantasy expedition includes icy fjords of Alaska. In that case, you could be sporting a snuggly jacket, sweatshirt, and sensible sneakers.
Roll sound! Emit an audible sigh: Whatever geographic destination you chose to cruise, you're feeling palpable relief from your workaday world and the everyday pressure to dress for success. After all, when it comes to the art of unwinding and travel exploration, comfort is key on your cruise.
Cut to nighttime! You're dressing for the big dinner scene: Is it time to bust out of that bikini or nylon windbreaker and break in those killer heels? You love the idea of getting glammed up after a day smothered in sunscreen – but geez, as you consider wardrobe choices, your mind is replaying images of old-fashioned cruise liners bejeweled with chandeliers, and passengers shimmering in sequined evening gowns and tuxedos. After all, old school glamour is what cruising used to be famous for.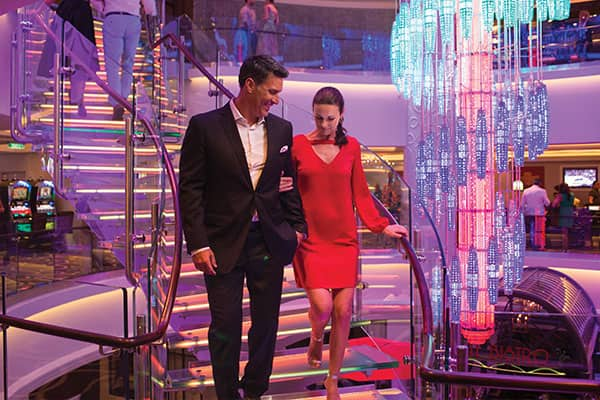 But just as the times and cultural habits shift with changing tides, so has our taste in leisure and style. Today, for instance, Norwegian Cruise Line is far ahead of other luxury fleets, especially when it comes to vacation trends and fashions. Norwegian Freestyle Cruising introduces the concept of choosing your own adventure — from when you eat, how you dress, and where you explore.
The result? After sunbathing, whale watching, or whatever you select for your daytime activities anywhere in the world, come evening, you can still slip into a little black dress and explore the sexy side of cruising. Just leave the ball gown and diamond tiara at home.
Here are a few extra-special evening wardrobe options and enticing scene settings to consider:
Action! Norwegian's Night Out
Every passenger deserves a little pampering. Head to Mandara Spa for a mani-pedi to primp for Norwegian's Night Out. Enjoy specialty dining, a show, and a few libations. You can meet the ship captain, and have your family photo or portrait taken.
Of special note, Le Bistro, Norwegian's upscale French restaurant, offers classiness, romance, and service with a high touch.
What to wear: It's about elegance, not extravagance. For women, I'd suggest your favorite dressy outfit – the one that makes you feel fabulous. Maxi dresses are a current trend, especially on Caribbean cruises, but think "sophisticated," not "sun-dress." Men may be relieved to know that a simple sports jacket and slacks will do for the fanciest occasions.
White Hot Party: Norwegian's White Hot Party also called Glow Party is their after-dark signature event, so be sure to pack an all-out, get-out, white wardrobe for the festivity. You'll also want to bring your camera. The scenery is spectacular!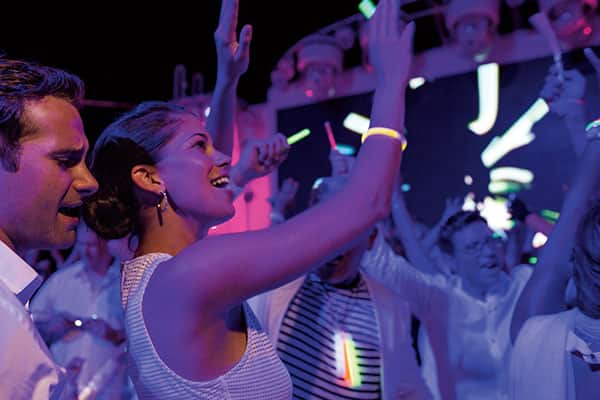 Everything Else: Freestyle cruising caters to every menu craving, from classic steakhouse to eclectic Asian fusion. Still, you'll want to leave your flip-flops back in the cabin when you set out for dinner. It's kind of like "Casual Cruise Friday." Now is the time for a sassy sundress, or maybe a styling tunic with leggings, depending where you're cruising. Best rule of thumb for packing: "Smart, attractive, and easy-going" — just like you!