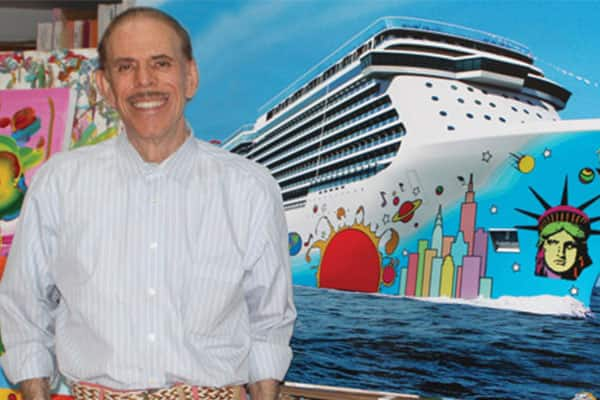 "You really can't go in there. Peter doesn't like unexpected visitors and he isn't due in today." 
Peter Max's assistant wedged herself out from behind her crowded desk and waded through the fronds of a large potted plant beside her in a weak attempt to stop us from continuing down the studio hallway.
My parents had recently returned from a cruise on Norwegian Cruise Line, where they had seen and fallen in love with Peter Max's work in one of the onboard art galleries. Several purchases (and martinis) later, they somehow procured the address of the famed artist's New York City studio.
During our next visit, we decided to stop by, assuming his creative space would likely be accompanied by a gallery. With upturned collars warding off the cold spring air, we searched along the chilly sidewalks for any sign of a gallery. Nothing.
The area was fairly residential, so after twenty minutes of searching, we were about to give up when a young man descended from an unmarked, stone building.  In a last ditch effort, we asked if he happened to know who Peter Max was and where his studio might be. As it turns out, the man had just been upstairs dropping supplies off for Max and would be happy to let us into the building.
The rickety elevator deposited us outside an apartment door. An old intercom with a colorful piece of paper with the words "Please Ring Bell" haphazardly taped above the button was the only indication we might be in the right place.
The expansive interior boasted rows of stacked canvas racks, a media wall covered with TVs, piles of posters, and a small seating area in the back flooded by sunlight. Color exploded from every corner of the room. Familiar renditions of Max's Statue of Liberty series and celebrity portraits peeked out from behind his signature brushwork and cosmic shapes.
Peter Max is probably one of America's most famous – and profitable – modern artists. His psychedelic paintings have become pop culture icons. His graphic art has adorned GE products, a 10 cent stamp, Continental Airlines Boeing jets, and Norwegian Cruise Line's New York based Norwegian Breakaway cruise ship. Max was the official artist for the 1994 World Cup, five Super Bowls, and countless other celebrity events. He was once invited to paint an installation at the White House, which then-President Ronald Reagan playfully added a few strokes of paint to before giving his nod of approval.