The Pacific Coast is renowned for its stunning landscapes, vibrant cities, and iconic architecture. Instead of a road trip where you're staying in different hotels each night, let Norwegian take you on an unforgettable Pacific Coastal cruise from L.A. or San Diego. If you're considering a west coast cruise vacation, here's what you need to know about a Norwegian 2023 Pacific Coastal cruise.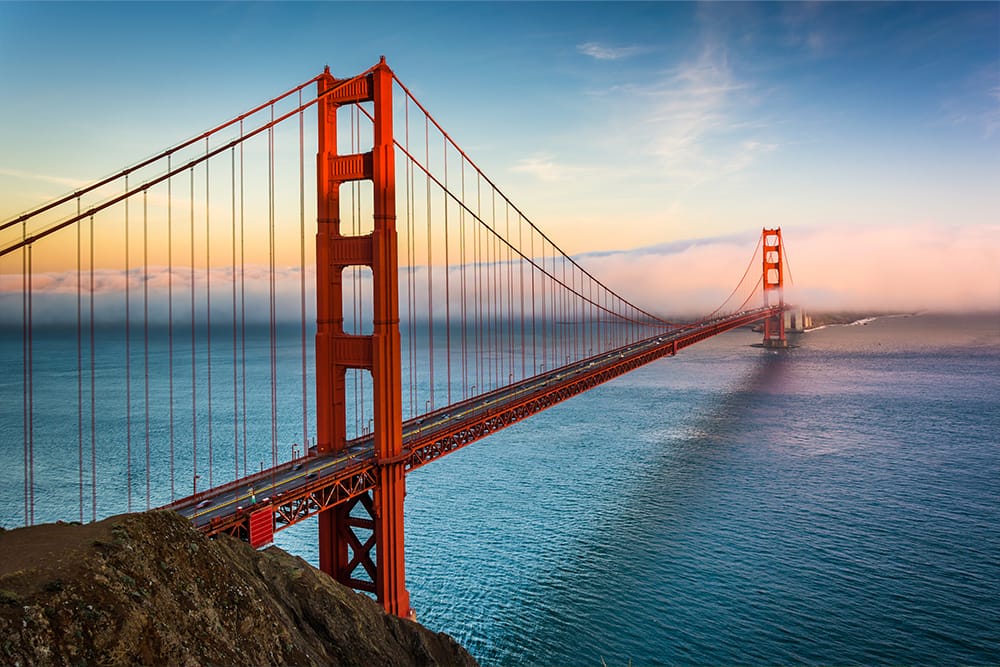 2023 Pacific Coastal Cruise Ports from Los Angeles
When you book a Pacific Coastal cruise, you can visit some of the best cities along the Pacific Ocean. Here's a sample of what to see and do on your Pacific Coastal cruise vacation from LA.
San Francisco, California
San Francisco is one of the most iconic cities in the world. With unmistakable landmarks like the Golden Gate Bridge, there's something to see and do at every turn.
You can also head out of the city to connect with nature. Consider an excursion to Sausalito and Muir Woods. Sausalito is a charming town north of San Francisco, renowned for its artist vibe and Mediterranean flair. This excursion includes Muir Woods, where you can see some of the oldest and tallest redwoods in the world.
Some of the world's most-awarded wine regions are only a short drive away from San Francisco. Consider a day trip to Sonoma where you can visit two Carneros wineries. The drive to and from Sonoma includes scenic landmarks such as Fisherman's Wharf and Pier 39, the Palace of the Fine Arts and Presidio, the Golden Gate Bridge, and the San Francisco-Oakland Bay Bridge.
Vancouver, British Columbia
If you want some delicious eats, Vancouver is one of the best foodie cities, and it's home to the second-largest Chinatown in North America. Gastown is also a popular neighborhood for trendy cafes and restaurants.
Visit Stanley Park. It's larger than Central Park in New York City and home to some beautiful landscapes and First Nation Totem Poles. You can also wander along the seawall that stretches around Stanley Park and visit beaches, gardens, and the Vancouver Aquarium. Want to take an aerial trip over Canada without leaving the ground? Head to FlyOver Canada, a fun 4D experience that takes you on a tour of Canada, complete with smells and wind in your hair.
Victoria, British Columbia
Don't miss Butchart Gardens when you visit Victoria, British Columbia. This once barren rock quarry is now one of the world's best-known gardens, covering more than 50 acres. You'll find beautiful flowers, winding paths, and rare trees. Explore the themed gardens, such as the Rose Garden, the Sunken Garden, and the Japanese Garden.
If you're interested in learning more about Canadian wine production, book an excursion to explore some Vancouver Island wineries and cider farms. You'll travel to the Cowichan Valley wine region, which shares similarities to northern Germany and France.
2023 Pacific Coastal Cruise Ports from San Diego
If you opt for a cruise that departs from San Diego, your ports of call include the following destinations:
Santa Barbara, California
Spend the day in Santa Barbara exploring the Spanish architecture and visiting iconic attractions such as Mission Santa Barbara, Stearns Wharf, or the beautiful Santa Barbara Presidio that was built by Spain in 1782.
Astoria, Oregon
Astoria was the oldest settlement west of the Rocky Mountains, founded by millionaire John Jacob Astor in 1811. Wander through this charming harbor town, known for its Victorian homes and museums. If you want the best views, climb up to the top of the Astoria Column.
Seattle, Washington
You'll only have a day in Seattle, but you can still see a lot. Head up to the Space Needle for some epic views, shop in Pike Place Market, and have a coffee at the original Starbucks or another cool coffee shop in town. Visit one of the many museums or get out and enjoy some nearby nature.
Ketchikan (Ward Cove), Alaska
Ketchikan is a great spot to visit for wildlife adventures, including some eagle spotting. Ketchikan's Tlingit Indian name is Kach Khanna, which means "spread wings of the eagle." Keep watch for one perched on a Sitka tree. Head out on a cruise through the Misty Fjords, witness a lumberjack competition, or learn more about the First Nations people from here. Whether you're looking for adventure or culture, Ketchikan is an unforgettable por to visit in Alaska.
With several exciting 2023 Pacific Coastal cruise options, all that is left is to book your dream cruise vacation! Be sure to sign up for Norwegian's cruise deals so you don't miss out on any new offers before you're ready to book.