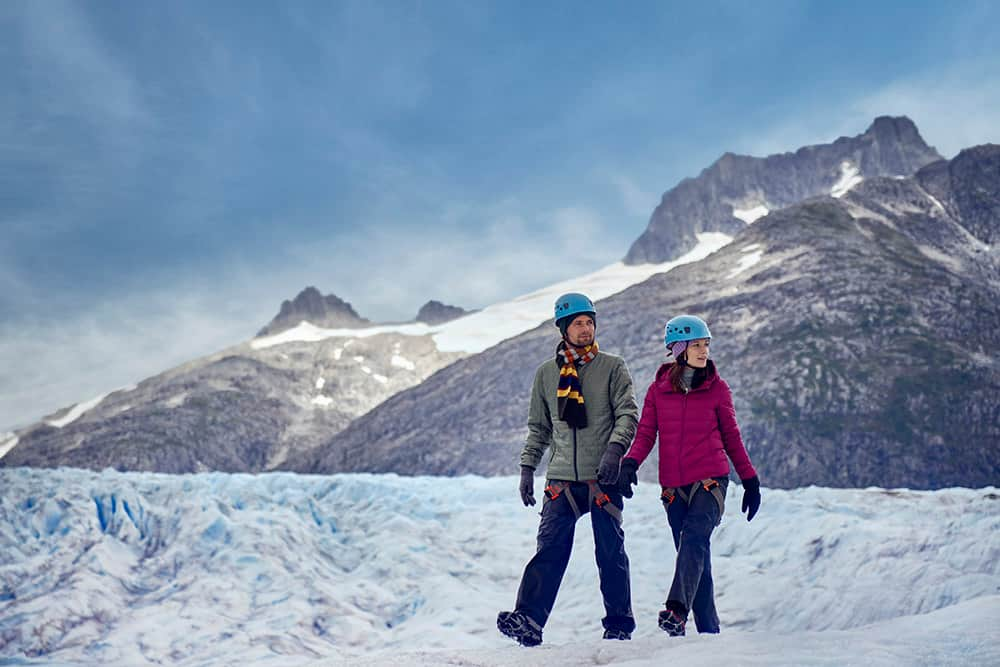 Brought to life in partnership with Conde Nast Traveller

There's a good reason Alaska tops the travel bucket list of adventurers from all around the globe. With acres of rugged scenery, an abundance of rich wildlife, and a chance to experience incredible natural wonders like the Northern Lights, Alaska is guaranteed to be a life-changing adventure you won't soon forget. While it's possible to explore The Last Frontier on your own, the best way to make the most of this once-in-a-lifetime trip is by visiting Alaska on one of Norwegian's award-winning cruises.
Not only are Norwegian's ships perfectly equipped to provide you with every creature comfort you could hope for during your Alaska travels-a variety of top-notch dining options, Broadway-caliber entertainment, a plethora of indoor and outdoor pools and waterslides, and luxurious spa services, among other amenities-but cruising to Alaska grants you the convenience of only having to unpack your suitcase once during the trip. Moreover, you'll get to explore several must-see ports that you wouldn't be able to fit into a single visit otherwise. In short, cruising is by far the best way to discover Alaska's wild terrain.
Ready to start planning? Explore all Alaska cruises.
Perhaps you're looking for a chance to sail past jaw-dropping glaciers glistening in the afternoon sunlight or maybe you want to feast your eyes on a series of massive, snow-capped mountain peaks. If you happen to be an animal lover, you might be looking forward to the rare opportunity to encounter a diverse range of wildlife in person, marveling at a 35-ton humpback whale wading through the ocean or spotting a massive brown bear standing knee-deep in a rushing river to catch sockeye salmon with its paws.
While there will be plenty of opportunities to spot such marvels from the ship's deck, one of the most significant parts of your cruise to Alaska is getting up close and personal with the sights and sounds of the place during one of Norwegian's epic shore excursions. At each port of call, Norwegian partners with expert local guides and the best, most experienced tour operators to bring you straight into the thrill of the Alaskan wilderness in the safest, most engaging way possible. There are so many wonderful Alaska excursions to choose from, but here are a few you shouldn't miss.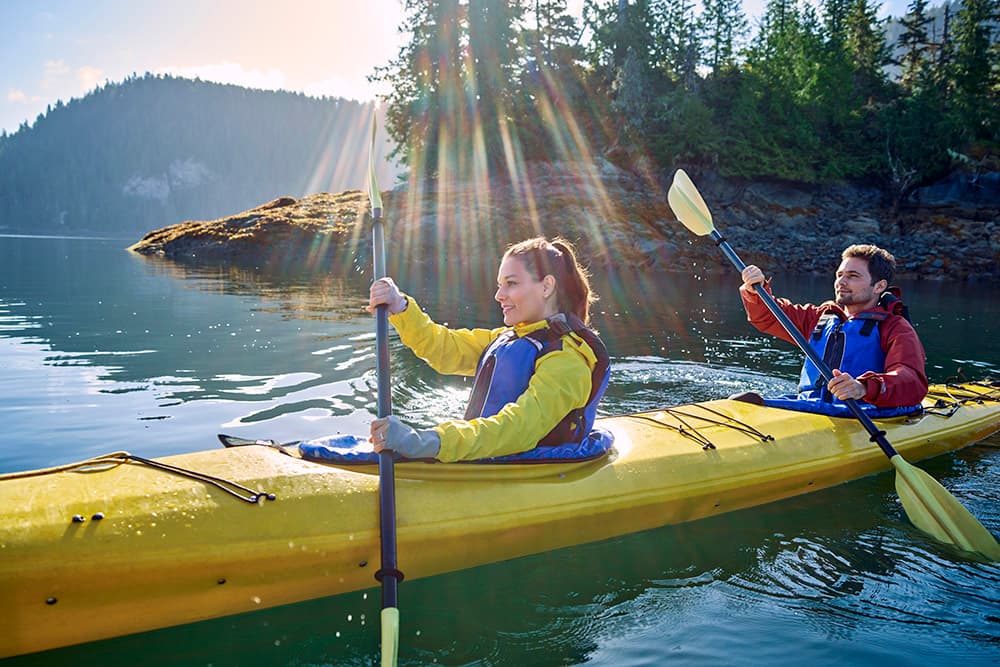 Kayaking Through Siginaka Islands
For those interested in spotting some of Alaska's famed wildlife, this excursion is for you. It starts in the charming island community of Sitka, Alaska's first city that is believed by some to be over 10,000 years old. Sitka is known for its panoramic views of mountains and coastline, both of which are brimming with diverse wildlife that you'll spot during your excursion—exploring a private island in the Sitka Sound.
The adventure begins the moment you step foot into your catamaran, a watercraft specifically designed to be able to access parts of the water that standard boats cannot. Sit back and enjoy the picturesque cruise en route to the pristine Siginaka Islands. Expect beautiful scenery and a few wildlife sightings on your way out; a small preview of what lies ahead.
Next, you'll begin to explore the island by kayak with the help of an expert guide. The serenity of the Sound is so overwhelming that you'll instantly feel at one with nature as you begin to glide through narrow waterways, taking it all in. Your guide will be sure to point out the bounty of marine wildlife beneath the water's surface that will be easy to spot from the shallows, like sea urchins, crabs, sea stars, and jellyfish.
Above the water's clear surface there's a chance to spot other wildlife, such as sea otters, harbor seals, sea lions, and porpoises. Such creatures might be found floating around, popping up for air, or sunning on the rocky shores. Be sure to scan the skies for potential bald eagle sightings. Aside from wildlife, your guide will also teach you about the influence and culture of the indigenous Tlingits, the area's first inhabitants who still harvest the ocean's bounty using knowledge passed down since the last Ice Age.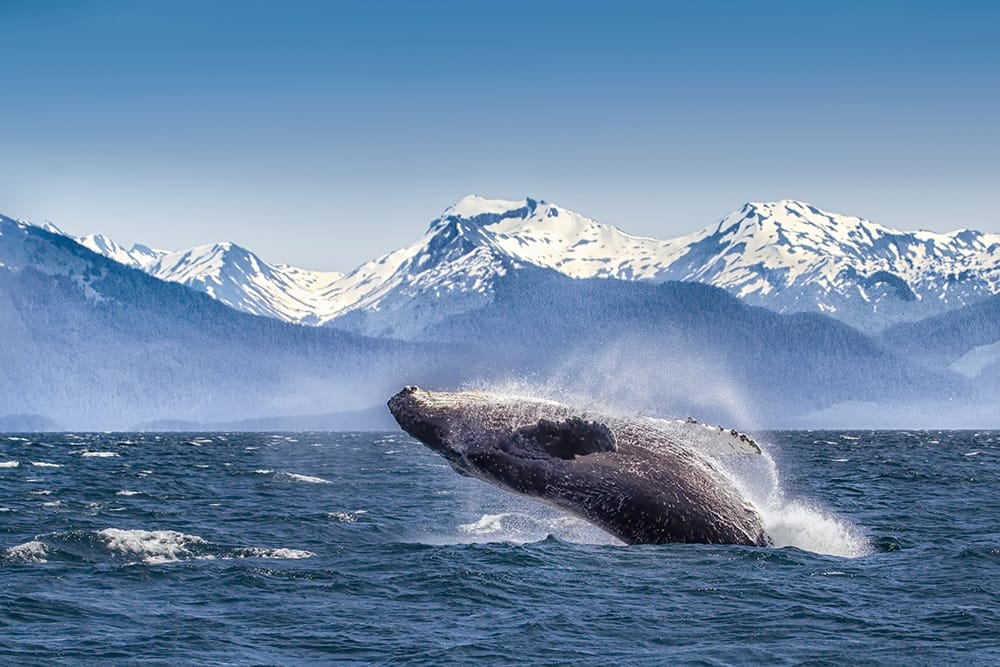 Whale Watching in Juneau
You can't leave Alaska without taking a famous whale-watching expedition, and after you've seen these majestic creatures with your own two eyes you'll understand why. The best part about the whale watching and wildlife quest in Juneau is that you're guaranteed to see a whale—and if you don't, you'll get $100 refunded as you disembark from the vessel. Whales have been sighted on every single tour over the past ten years, so no need to expect a refund.
It starts with a short bus ride to the scenic Auka Bay, where you'll board a luxurious jet-powered catamaran specifically built for wildlife viewing. It's easy to relax and unwind in the comfortable, spacious main cabin, surrounded by large windows that offer the perfect glimpse into the stunning scenery just outside. As your captain sails through the waters of Stephens Passage, a naturalist will explain the behaviors and nuances of the wildlife you'll encounter along the way, which can include humpback and killer whales, sea lions, porpoises, harbor seals, deer, and bald eagle.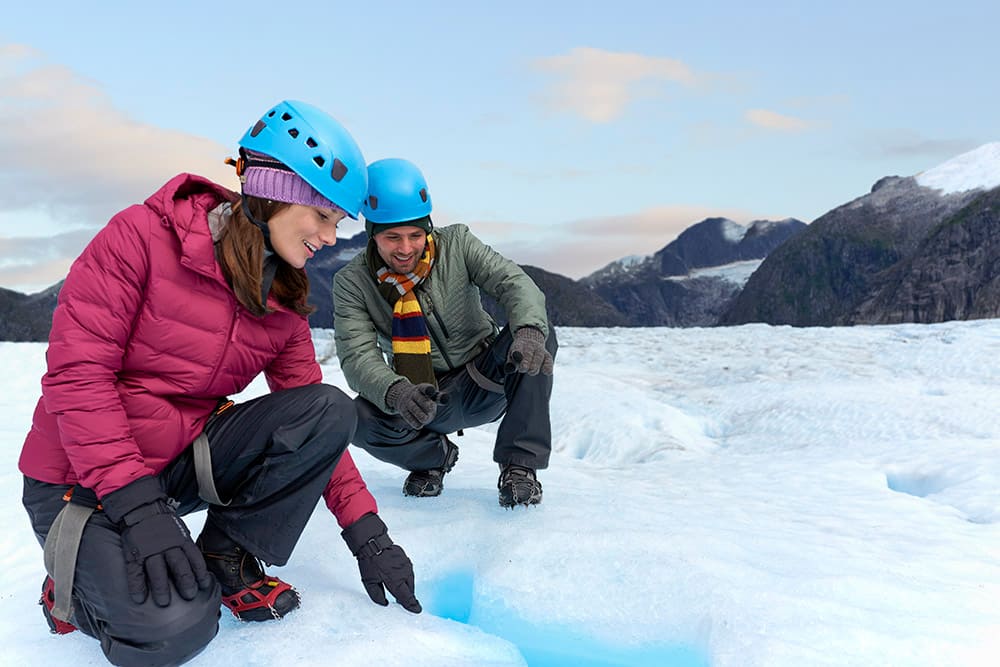 The Mendenhall Glacier By Helicopter & Guided Walk
Just outside of Juneau is the Mendenhall Glacier, an extraordinary sight that is best viewed from above via helicopter tour. Soar high above the Alpine ridges and dense rainforests of Alaska to gain a new appreciation for the sheer expanse of the awe-inspiring land as your pilot shares an exciting narrative about the untouched areas you're flying above. There's nothing quite like the sight as you approach the icefield and its many glaciers, marveling at the cerulean crevasses and peaks that make up this otherworldly landscape.
As you soar even higher, you'll pass the Mendenhall Towers that climb more than 7,000 feet in the air, and the incredible icefalls that overflow to form the Mendenhall Glacier. You'll have time to take it all in-the icefalls, the hanging glaciers, and the pointed spires-before gently descending onto a moving river of ice. Next, you'll continue the adventure on foot as you explore the surface of the 3,000-year-old glacier with your expert guide. Such an adventure practically guarantees you'll have memories that last a lifetime.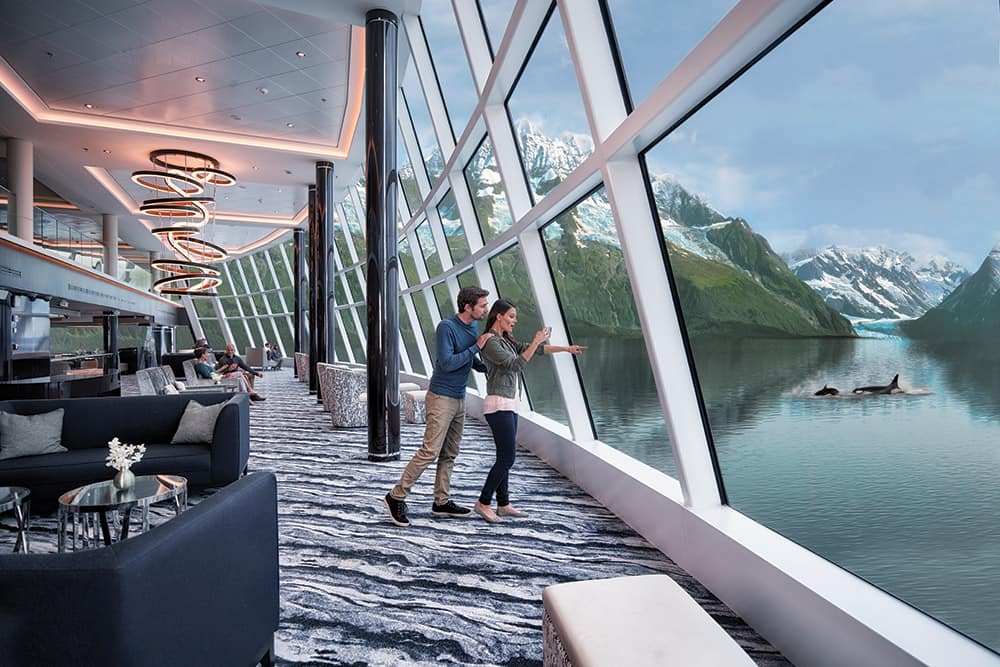 Where are you cruising next? Tell us in the comments!