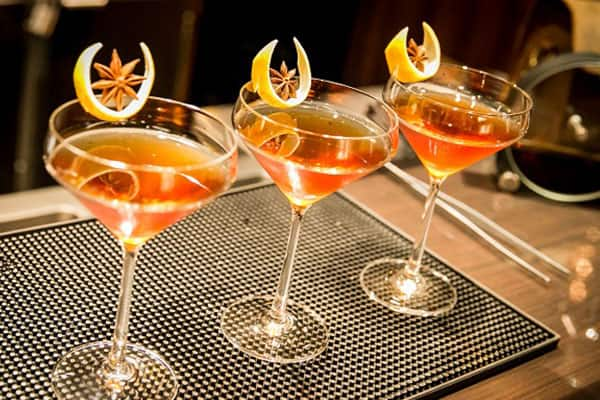 Wade Cleophas from Norwegian Escape had bested 2500 entries across 13 different cruise lines to win Bacardi's Legacy Cruise Competition Bartender of the Year. His winning concoction, Legend Reviver, inspired by spices reminiscent of travelling to exotic places, is the perfect drink to enjoy on a cruise holiday. Balanced and smooth, it combines BACARDÍ® OCHO (8) ANOS, star anise infused sweet vermouth, caramel/cinnamon syrup with drops of whisky barrel aged bitters, and a light absinthe mist. For those who cannot wait for their Norwegian cruise to try the Legend Reviver, here's how you can make this cocktail at home:
Ingredients:
• 2 oz BACARDÍ® OCHO (8) ANOS
• 0.75 oz Star Anise Infused Sweet Vermouth
• 0.25 oz Caramel/Cinnamon Syrup
• 3 Drops of Fee Brothers Whiskey Barrel Aged Bitters
• Mist of Absinthe
• Garnish: Lemon Peel and Star Anise
Infusion/Syrup:
• Infusion: 12 Star Anise pods infused with 1 Liter of Sweet Vermouth for 8 hours
• Syrup: 2 part Monin Caramel syrup to 1 part Monin Cinnamon syrup
Directions:
1. Mist serving glass with Absinthe and set aside
2. Add Bacardi 8, Vermouth, Syrup and Bitters into a mixing glass
3. Add ice to the mixing glass until it is about 3/4 full
4. Stir until all the liquid touches the ice
5. Strain liquid into a serving glass
6. Garnish with lemon peel and star anise
Enjoy!