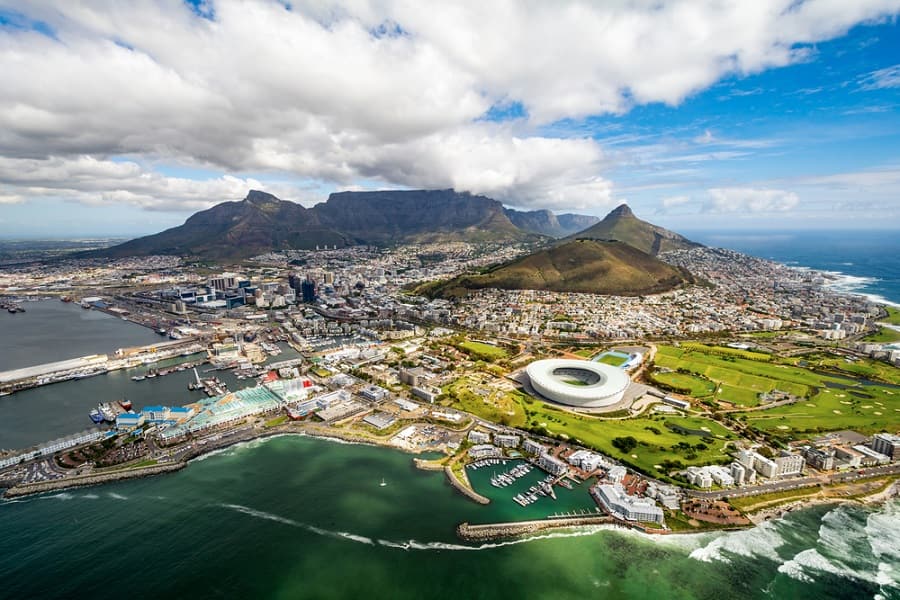 Cruising between the sun-soaked ports and stunning islands of the Indian Ocean conjures visions of heavenly relaxation at sea and unforgettable vistas stretching as far as the horizon. A vacation that involves taking in such jewels as Seychelles, Madagascar, Maldives, and Mauritius would be bliss for many people. Combine the Africa cruise with an extended stopover in Cape Town and one single vacation could check off most of the points on your bucket list.
Cape Town is a vibrant metropolis that's been shaped by a grueling, complex, and rich history. Like many cities, it has endured periods of great fortune and hardship. But unlike other urban centers, Cape Town has prevailed. It lies in a spectacular region hemmed by beautiful beaches, the majestic Table Mountain, and some of the most incredible wildlife you're likely to encounter. Either at the end of your cruise or before you launch, book a week in the South African capital, and you'll be amazed by what you can experience in that time.
1. Venture to Nearby Game Reserves
If you do only one thing while in Cape Town, make sure it's a safari. There are several game reserves within just a few hours drive of the central business district. The Aquila Private Game Reserve and its attached Animal Rescue and Conservation Centre offer a chance to get close to lions, leopards, rhinoceroses, elephants, and buffaloes - commonly referred to as the "Big 5" - in their natural habitat. Within two hours of leaving Cape Town, choose between half-day and full-day safari packages at Aquila. Take a quad bike or tour on horseback if you're feeling particularly adventurous.
There's also Inverdoorn Game Reserve, Buffelsfontein Game Reserve, and Sanbono Wildlife Reserve, which showcases large animals and indigenous artwork. Safaris are usually run at dawn or dusk, so keep in mind that overnight accommodation may be necessary.
2. Bask at Breathtaking Beaches
Some of the most inviting beaches on the African continent can be found in Cape Town. Clifton Beaches, Camps Bay, and the False Bay coast are among the most popular seaside destinations.
Boulders Beach is, perhaps, the most impressive option - and not just because of the landscape. The Simon's Town beach is home to a colony of entertaining African penguins. The site provides a boardwalk through nesting areas as well as an observation platform to afford the endangered penguins their own space. Visitors are not allowed to touch or feed the wildlife, but that doesn't mean they won't approach you. A neighboring beach that's open to the public also attracts penguins, so you may have a more intimate experience than you'd planned on.
This coastline is dotted with many picturesque beaches, but be warned that you might need a wetsuit to go swimming. The warmest months to enjoy the water are December, January, and February. Some beaches are patrolled by lifeguards. Surfing is also recommended, whale watching is an option in October and November, and cage diving with sharks is available, too.
3. Immerse Yourself in South African Culture
The world's largest museum of 21st-century African art is in Cape Town. Housed in a nine-level, architecturally designed complex that used to be grain silos, the Zeitz Museum of Contemporary Art Africa (MOCAA) exhibits a comprehensive and diverse collection by artists in a variety of mediums. The re-purposed storage facility is an amazing building and worth a visit itself, before you even step inside to view the 33-meter atrium and extensive catalog of works. The museum is open every day, except Tuesdays. Film viewings and interactive workshops catering to all ages offer a welcome change of pace as well.
Have you ever been to a living museum? If not, pay a visit to the 18 Gangster Culture Museum. The aim of this initiative is to help young people better understand the reality of gangsterism, with installations curated by ex-offenders. It's a revelatory insight into South African gang culture. Search it out in Khayelitsha, one of Cape Town's townships, which were established in the early years of apartheid to house dispossessed non-white residents.
If a township tour is on your agenda, consider an excursion to the Malay Quarter and wonder at the array of multicolored buildings in Bo-Kaap. Highlights of this area include the Bo-Kaap Museum and local cuisine.
4. Peer Behind the Bars of a Political Prison
Formerly a penal colony for political prisoners, the jail on Robben Island once housed Nelson Mandela. Get a tour from an ex-inmate for a truly authentic encounter. And it's easy to access from the Victoria and Alfred Waterfront. While you're at the harbor, yield to your inner tourist urges and indulge in the restaurants, bars, shops, and other attractions at the picturesque marina.
5. Experience Africa's Hollywood
Don't be surprised if you stumble upon a few celebrities while you're in town. South Africa's robust film industry has been attracting a handful of large productions recently. In fact, several scenes in the popular Outlander series were shot in and around Cape Town. The possibility of running into a kilted Jamie Fraser or his raven-haired wife Claire would be enough to tempt any fan.
Maybe Cape Town has never been on your radar before. Or perhaps it's been on your wish list for years, but you've never had the opportunity to visit. Either way, an Indian Ocean cruise vacation with Norwegian Cruise Lines (NCL) promises a glimpse of the South African capital; it's up to you to make the most of it.