Home > Why Cruise with NCL > Family Cruises >

Youth Programmes
YOUTH PROGRAMMES
Sign up to get the hottest cruise deals!
Kids of all ages can find their happy place thanks to our complimentary youth programmes - Splash Academy and Entourage. Alongside our well-trained staff, your children will experience a wide range of exciting activities with kids and teens their own age. And whilst they're having the time of their lives, you can too, knowing they're in a safe and supervised environment.
Want to know more? Visit the Youth Programmes Frequently Asked Questions page.
NOTE: Splash Academy drop off services are currently unavailable aboard Pride of America, Norwegian Star and Norwegian Pearl. We will however continue to offer daily activities for youth and families onboard.
Operational hours are subject to change without advance notice per shipboard health and safety protocols.
Dive Into
Splash Academy For Kids
When your little ones are having a great time, you're having a great time. Sign them up for our complimentary youth programme where they can enjoy creative play, sports and more. From theme night activities to cool parties, our youth staff has a knack for this stuff.
Activities & Age Groups
Guppies
6 Months - Under 3 Years Old (Parents required. Fleetwide)
Sensory Play
Music and Movement
Colours of the Rainbow
Turtles
3 - 5 Years
Arts & Crafts and Painting
Circus School (Tiger Act)
Developmental Activities
Sensory Play
Storytelling
Parades/Treasure Hunts
Seals
6 - 9 Years
Circus Skills and Show (Scarf Juggling, Plate Spinning, Devil Sticks, and Rope Spinning)
Theme Nights
Painting
Sports/Games
Team-Building Challenges
Parades/Treasure Hunts
Video Games
Dolphins
10 - 12 Years
Entourage Take-Over
Circus Skills and Show (Stilts, Ball Juggling, Chinese Yo-Yo, Plate Spinner, Devil Sticks)
Scavenger Hunts
Themed Nights (Survivor/Spy)
Sports/Team Building
Video Games and Challenges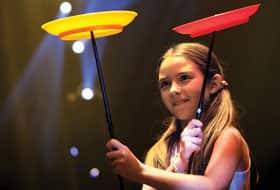 Splashtacular Extravaganza
Juggling, Spinning, Roaring! The kids will learn and perform all kinds of skills and cool tricks in our workshops and whilst in Splash Academy for our Splashtacular Extravaganza.
Family Workshops/Activities
Youth Counsellors and Cruise Staff come together to offer fun interactive activities for the whole family from Game Shows, Sports Challenges, Pizza Making, and Trivias.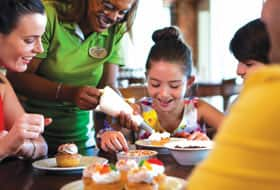 Splash Academy
A place where kids are the centre of attention and they will never want to leave.
Learn About
Entourage For Teens
Run off and play whilst your teenagers hang out in a place filled with video games, movies, arts, music, sports and people their own age. From the coolest lounge at sea to the hippest dance club at night, there's always something going on at our teen centres. Best of all, it's all complimentary and supervised.*
*Some teen centres are used as a hangout when programme is not in session and may not be supervised but are under surveillance.

Express yourself! Teens can show off their creativity and personality with our crazy music jams through dancing, singing, or by just being artsy through creating balloon sculptures or graffiti masterpieces.

Learn and showcase your circus skills from walking on stilts to juggling all to come together in the end of sailing circus performance! The skills will last a lifetime. *Does not apply on all ships.
Hunt it down and wear it well, we want to see your fashion style. Or pick up a few cues from our improv classes and let your character shine in the spotlight.
Game on! Experience the latest in gaming or kick back and relax with a movie.

Hit the court. It is time for dodgeball, soccer, basketball….you name it we play it. Test your skills against the Teen Counsellor!
Every night is a party! Dress to the nines and come in style. Check out College Night, White Hot Party, and Glow. Entourage is the place to be. The themes vary from ship to ship.
Take Advantage of
Port Play / Late Night
Drop off the kids to enjoy a shore excursion* or a romantic night out. Available on days in port and every evening for children ages 3-12. Fees apply.
*Please refer to the FAQs for policies on children in nappies.
Port Play
Want some alone time? Then drop off the little ones at Port Play for free. Only a small fee applies for the supervision of your child(ren) during breakfast, lunch, and dinner hours. Meal times are based on ship and itinerary.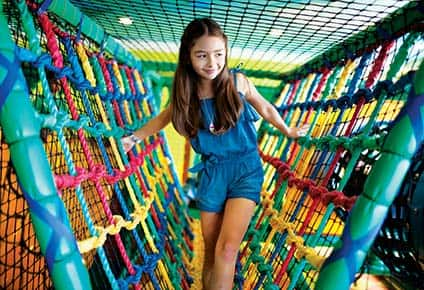 Late Night Fun Zone
Planning a romantic dinner for two? Leave the kiddies in safe hands any day of the week at Late Night Fun Zone. Small fee applies.
Hours: 10:30 p.m. - 1:30 a.m. If no children are registered or dropped off by 11:30 p.m., the centre will close for the evening. It is recommended that children be signed up by 8:00 p.m. the day prior.
Read Our Youth Programme
Frequently Asked Questions
Youth Programmes are comprised of Splash Academy and Entourage. Splash Academy offers active, engaging, sensory-based and interactive programmes for children 5 - 12 years old (Turtles, Dolphins, Seals).
Entourage is the teen hang out for those 13 -17 years old. Refer to Entourage FAQ What does Entourage have to offer teens 13 -17 years old?
It is recommended that parents register their child(ren) and teen(s) as soon as they board the ship in the Splash Academy facility. Any Youth Counsellor on board the ship is available to assist.
Splash Academy
Guppies: 6 months – 3 years (daily activities are offered for babies with their parents)
Turtles: 3 – 5 year olds
Seals 6 – 9 year olds
Dolphins: 10 – 12 years old (6 – 12 year olds in low season)

Entourage: 13 – 17 year olds
Although Guppies are part of Splash Academy and hosted by the Early Years Coordinator, the programme requires a parent to be in attendance. Guppies does not offer a drop off option.
The minimum age eligible for Splash Academy is 3 years old at the time of sailing, based on the child's date of birth, according to their birth certificate or passport reflected on the ships manifest.
**Refer to FAQ What do I need to know about the 10-12 year old parent sign-out authorisation?
A one-time registration form is to be completed by a parent or guardian for each child/teen age 3 - 17. Children/teens can then participate as frequently as they choose. Norwegian requests that you let the Youth Staff know if your child has allergies and/or is taking any medications by noting this on the Registration Form. We will need to know this information in advance, as we sometimes provide snacks.
Need Help Planning the Perfect Holiday?