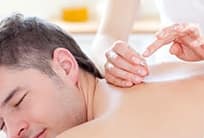 Pain Management with Acupuncture
If you want to relieve aches and pains, this acupuncture treatment is for you. This pain management therapy will reduce or eliminate chronic back, neck and joint pain.
Weight-Loss Acupuncture
Having trouble shedding those extra pounds? This acupuncture treatment will help you lose weight safely and effectively.
"Just to Try" Acupuncture
Curious about acupuncture and how it can benefit you? Try this 60-minute special introductory treatment.
Stress-Free Acupuncture
Melt away stress and worries with this deeply relaxing form of acupuncture. By focusing on specific acupoints, the healing touch of acupuncture will refresh your mind, body and soul.
Stop Smoking
Kick the habit. This safe and natural treatment can be as effective as the patch or other methods used to stop smoking.
Sea Sickness
This treatment is designed to relieve motion sickness commonly associated with sea travel.