Las Islas Canarias son un archipiélago español situado cerca del noroeste de África, conocido por sus hermosas playas, su terreno volcánico y su ambiente fiestero. Cada isla tiene sus propios encantos que atraen a los viajeros. Norwegian can take you there if you've ever wanted to visit the Canary Islands. To fuel your wanderlust, here's a look at some of the top ports to see on a Canary Islands cruise.
¿Listo para empezar a planificar? Explora todos los Canary Island cruises.
1. Santa Cruz de Tenerife
Tenerife is probably the most well-known of the Canary Islands. Santa Cruz is located on the eastern tip of Tenerife. With over half of its perimeter as a shoreline, Santa Cruz de Tenerife is one of the Canary Islands' most scenic ports. Beaches here are famous, including Las Teresitas, which is nearly a mile long with beautiful golden sand. Another renowned beach not too far away is Playa de Las Gaviotas, known for its black sand beach and clothing-optional policy.
Visit the now dormant volcano of Mount Teide by cable car to see the third highest volcano in the world and the highest peak on Spanish soil. Avistamiento de ballenas is another popular option in Tenerife. Head out on a boat to a nearby area where nearly 500 dolphins and a colony of pilot whales frequent. If you can't decide what to do on your day in port, book a Lo mejor de Tenerife excursion to explore some of Tenerife's best attractions.
2. Puerto del Rosario
Puerto del Rosario is the capital of Fuerteventura, another one of the Canary Islands. Beach lovers have more than 150 beaches to choose from, perfect for relaxing on the white sand or partaking in various water sports, including diving, sailing, surfing, water skiing, and windsurfing. Windsurfing is such an important sport here that it's on the Windsurfing World Cup circuit.
If you like street art, Puerto del Rosario has over 400 mural paintings and more than 100 sculptures. Look for murals and sculptures as you explore - keep your eyes open as some are in unexpected places. Many sculptures are scattered around the city, including at promenades, parks, and traffic circles.
Visit the old town and historical sites such as Iglesia de Nuestra Señora del Rosario, built between 1824 and 1835. Step back in time as you wander around some of the island's oldest structures.
3. Las Palmas
Las Palmas was founded in 1478 and is the second capital city of the Canary Islands, alongside Santa Cruz de Tenerife. Visitors to Las Palmas, Gran Canaria, will find plenty to see and do here. Book the Lo mejor de Gran Canaria excursion to learn more about the island's natural beauty and cultural heritage, including the importance of banana production here.
You can also visit a volcano on Grand Canaria. Drive up to Gran Canaria's highest mountains, where you can go trekking to the volcano's crater. Reward yourself after an adventurous hike by trying some local wine and appetizers.
Explore Gran Canaria's archeological heritage and its first inhabitants. When you book the Discover Gran Canaria and Painted Caves excursion, you'll stop at Cenobio de Valeron to see the caves dug out by Guanches, the indigenous people of the Canary Islands. Next, you'll visit the Painted Cave Museum and Archeological Park.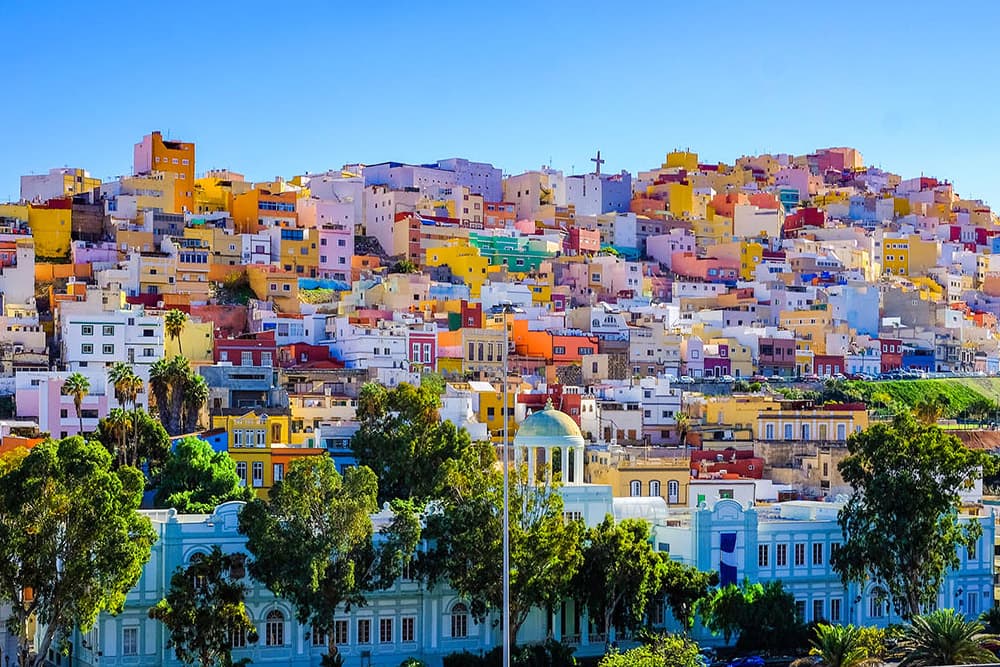 4. Arrecife
If your cruise visits Arrecife, the ship will dock at the island of Lanzarote. Lanzarote is known for its fascinating and colorful volcanic landscapes. You won't want to miss the beaches either, with their black volcanic, white, or golden sands.
There are at least 100 volcanoes here that create a moon-like landscape. Visit Timanfaya National Park, home to 25 craters. You'll also find one of the world's most exciting restaurants that cooks its food using the earth's natural heat.
Lanzarote's gastronomy takes advantage of the island's unique volcanic characteristics. Look for local products such as wrinkled potatoes (papas arrugadas), red and green mojo sauces, and more. The famous wine Malvasia comes from here too. Wineries build vineyards by planting their grapes in the ash-covered soil.
Painter, sculptor, and architect César Manrique was a fundamental figure on Lanzarote. He's best known for his efforts to preserve Lanzarote's natural beauty with architecture that would coexist with the volcanic landscape. Visit the house where he lived (Casa del Volcán), Los Verdes cave, lava tubes in Jameos del Agua, and the viewing point at Mirador del Río.
5. San Sebastian de la Gomera
When compared to other islands in the Canaries, San Sebastian feels more relaxed and has a slower pace. Gomera is the second smallest island, known as "Isla Magica," or the magical island. The coastline is rugged, with small black-sand beaches set between cliffs.
Visit the UNESCO World Heritage Site of Garajonay National Park. Explore trails and tracks in this prehistoric forest. There are plenty of fantastic routes that cross the island and offer plenty of scenic views.
Learn about "silbo" while in port. This system of communication is unique to Gomera. Locals spell out syllables by whistling. This communication method worked great for centuries to get messages across long distances and gorges. "Silbo" is such a vital part of the culture here that UNESCO recognized it with an Intangible Cultural Heritage of Humanity designation.
Travelers considering a Spanish cruise that stops in the Canary Islands will find no shortage of incredible scenery and natural attractions. From stunning beaches to out-of-this-world volcanic landscapes, the Canary Islands is one of the most fascinating destinations in the world. While you're still in the planning stages, don't forget to sign up for Ofertas de cruceros de Norwegian to get the latest specials and discounts delivered to your inbox.