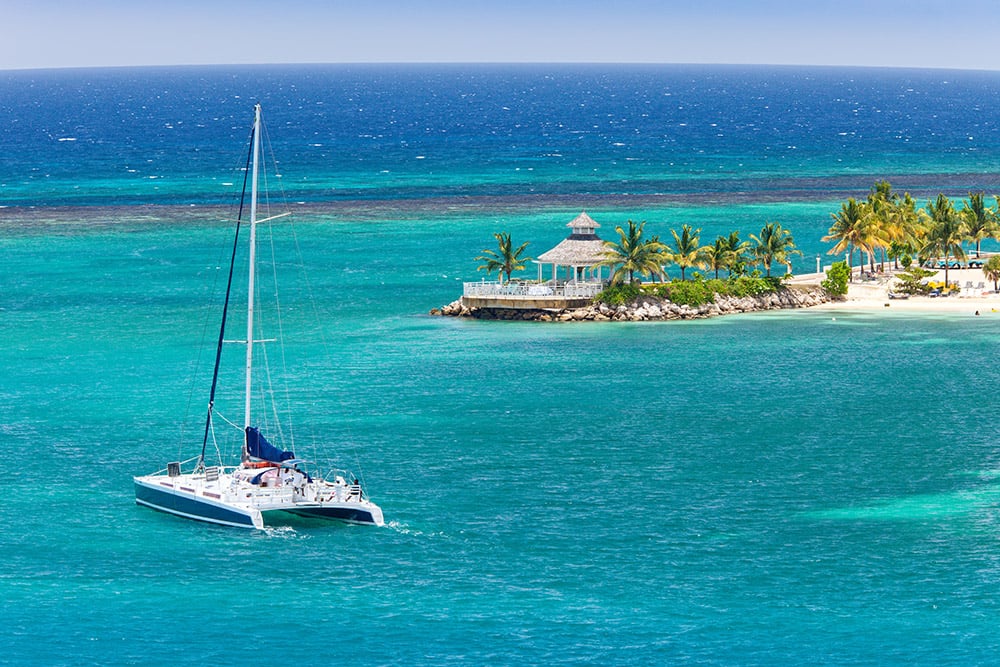 Are you planning a Caribbean or Panama Canal cruise? Depending on the cruise vacation you're considering, your cruise might include a stop in Jamaica, such as Ocho Rios or Falmouth. When you book your Jamaica cruise with Norwegian, you'll have a selection of exciting excursions that are sure to delight you, no matter your interests.
Ready to start planning? Explore all Jamaica cruises to Ocho Rios.
What to Do in Ocho Rios
If you're visiting Ocho Rios, you can't miss Dunn's River Falls and Park. The area features a natural limestone rock staircase. The falls are approximately 180 feet high and 600 feet long. You can climb up the falls, but the slippery rocks might prove too challenging for some. Natural pools around the base of the falls enable you to have a relaxing time and still enjoy the views.
Other options for waterfalls include a combination excursion to Blue Hole and Konoko Falls. The secluded Blue Hole is home to Secret Falls, perfect for a relaxing swim. Next, you'll head to Konoko Falls in the center of a natural park. Soak in the pools and check out the botanical gardens and the on-site animal sanctuary.
River tubing is also an option from Ocho Rios. Check out White River, where you can enjoy a 3-mile river tube adventure passing through bamboo groves, coconut plantations, and plenty of native fauna and flora. Combine river tubing with a zipline adventure over the White River Valley with zip lines ranging from 150 feet to 820 feet in length.
If you've ever wanted to ride on a Jamaican bobsled, you can do so from Ocho Rios as well. Combine it with a ride to Mystic Mountain on the Sky Explorer Chairlift. You'll ascend more than 700 feet up the mountain and ride down on the Mystic Mountain Bobsled ride, complete with 14 swinging turns.
Head 40 minutes out of town to learn more about Jamaica's history and culture with a visit to the Green Grotto Caves. Located in Discovery Bay, Green Grotto Caves are about 2 miles from where Christopher Columbus landed in 1494. Historians believe the caves are where the indigenous Arawaks once sought shelter. Later in the 18th century, enslaved people used the caves to hide after escaping from their owners. Walk along the caverns and explore the small grotto lake in the innermost cavern.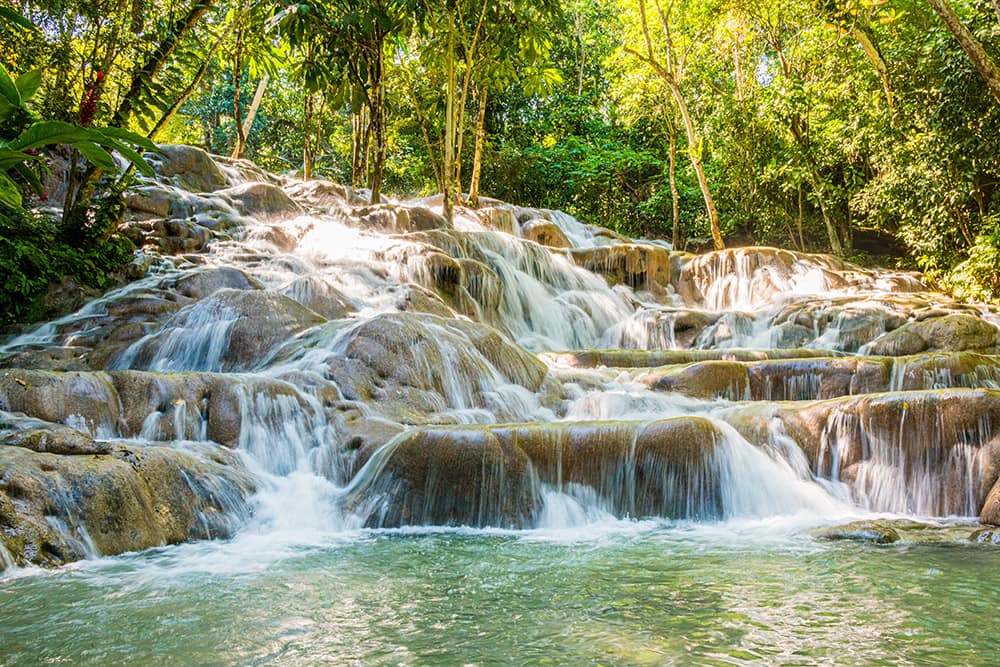 Local Foods to Try in Jamaica
Are you curious about trying traditional Jamaican cuisine but not sure what to order? Discover several highly recommended dishes for your visit to Jamaica.
A serving of ackee and saltfish is considered by many to be Jamaica's national dish. Although a dish of ackee and saltfish is traditionally a breakfast specialty, locals will eat ackee and saltfish at any time of the day. Salted codfish and ackee, a fruit that traces its origins to West Africa, comprise the dish.
Jerk chicken is another well-known dish from Jamaica. You may have tasted jerk chicken in other places, but you have to sample it in Jamaica, especially from a street corner or roadside vendor. Curry goat is another Jamaican favorite. The addition of curry in Jamaican cuisine came from Indian immigrants who arrived in Jamaica to work on the sugar plantations.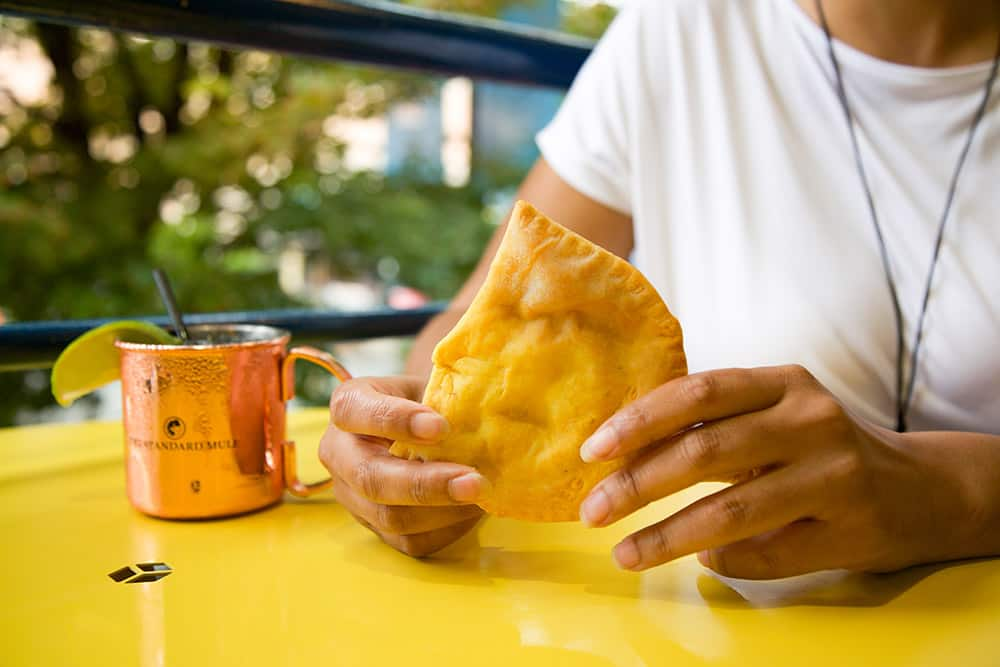 For a quick bite, grab a Jamaican patty. You'll find these everywhere, from convenience stores to roadside shacks. They typically have a spiced meat filling stuffed in turmeric dough then baked until golden and crispy.
For beverages in Jamaica, sample the Jamaican rum and rum cream. If you don't drink alcohol, order a Ting. Ting is a carbonated grapefruit soda that locals consume in copious amounts. It's tart with a hint of sweetness. Jamaica is also renowned for its Blue Mountain coffee, so don't forget to order a cup or buy some beans to bring home to enjoy later.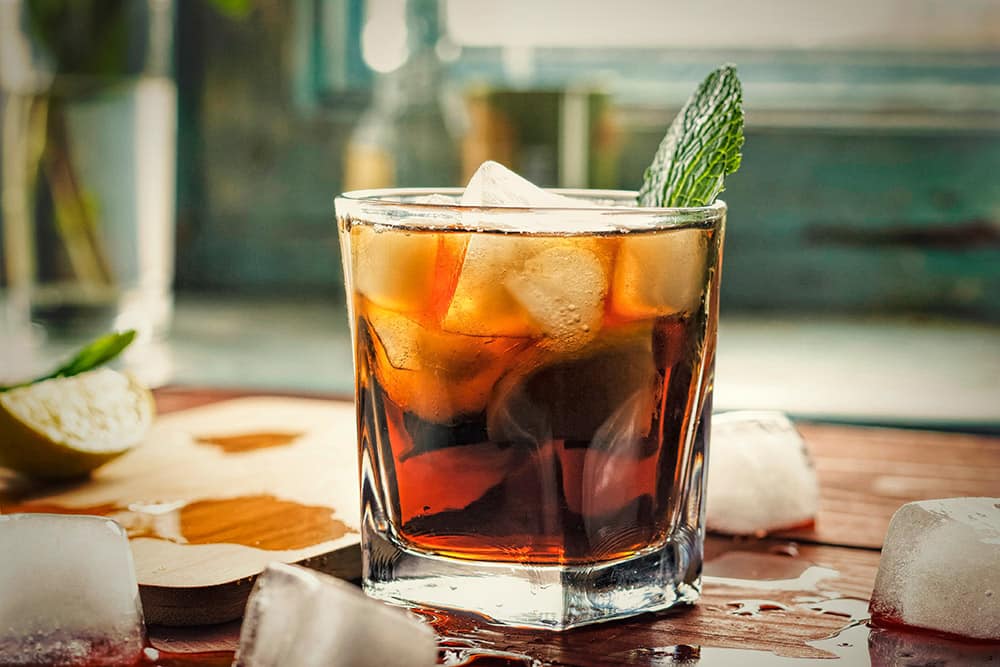 Are you still researching cruises to Jamaica for your Caribbean vacation getaway? Be sure to sign up for emails to have the latest cruise deals delivered straight to your inbox. When you're ready to book your next cruise vacation, you know you'll be getting the best offer available. Where are you cruising next? Let us know in the comments!
EDITOR'S NOTE: This article was originally published on April 8, 2022. It has been updated for content and to show related itineraries.