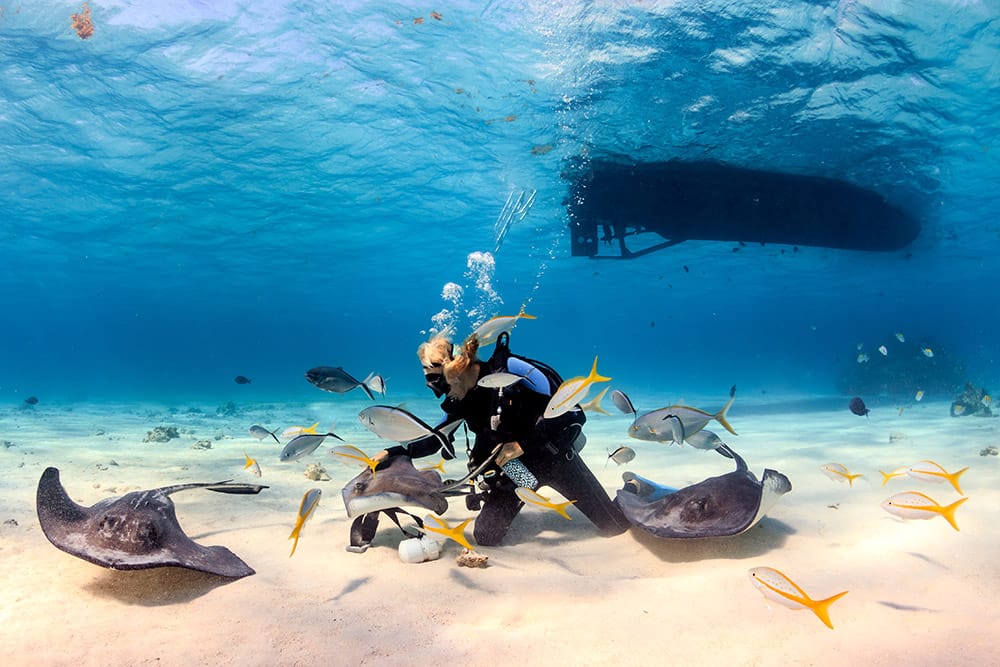 If you're ready to Break Free, there's no better place than the ocean. Vast and expansive with beautifully colorful vistas swaying below, exploring beneath the surface can offer the ultimate peace and relaxation. Whether you're an avid diver or just looking to try an introductory course while on vacation, we've got a roundup of some of the best places to dive around the Bahamas and Caribbean, along with some of the best tropical ports to explore on your cruise with Norwegian.
Norwegian Cruise Line sails to exciting cruise destinations where certified divers can book a diving excursion, or non-certified divers can try a discovery course. Some Caribbean dive destinations are also great for snorkeling if you're traveling with younger ones who may not be ready to dive yet. Ready to dive in? Here's a look at some of the best places to dive in the Bahamas and Caribbean to fuel your wanderlust.
Ready to start planning? Explore all cruises to The Caribbean, Bahamas and Bermuda.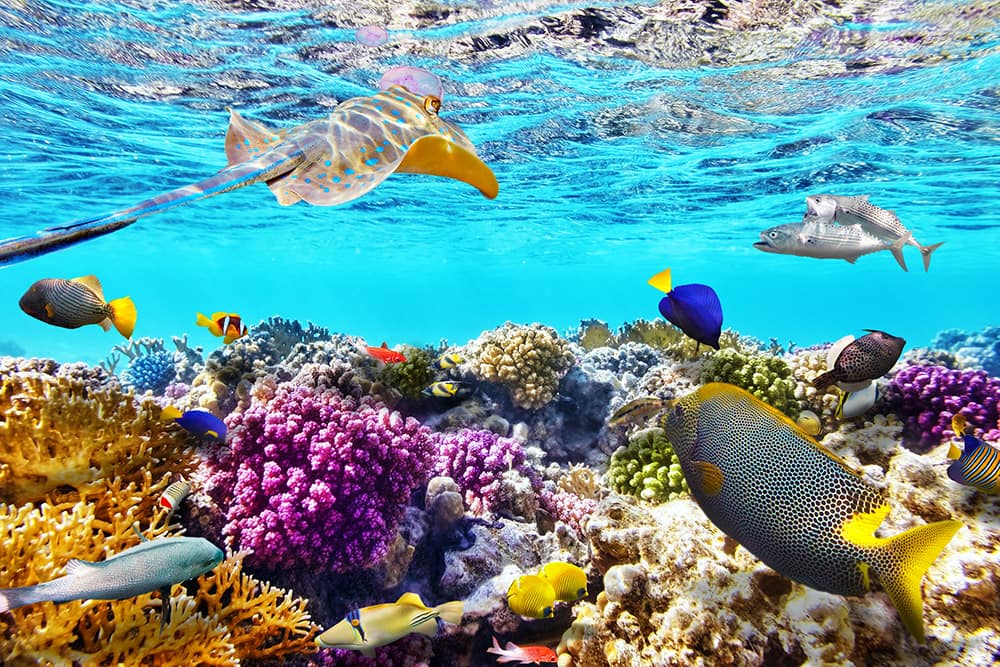 1. St. Thomas, US Virgin Islands
The US Virgin Islands has a dizzying number of dive sites, perfect for beginners to advanced drivers. On a cruise to St. Thomas, you'll see why this island is particularly well known for its shallow clear waters that provide plenty of adventure for those who prefer to snorkel. You'll find more than 40 types of coral here and over 500 species of fish.
Certified divers can book a SCUBA two-tank dive that includes a reef and wreck dive along the southern shores. The first dive is typically only to 60-feet, with a shallower shipwreck dive. If you aren't yet certified, book the St. Thomas Discover SCUBA and Snorkel Tour that includes some education and a shallow discovery dive to see if diving is right for you.
2. Bermuda
Thought not quite in The Caribbean, cruising to Bermuda offers just as much tropical ambience as you'd expect from a Caribbean island. The volcanic island is home to over 300 shipwrecks and beautiful fringing reefs. Many divers consider Bermuda to be one of the best dive destinations in the world. Bermuda is the ideal destination to take a Discover SCUBA course if you haven't been diving before.
Your experience starts with a comprehensive introductory course administered by a PADI-certified dive instructor. Following your lesson on diving fundamentals, you will experience a guided shallow-water dive on a coral reef that won't exceed 25 feet. Afterward, you can relax on the beach or use the complimentary snorkel gear.
3. Nassau, Bahamas
Nassau is another excellent dive destination in The Caribbean. If you aren't a certified diver, you can also book a Discover Scuba course in Nassau on your Bahamas cruise. After instruction, your one-tank dive will last around 40 to 45 minutes. You'll be in very shallow water, approximately 15-30 feet deep.
4. Roatan, Honduras
Roatan lies along the Mesoamerican Reef System, offering some of the best SCUBA diving in the world. The Bay Islands have year-round clear and warm waters, pristine beaches, and tons of marine life. If you are an experienced diver, consider booking the Wall and Reef Certified SCUBA Dive with Equipment excursion during your Caribbean cruise. Here you'll take a short boat ride to some of Roatan's famous dive sites.
Even as shallow as ten feet, you'll see thick coral formations. Descend deeper to see eagle rays, brightly colored tropical fish, as well as shark and eel gardens. With visibility down to around 50 to 100 feet, it's understandable why Roatan is such a popular dive destination.
5. Harvest Caye, Belize
Belize is home to the Belize Barrier Reef, the second-largest barrier reef system in the world, a UNESCO World Heritage Site. Southern Belize is home to some of the most pristine dive and snorkel sites in the country. If you are visiting Harvest Caye on your Norwegian cruise, consider a Barrier Reef Snorkel excursion where you can see beautiful coral formations, schools of tropical fish, and possibly spotted eagle rays and turtles.
6. Kralendijk, Bonaire
Divers continually rate Bonaire as the top dive destination in The Caribbean. Now is your chance to find out why. Certified divers can book excursions such as Bonaire Marine Park SCUBA Experience, a two-tank dive at Bonaire National Marine Park. Here you'll find some of The Caribbean's healthiest coral, rays, turtles, and a rainbow of tropical fish.
Non-divers don't have to miss out on the beauty of Bonaire either. Consider excursions like the Double Dip Snorkel Trip, where you'll travel to Klein Bonaire, a small uninhabited islet. This is a protected reef with plenty of marine life. You may even spot a turtle or two!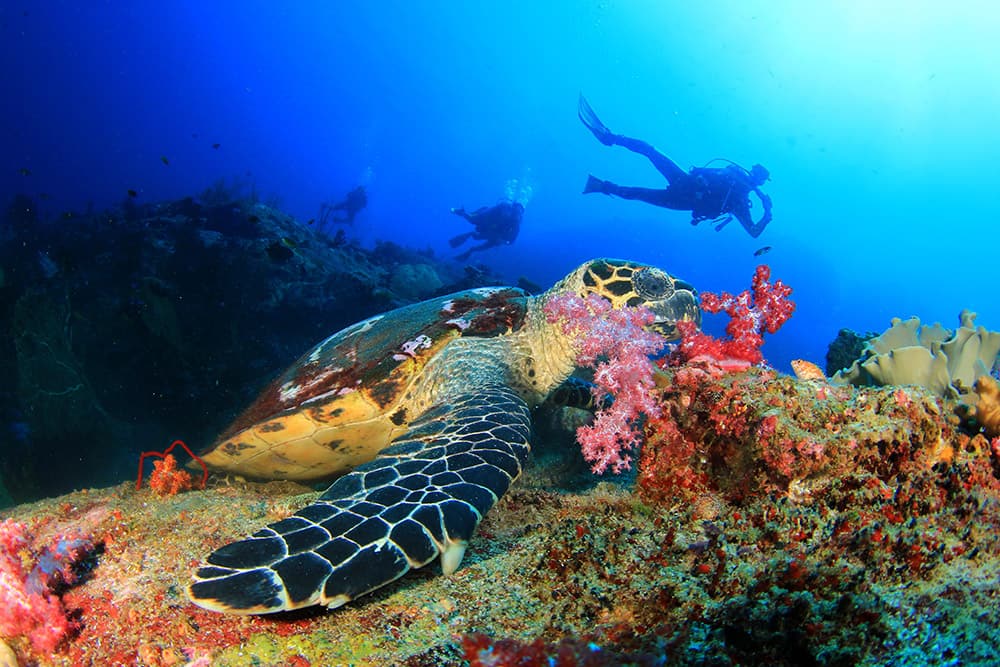 Requirements for Certified Dive Excursions
As a reminder, you must meet certain guidelines to book dive excursions. For certified dive tours, you will need your dive certification card and show proof you've been diving at least once in the last twelve months. Tours include SCUBA equipment, transportation, and a professional divemaster to guide you. If you have any medical condition or are taking medication, you will need a note from your physician that you are medically cleared to dive. Most destinations are warm enough that you don't need to wear a wetsuit, but you may consider renting one for an extra cost.
Discover SCUBA Course Requirements
Participants looking to experience a Discover SCUBA course should be able to swim and be of a certain age. You may need a note from your primary physician clearing you to dive if you have current or prior medical conditions such as diabetes, heart or respiratory conditions, epilepsy, asthma, etc. You do not need snorkeling or diving experience to sign up for a discovery course, only basic swimming skills.
While you're deciding where to go diving with Norwegian Cruise Line, don't forget to sign up for emails to keep up with our cruise deals, so you get the latest specials and offers delivered right to your inbox.