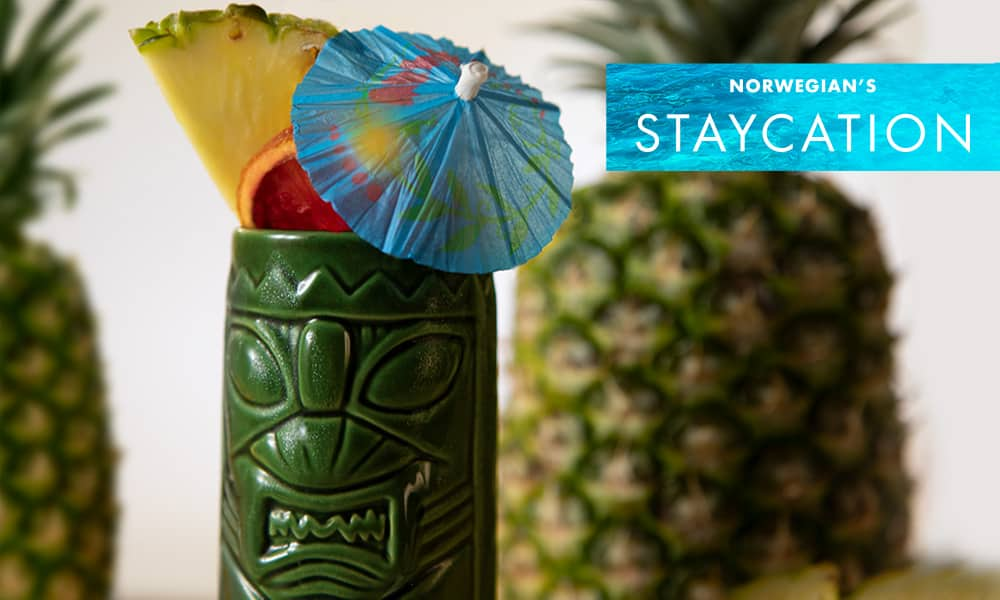 This week we're daydreaming of all things Hawai`i, including those delicious tropical cocktails ideal for toasting island sunsets. Settle into your favorite chair with our Wiki Rum Punch, close your eyes and let your mind hop through the islands. Imagine traveling Maui's Road to Hana, famous for its spectacular vistas and hiking opportunities. Picture yourself up on a surfboard, riding in rolling waves at O`ahu's famed North Shore, or perhaps savoring delicious local delicacies during a beachside luau in Kaua`i.
WIKI RUM PUNCH
Ingredients:
.5oz Bacardi Superior Rum
1oz Bacardi Gold Rum
.25oz Passion Fruit Liqueur
.75oz Simple Syrup
3 Dashes Bitters
1.25oz Pineapple Juice
.75oz Fresh Lime Juice
Garnish:
Pineapple Slice
Burnt Orange
Umbrella
Instructions:
Measure all ingredients and pour into cocktail shaker. Shake with ice. Strain into tiki mug filled with fresh ice and garnish.
Share your creations with us on social and tag #NorwegianStaycation #CruiseNorwegian. Cheers!