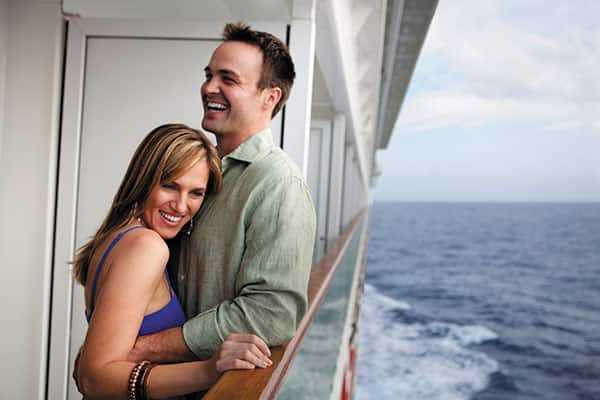 When you're packing for your cruise holiday, here are 5 essential items no cruiser should be without! Okay, I'll admit this list has way more than 5 items but I like to be thorough, so I've narrowed my cruise essentials down to 5 categories. Let's take a look!
Excursion Gear:
As I anticipate going on multiple shore excursion adventures, I like to be prepared up front. I always travel with a water bottle that's able to clip onto my day pack; a waterproof case or pouch for my camera/mobile phone ; and a pair of binoculars for those lazy afternoons when I'm lounging on my stateroom balcony, which is also the perfect time to jot down your cruise holiday memories in a notebook or journal. If you're not looking to purchase a waterproof case, use a zip-lock bag! As long as you're not submerged in water, it is an easy and affordable way to help protect your phone. Another item you should keep track of is your stateroom card. A lanyard is a great way to keep it close and it's easy to drop into your day pack.
Medications:
It's important that you bring all of your prescription medications and extra contact lenses when you travel, but I also suggest a few first aid basics including: blister bandaids (oh, the perils of wearing new shoes!); antacid; Imodium-type treatment and hand sanitizer. If you need anything else, you can grab it in port or buy it on board your ship. And, when you've brought your unused items back home, keep everything together for your next cruise holiday.
Sun & Beach Gear:
Whether you're heading for fun in the Caribbean sun or to the glaciers of Alaska, you'll need to pack your sunglasses, sunblock and a good lip balm. If it's warmer weather you're heading to, be sure to take a lightweight hat and maybe even your personal snorkel gear. I always recommend packing a simple change of clothes in your carry on which can include a bath suit, shorts & flip flops, just in case. If you're travelling with kids, inflatable beach toys will help keep them entertained at the beach. And if you don't want to repack them, maybe you can gift them to a local family before you depart.
Tech Savvy Gear:
Some dedicated travellers unplug when they holiday but I like to have everything covered, which means travelling with a camera/mobile phone , an e-reader, a tablet/lap top and sometimes even a GoPro. And just as important? Chargers for everything! Be sure to download Norwegian's iConcierge app so you can message your fellow travellers, make restaurant reservations, book shore excursions and more! If you're looking for a free way to stay connected, bring walkie talkies with you! If you like music in your room or on the beach, bring a portable blue tooth speaker.