Are you looking for a warm-weather getaway outside of the typical summer vacation from New Orleans? Why not consider a Caribbean cruise to New Orleans during the winter, spring, or fall? With Norwegian, you can escape to the warm waters of The Caribbean most of the year. You can also choose an itinerary that will take you to Panama, where you can marvel at the Panama Canal in person.
Here are some of the ports you'll get to visit on a Caribbean cruise from New Orleans.
Ready to start planning? Explore all New Orleans cruises.
Colón, Panama
Choose a Caribbean cruise that stops in Panama, and you'll visit Colón. The most common activity here is to see the Panama Canal in person. This 20th-century civil engineering project revolutionized global shipping.
If you aren't on a transit cruise, taking a ride on the transcontinental railroad is one of the most extraordinary ways to see the Panama Canal. It's the hemisphere's first transcontinental railroad. Here you can see the Panama Canal from the comfort of a deluxe 1938 vintage dome car.
Cozumel, Mexico
The lively island of Cozumel sits off the coast of Mexico's Yucatán Peninsula, not too far from popular spots like Cancún, Playa del Carmen, and Tulum. The island is undeveloped, offering great diving and snorkeling, including the Museo de Arte Subacuático, full of submerged sculptures.
Enjoy the tranquility of Cozumel by booking a beach break to one of the island's best beaches, visiting the Mayan site of San Gervasio, or arranging a mainland tour to see Chichén Itzá. You'll also find ATV adventures, island tours, cooking classes, and more. Enjoy the charm of Mexico's Yucatán peninsula without crowds you typically find on the mainland.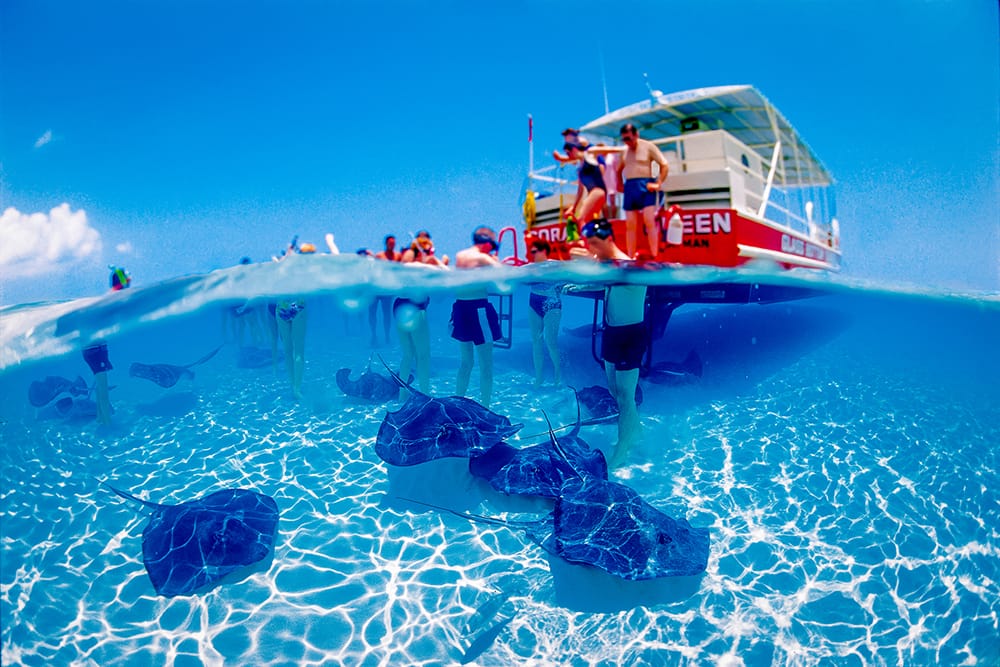 George Town, Grand Cayman
Discover George Town, the capital of the Cayman Islands, located on the largest island, Grand Cayman. Since George Town is a popular financial hub and cruise ship port, you'll find many restaurants and tax-free shopping near the port. Explore Seven Mile Beach, one of the most popular destinations for cruise passengers visiting the Cayman Islands. Although it's only technically 5.5 miles now, it's still one of the best beaches worth visiting.
Dolphin Encounter with Stingray Sandbar is another one of George Town's famous attractions. Take a boat approximately 25 miles offshore to a series of sandbars. Here you'll find shallow waters where you can wade in and interact with southern Atlantic stingrays.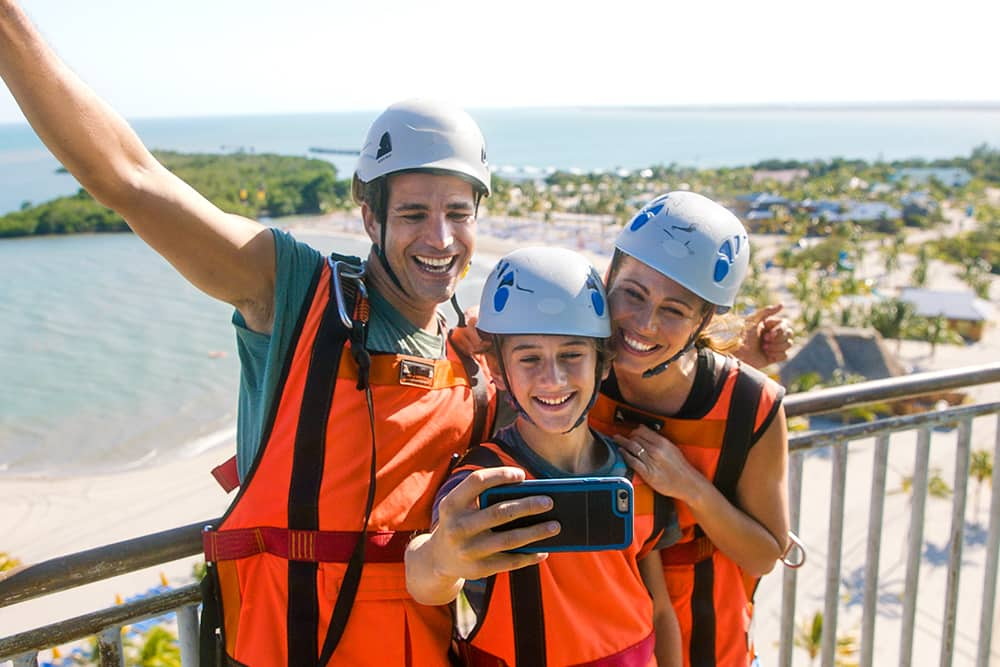 Harvest Caye, Belize
Harvest Caye is a tranquil island off the southern coast of Belize. You'll find world-class diving and snorkeling nearby since Belize is home to the second-largest barrier reef in the world. You can also book excursions to the mainland to learn about Mayan chocolate-making techniques, visit a Belizean spice farm, or explore ancient Mayan sites.
If you choose to spend your Belize day on Harvest Caye, you won't find a shortage of activities to keep you busy. Go kayaking, zip lining, snorkeling, or parasailing. Alternatively, you can take a wave runner tour. If you prefer to do absolutely nothing, that's always an option too. Relax on the beach and enjoy the beautiful views.
Ocho Rios, Jamaica
Ocho Rios is on the north coast of Jamaica. Once a quiet fishing village, Ocho Rios is now a bustling harbor resort area. It's a great jumping-off point to many natural attractions, including waterfalls, rainforests, and rivers.
Dunn's River Falls is one of the most popular attractions. Other engaging activities in Ocho Rios include taking rainforest bobsled rides, caving, zip lining, and exploring some of the island's best beaches. Not too far away from Ocho Rios is the village of Nine Mile, where Bob Marley was born.
Roatán, Honduras
Roatán, Honduras, is another potential Caribbean port of call. Like Belize, Roatán is renowned for some of the best diving and snorkeling around. Spend your time in the water enjoying plenty of marine life and beautiful coral formations, or go wild on the land. Take an island tour, visit an animal sanctuary, go horseback riding, or venture out on an off-road ATV adventure.
Roatán is home to many high-end luxury resorts with gorgeous white-sand beaches. As a Norwegian cruise passenger, you can visit a number of these luxurious spots on an organized excursion.
Willemstad, Curaçao
A cruise from New Orleans that stops in Panama will also visit southern Caribbean ports such as Aruba, Bonaire, and Curaçao, sometimes called the ABC Islands. Willemstad is the capital of Curaçao, recognizable by its Dutch pastel-colored colonial architecture.
This region is known for its spectacular diving and snorkeling, but you'll find plenty to do if you aren't into either activity. You'll find multiple forts on the island, including Rif Fort, part of Willemstad's UNESCO World Heritage Site center. Take a walk on the floating Queen Emma Bridge. When vessels need to pass, the bridge can separate, allowing them to pass by in the bay. If you're lucky, you might get to see this sight while you're in Willemstad.
Explore the markets that sell produce, coconuts, and fish from Venezuela. Nearby, you'll find craft stalls if you want to pick up some souvenirs. Street art fans will enjoy wandering Willemstad's neighborhoods with dynamic murals and paintings.
New Orleans is the ideal Caribbean cruise, and we're curious to know which port you're excited to see most. You can also sign up for Norwegian's cruise deals, so you'll receive the latest cruise specials and offers delivered to your inbox.