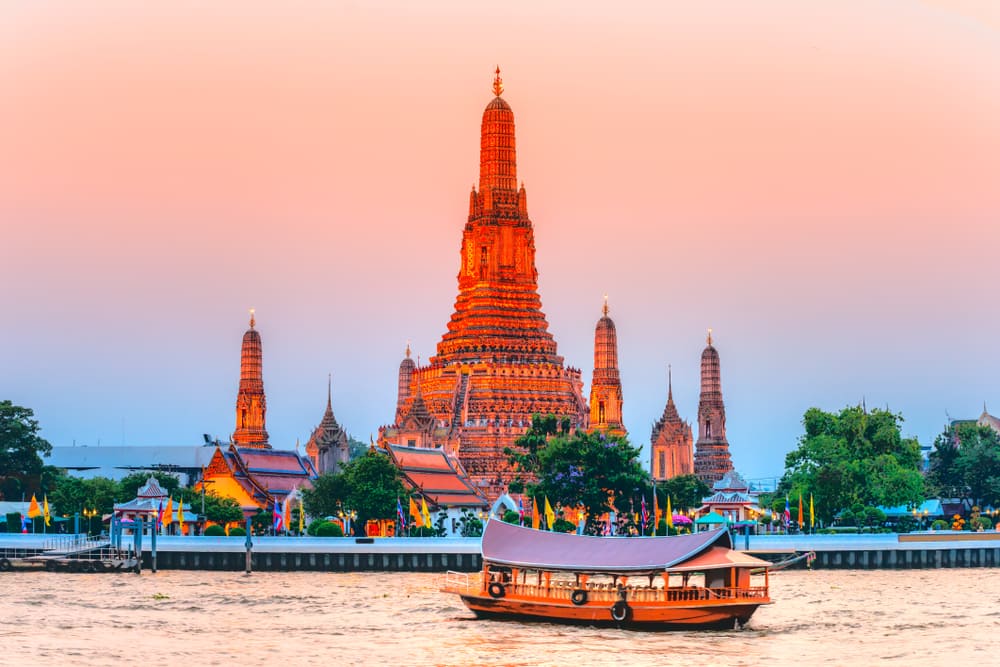 Whether you're visiting Bangkok for the first time or you've been lucky enough to have visited this magnificent city before, you'll discover a number of must-see attractions and activities to do when you're exploring Bangkok on an Asia cruise with Norwegian. The 13-Day Asia Cruise from Hong Kong itinerary offers an overnight stay in this most alluring of world cities. You can maximize your time in port by exploring on your own terms. Visit a temple, tour a market, or make your way down a river. The choice is entirely up to you.
Ready to start planning? Explore all cruises to Bangkok.
Grand Palace
If you go to see only one attraction in Bangkok, make sure it's the Grand Palace. And by grand, we mean 2.3 million square feet grand. Home to the kings of Siam since 1782, this regal palace set along the Chao Phraya River is also home to the Temple of the Emerald Buddha, also known as Wat Phra Kaew.
Wat Pho, Home of the Reclining Buddha
Not too far from the Grand Palace is Wat Pho, one of the largest temples in Bangkok. It's home to a striking 150-foot-long statue of a reclining Buddha covered in gold leaf. Its size is impressive as the Buddha looks toward the sky using a hand as a pillow.
Chao Phraya River
With plenty of canals breaking off from the main river, Bangkok has earned the nickname "Venice of the East." Taking a boat trip or a ferry ride along the Chao Phraya River gives you a different perspective of everyday life. You'll see fisherman, small floating markets, and kids playing about. You can also take a sunset dinner cruise if you'd like.
Bangkok Views
If you want to see Bangkok in high style, how about 61 floors high? You'll get a fantastic, panoramic view of the city from the outdoor, open-air Vertigo and Moor bar at the upscale Banyan Tree hotel. The Baiyoke Tower II delivers Bangkok's highest rooftop where you can visit the skywalk on the 77th floor or keep going to the revolving observation deck on the 84th floor. For a different type of view, you can enjoy gazing at the lake in the serene Lumpini Park.
Local Eats in Bangkok
If you're a foodie, you're going to love Bangkok, especially if you savor eating street food just like the locals do here. All of the busy streets throughout the city are jammed with vendors selling everything from traditional pad thai to seafood dishes. Khao pad, or fried rice, is a popular dish, as is pla poa, barbecued fish with salt. Grilled chicken or pork skewers, gai or moo bing, are late-night favorites. Add some shrimp to your pad thai when you order the pad thai kung.
Watch a Puppet Show at the Aksra Theatre
With elaborate stages, three puppeteers per puppet, and classic folk stories to be told, a traditional puppet show in Bangkok is another must-see experience. With colorful costumes and a live orchestra, these puppet shows offer elaborate experiences that make wonderful memories to take home with you. And what's one of the most interesting items that you'll discover here? It doesn't take long before you don't even notice the puppeteers. The experience is that magical.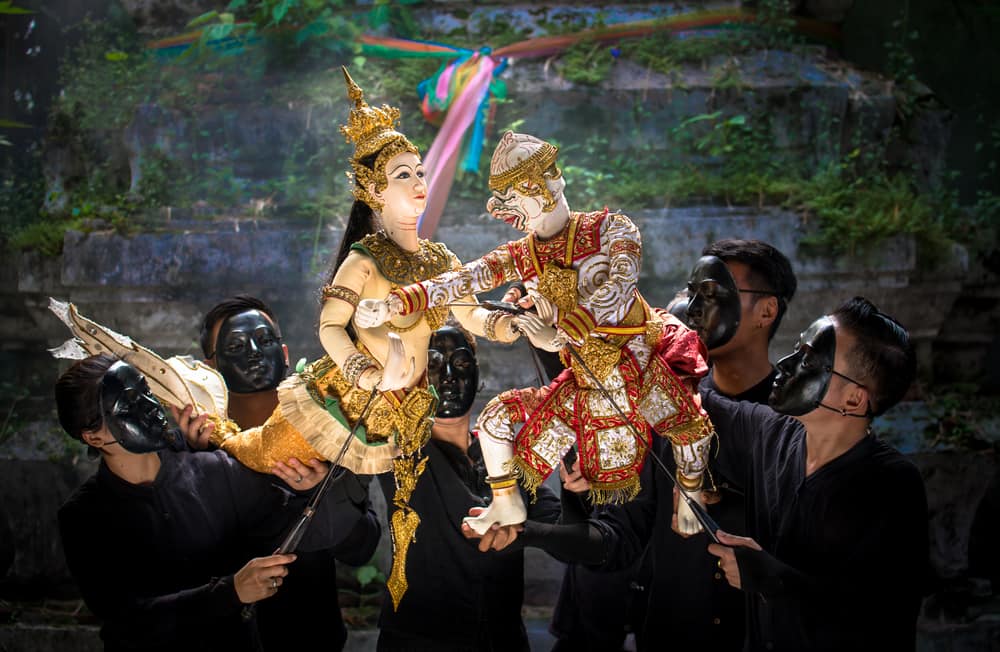 Wat Arun
Even though you can visit more than 31,000 other temples in Thailand, here's another one we highly recommend visiting. Located along the Chao Phraya River, this spectacular Buddhist temple is dedicated to the God of Dawn. Wat Arun's striking, ornate tower reaches 260 feet high into the air, but as a hint, it's even more striking at night when the entire complex is completely illuminated with a seemingly golden hue.
Shopping in Bangkok
If you're looking for upscale designer fashion, look no farther than Siam Paragon. With more than 250 retail stores, including a Lamborghini dealership, you can probably buy almost anything your heart desires. Siam Paragon is also home to the SEA LIFE Bangkok Ocean World where you can watch a 4D movie or go behind the scenes in the Aquatic Quarantine and Nursery Centre. And if you really want to, you can also dive with the sharks. Another fun place to shop in Thailand is the vibrant Chinatown district where you'll find an array of small shops and restaurants galore just waiting for you to explore them in all their glory.
Notes on Visiting Temples in Bangkok
When visiting any sacred temple in Bangkok, you'll be required to wear more clothing than you may be used to while you're on vacation in a warm, exotic country. But it's important to be respectful and follow the local customs of Thailand. As a general rule, you'll have to cover your arms and your legs. Knowing this mandate when it comes to clothing, you should plan to wear comfortable, long, loose-fitting shirts and pants during days you plan to visit any of these most impressive temple sites.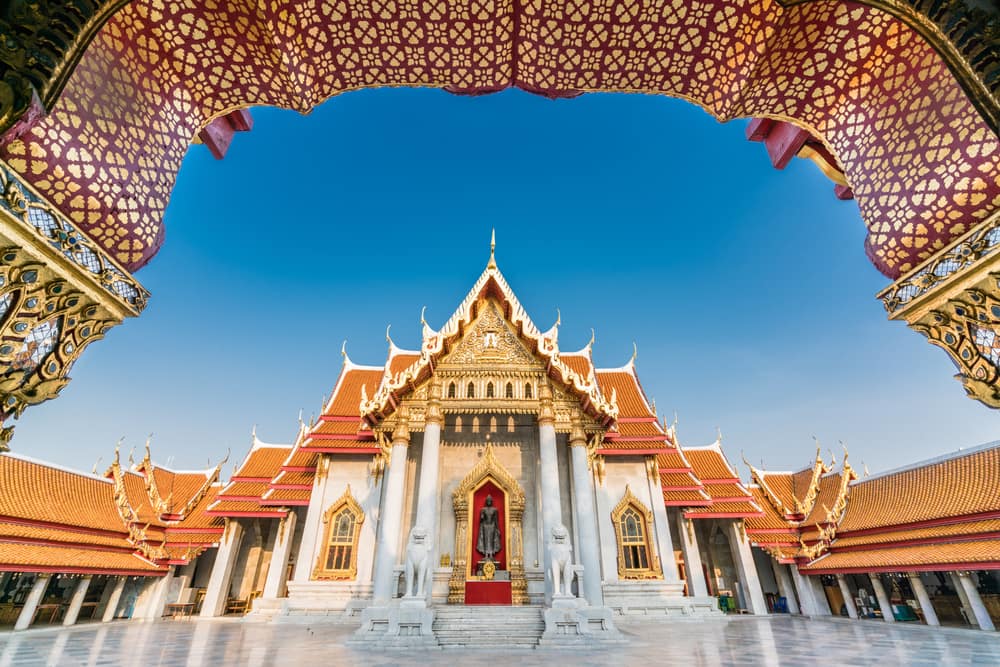 To get the best deals with Norwegian Cruise Line on cruise vacations and excursions like the ones we've described here, check out our Cruise Deals for more info.