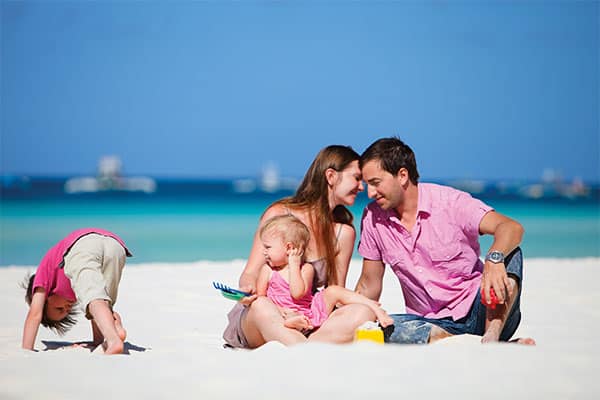 This January, I made the executive decision that my family and I were going to take a Caribbean cruise onboard the Norwegian Getaway! This was a major decision because we are the parents of a toddler and this was going to be our first family cruise. The Caribbean seemed like a safe and fun option, and the trip included family favorites such as beautiful Caribbean beaches, great food, and a kiddie splash pool area! Read on for my tips on how to make cruising with your toddler a breeze.
WHAT TO BRING WHEN CRUISING WITH TODDLERS
The success of this trip required a great deal of research and preparation. Those of you who have toddlers understand why. My son is three years old; he naps, wakes up around 7am, and has a tolerance right at sea level. Needless to say, packing well before hand is key. Here are some items that I brought on my 7-day cruise that were very helpful:
Two outfits per cruise day and a couple of dressier ones for picture time.
Three or four swim suits with sun proof shirts, sunscreen, and sunglasses.
A pair of sneakers, dress shoes, crocs, and swim shoes.
Large and small zip-lock bags to keep everything organized and separated, and plastic bags for wet or sandy clothes.
One or two large garbage bags for all your dirty laundry; or you can designate a dirty laundry suitcase. If you are still traveling after your cruise or if you simply don't want to take dirty laundry home, use the onboard laundry service. Prices will be posted in your stateroom but many sailings will offer deals.
Children's Dramamine; if your toddler is like mine- forget the sea band, he won't wear it the entire trip. Make sure to check with your doctor first.
Ear drops, small baby shampoo, aloe gel, lotion, acetaminophen, probiotics or whatever will aid your child with digestion.
Bring your iPad and download your toddler's favorite movies on it. Do not rely on Wi-Fi. Remember to bring your headphones.
Toys; that includes small pool/beach toys and little toys he can play with in the room and at the dinner table.
A comfortable and lightweight stroller. This will come in handy during port days.
A non-spill cup - in fact I recommend this for the entire family. Keep in mind that you cannot refill directly at the water station.
WHERE TODDLERS CAN PLAY
Parents can bring their toddlers to play and grow in Splash Academy where they can engage in games, messy play, and music and movement. For more information visit Norwegian's Family Cruises page.
Other toddler activities outside of Splash Academy are the Kid's Aqua Park (which includes a slide if your child is over 40 inches tall), the toddler ropes course, and the arcade. If you plan to partake in water activities with your toddler make sure they are potty trained, as swim diapers are not allowed in the Kid's Aqua Park. Try your best to do this by the time you cruise. Make sure to check your Freestyle Daily for other great activities such as the Sail Away Party and the Nickelodeon Pajama Jam Character Breakfast.
EDITOR'S NOTE:
Nickelodeon Pajama Jam Character Breakfast is no longer offered.
EVEN WHEN ON A CRUISE, STICK TO YOUR TODDLER'S SCHEDULE
I know you are on vacation, but if your child thrives on a schedule, keep it. This will help avoid tantrums and will keep everyone relaxed and rested. What really helped with our family cruise was pre-scheduling dinners. If your child is like mine and eats at a designated time, make sure you plan ahead. Early dinner times usually sell out first, so if you need to eat early, log into MyNCL and make your dinner reservations prior to sailing. If you can't keep the time, you can always call and reschedule once onboard or just head over to the grab and go cruise buffet, the Garden Cafe. This will help you work in a nice dinner around your toddler's normal routine. I would also advise bringing a stroller. After a long day of activities our son fell asleep a few times at dinner and during our after dinner stroll on The Waterfront.
TIP: Avoid a cover charge at the specialty restaurants by ordering for your child from the complimentary kids menu (0-12 years old).
In summary, Norwegian Getaway and Caribbean Cruises are great choices for families cruising with a toddler. There is plenty for your child to do and great family friendly ports to go to. Remember that a little bit of planning will take you a long way! Bon Voyage!