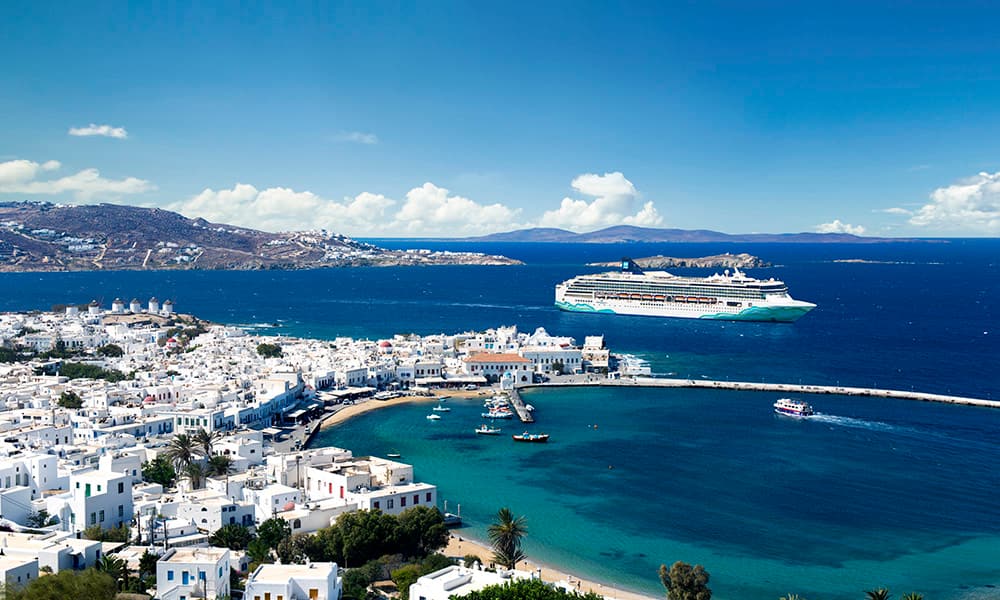 1. Visit a UNESCO World Heritage Site
Nearby, you'll find the island of Delos, which is said to be the birthplace of Artemis and Apollo. Book an excursion to Delos to learn more about Aegean civilizations. Delos is an important site and has earned UNESCO World Heritage Site status.
Delos was a major sanctuary dedicated to Apollo, who was the god of music, prophecy, and more. Because of its importance, people came from all over as part of their pilgrimage. Over time, it developed into one of the most revered and wealthiest shrines of ancient times.
There is an Archeological Museum where you can see pottery and statues that date back centuries. Inside the museum, you'll also find the original Delos lions that date back to around 600 B.C. Outside, replicas of the lions line the walkway to the pathway to Apollo.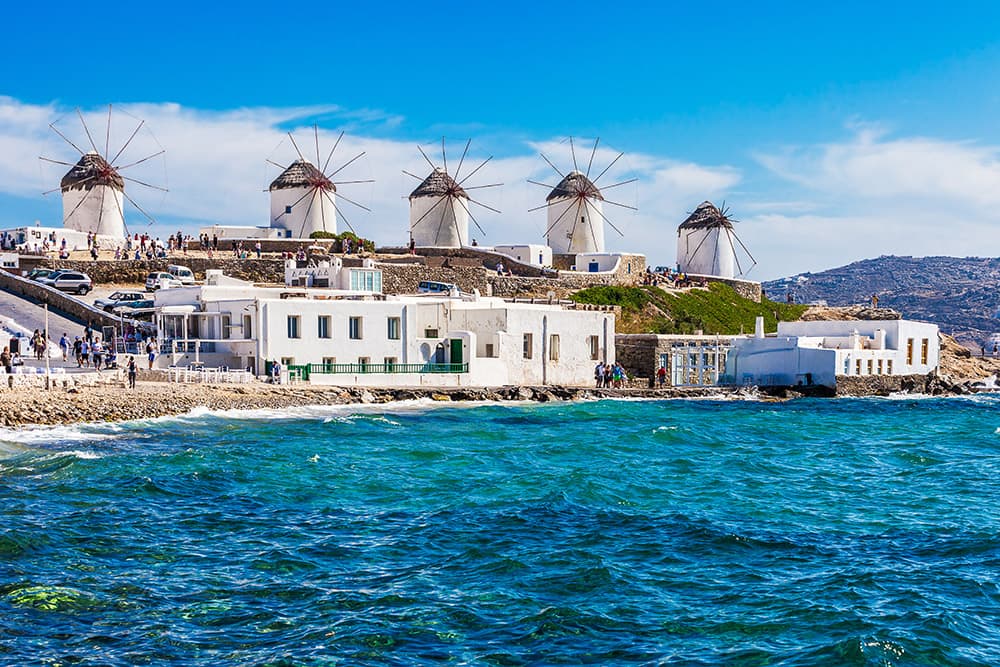 2. Go on a 4x4 Adventure
Book an offroad excursion and go on a 4x4 adventure of Mykonos. You'll hop in a jeep and visit iconic spots like the old lighthouse and scenic viewpoints, even one location where you can see Delos in the distance. You'll also stop for some free time at Kalafatis Beach, where you can relax, go swimming, order some snacks and drinks, or rent water sports equipment.
3. Take Photos of Iconic Landmarks
Mykonos has beautiful scenery around the whole island that begs to be photographed. You'll find no shortage of white houses and churches, turquoise bays, spectacular beaches, and windmills. You can go exploring on your own or book an excursion like Scenic Views of Mykonos. You'll hit some of the island's best beaches on this tour, including Ornos Beach, where there are numerous luxury hotels and yachts nearby. You'll also visit the interior of Mykonos, such as the village of Ano Mera.
4. Lounge on a Mykonos Beach
If you prefer to spend the day relaxing, book a Mykonos beach transfer. You'll have a few hours to relax on Kalafatis Beach, which is a quick drive from the ship. Kalafatis is not as developed, less crowded, and very tranquil.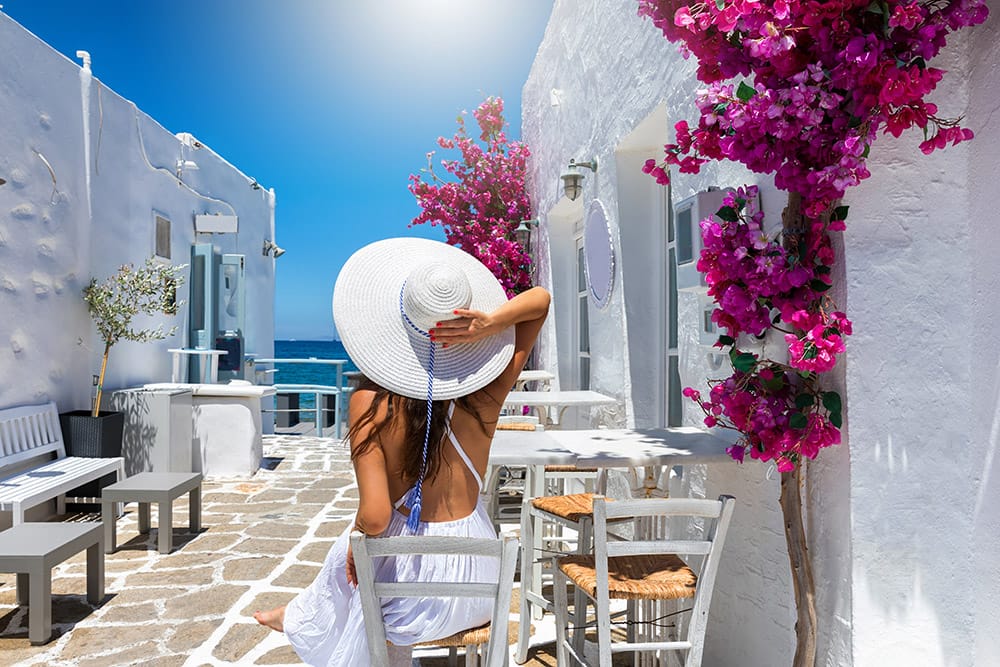 5. Visit Little Venice
The real Venice inspired Mykonos' Little Venice as the island was an important trade route centuries ago. Wealthy merchants built Venice-inspired buildings. The beautiful facades sit right on the waterfront, making for striking photos.
6. Explore the Mykonos Windmills
One of the most iconic sights on Mykonos is the windmills. They can be seen from pretty much everywhere in the main Mykonos village, often referred to as the Chora. Many of the initial windmills were built by the Venetians dating back to the 16th century. Originally they were used to mill wheat, but that gradually faded out until production ceased in the mid 20th century.
7. Take a Walking Tour
Mykonos is easy to explore on foot. If you want to learn more about the island and stay close to the ship, consider booking Norwegian's Mykonos on Foot tour. You'll spend 2.5 hours learning about the island's history, culture, and more. You'll start with a visit to the Aegean Maritime Museum and learn about Greek maritime history and tradition. Then, you'll explore spots that few tourists visit and learn about the island's history and reasons for such a confusing layout, which was designed to fool pirates who arrived to attack.
You'll also have time to stop for traditional Greek ouzo and mezedes — small plates of food — before finishing your tour.
8. Eat Fresh Seafood
Being an island, it's no surprise that seafood is an important staple in Mykonos cuisine. You can't miss the octopus hanging in the sun as you explore along the beaches. Try octopus in a variety of ways, including carpaccio or whole grilled octopus.
9. Satisfy Your Sweet Tooth
Mykonos has many different sweets to try, including melopita. Melopita is a honey pie made with cheese from the island called Tirovolia. It consists of crispy pastry sheets wrapped around the cheese, honey, and cinnamon.
10. Try Wine from Mykonos
Along with its delicious cuisine, Mykonos also produces some fantastic wines. You can visit an island winery or try a few varietals at a beachside restaurant. The vineyards on Mykonos are located in an agricultural region near Ano Mera, the most populated village. Opt for a local varietal with some cheese or snacks if you want to keep it light.
You'll also see Retsina on many menus, which is a resinated wine served in carafes. It's made by infusing sap from the Aleppo pine tree. It dates back to an ancient winemaking tradition from the second century B.C.
Are you trying to decide which cruise to Mykonos is right for you? While you are researching Mediterranean cruise vacations and shore excursions, be sure to sign up for Norwegian cruise deals. You can get the latest specials and offers emailed right to your inbox, so you know you're always getting the best deal possible at the time of booking.