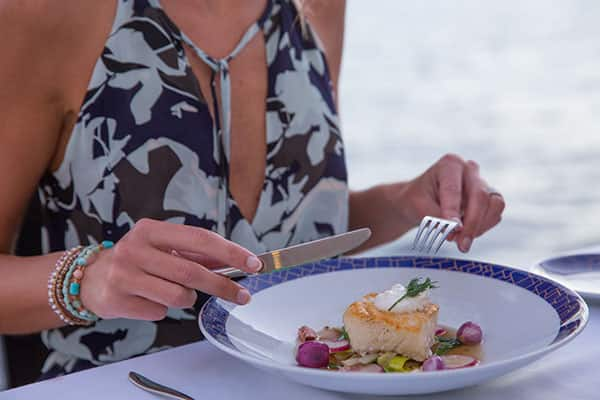 "So how was your cruise?"
"Oh. My God. The food was Ah-mah-zzzing."
Ask anyone who has ever been on a cruise – in particular, a Norwegian cruise – to share his or her fondest vacation memories, and it seems their response is almost, always, always, about the food. But let's face it: Too much of a good thing is not such a good thing if you're watching your diet.
It's tempting to make your cruise vacation that time of year where you totally let go and feast your way from bow to stern. And with all the amazing onboard selections, it's not as if there's reason to skimp! However, if you are concerned about returning to dry land with ten extra pounds, abandon these fears at once.
With Norwegian, there are so many opportunities to find healthy, delicious alternatives to offset all those delectable treats. When cruising the Caribbean, you'll find the local cuisine is naturally leaner with less fat, and full of fresh ingredients.
Here are some suggestions for healthy and delicious offerings to pile on your plate:
Go Fish
It's the freshest, tastiest staple of a Caribbean diet. When exploring the islands, you'll find restaurants serving local, caught specialties, such as sea bass, swordfish, tuna, wahoo, snapper, and grouper.
In Cozumel and Costa Maya, Mexico, you must sample the fish tacos, which are often made with grouper or shrimp sprinkled in a light dusting of flour and zesty spices. In Puerto Rico, with its West Indian, Aftrican, and Spanish influences, you'll find creative adaptations of classic Spanish paella, a seafood stew with ingredients such as shrimp, lobster, muscles, and clams, doused in a garlicky broth and served over saffron rice.
Onboard ship, be sure to reserve at least one meal at Ocean Blue, one of Norwegian's more elegant restaurants. Here you'll find the freshest ingredients, and fine wines. It's a perfect pairing of sophisticated taste with a health-minded menu.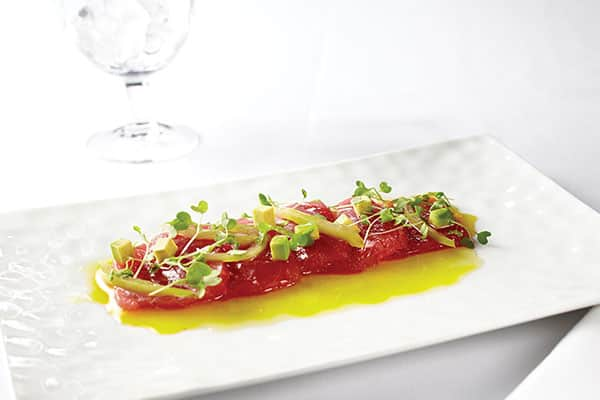 Mango Tango
Some of the most popular fish dishes are infused with the quintessential Caribbean ingredient: the mango. This sweet, succulent fruit is the most amazing source for almost every citrus-based recipe, from sweet sauces to nutritious smoothies. Who knew a bare-naked fruit could be most satisfyingly indulgent, stand-alone dessert?
Also, let's not overlook all those other amazingly fresh and four-seasonal tropical fruits. You'll find ample offerings of bananas, oranges, kiwis, and many more varieties available at all of Norwegian's buffet bars.
Veg Out
With Norwegian cruises, there are plenty of options for vegetarians and anyone seeking a healthy diet. Keep it lean with the sushi selection at Norwegian's Asian Fusion, for instance. You can also order meals, such as pasta, made to order. Special meals are available including low-calorie, vegetarian, no MSG, low/no sodium and low/no cholesterol meals, as well as sugar-free and fat-free desserts.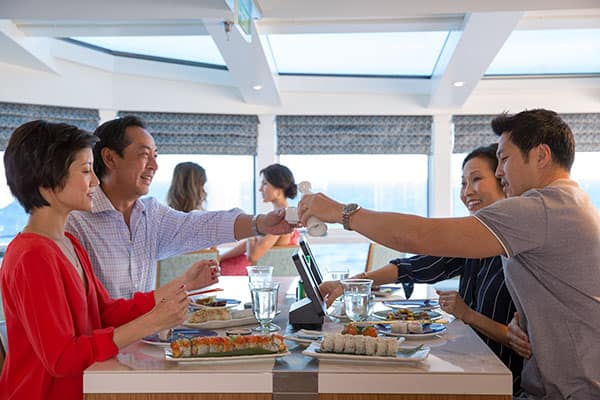 For an out-of-this world vegetarian island meal, you must try the callaloo when exploring Jamaica. The leafy green plant, native to the island, is prepared in many styles, but typically served in a spicy stew with scotch bonnet sauce, chopped tomatoes, okra, and onions. You'll also find that Caribbean islands such as Grenada, Trinidad, and the Virgin Islands, each have a unique spin, adding ingredients such as pumpkin or coconut milk to this hodge-podge dish. Try them all as you island hop!
Swim it Off
After you've gorged on meals such as mango-shrimp salad, coconut-spiced sea bass, and scotch-bonnet and pumpkin stew, maybe your feeling ready for an extra-rich meal. Should that be the case, I suggest serving yourself from a smaller, salad-size plate at the buffet. And if you do go a little overboard with sweats and treats, just remember: Norwegian cruises offer some the most convenient ways to work off extra calories. In addition to their state-of-art fitness center, island beach swims are one of the best way to burn calories: With an 83-degree year-round water temperature in the Caribbean, and ample opportunity for exercise, you can always have your cake and eat it too!