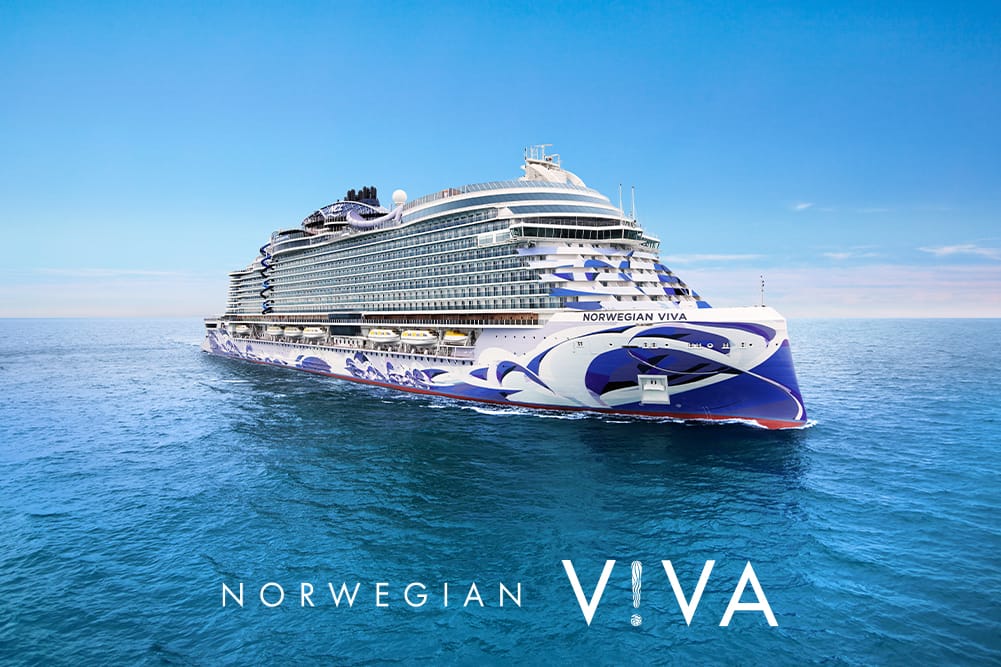 Norwegian Viva — Norwegian Cruise Line's 19th cruise ship — officially set sail from San Juan, Puerto Rico in 2023. Viva is the second ship in the Prima Class, designed to elevate every expectation.
Norwegian Viva is all about unique experiences of every kind — unparalleled dining, entertainment, activities and relaxation can be found on every inch of the ship. Norwegian Viva is truly like nothing seen on the seas before. To ensure guests experience the absolute best that Viva has to offer, we've created this easy "where to" that highlights some of her most distinct and noteworthy offerings (it sure was hard to narrow down the list).
Download the "Get to Know Viva" Map for a breakdown of the most exciting venues, on the most popular decks.
Where to Soak Up the Sun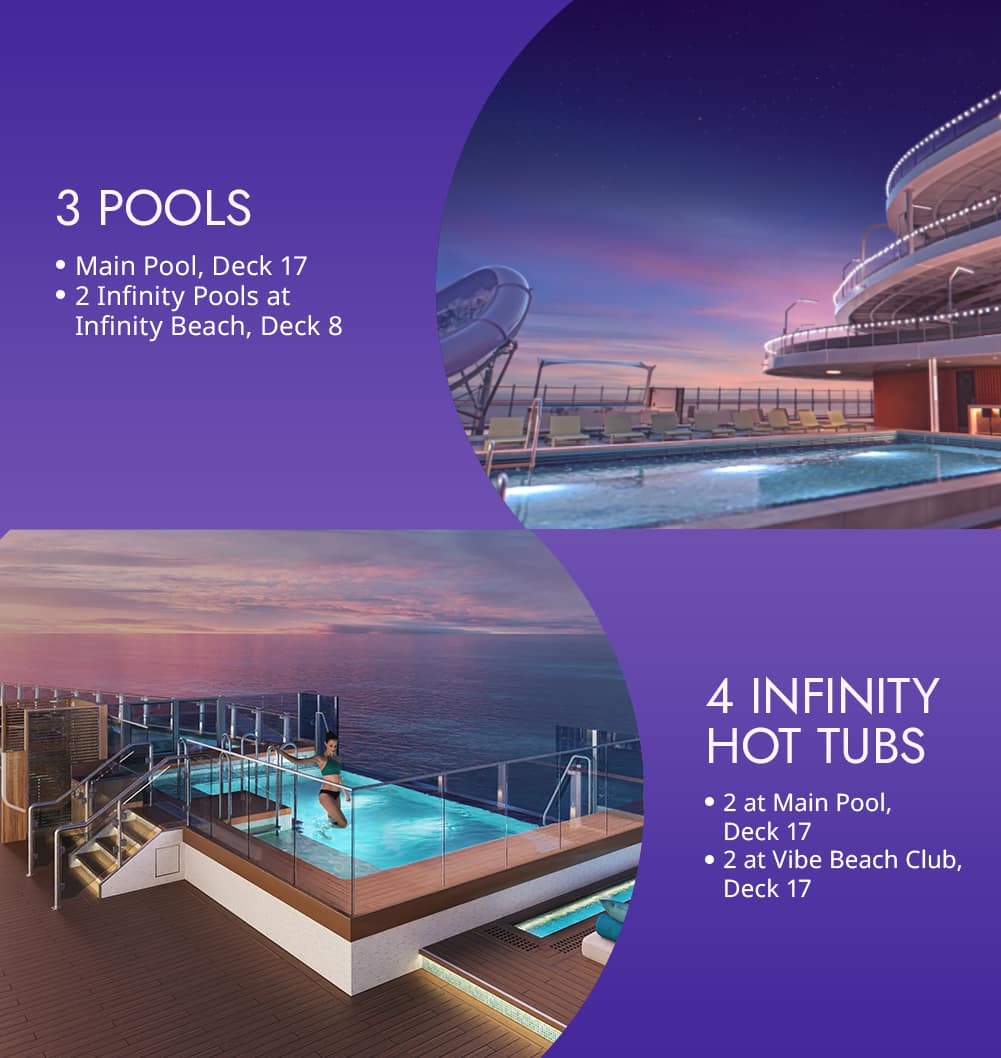 When you imagine Viva, envision yourself swimming on top of the ocean. This ship was built around a myriad of pools, including two Infinity Pools, a main pool, an Aqua Park, a tidal wave slide and countless hot tubs. Viva takes relaxation and water play to a whole new level. Her most unique water features live on Deck 8 at Ocean Boulevard's Infinity Beach, where you'll find two breathtaking Infinity Pools on either side, surrounded by lounge chairs and daybeds. It doesn't get much better than lying in the sun, listening to the waves, then floating in an Infinity Pool as you stare directly into the ocean. Or simply splash off in the convenient cooling pools encircling the daybeds. Because life on Viva is easy like that. Starting on Deck 17, the main pool deck is full of fun experiences as well — it features two infinity hot tubs, a pool bar, a Kid's Aqua Park, a sun deck and Norwegian's tidal wave waterslide.
Where to Get Your Eat On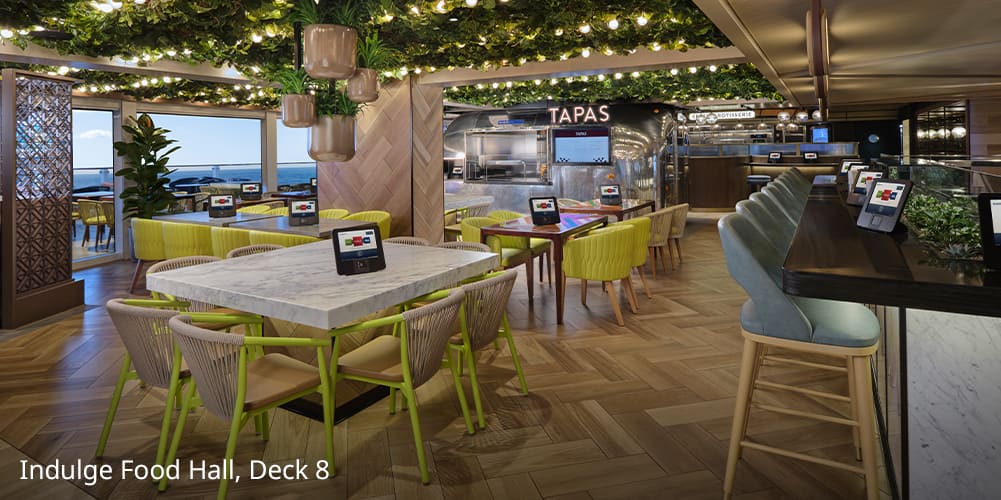 Complimentary Dining
With so many dining options, you may not know where to start. We know that our guests want many of their meals to be complimentary, so we've added a host of additional options that allow you to eat in style while saving up for those special nights. Often, cruisers head directly to the buffet on board — Viva's is at Surfside Café, and we've added an outdoor Surfside Grill for a quick bite like hot dogs, burgers and more. But we actually encourage guests to head straight to Norwegian's food hall, Indulge Food Hall, where diners can choose from 11 stations around the globe. Indian, Italian, Chinese, BBQ, rotisserie, tapas, desserts and more are all complimentary! Then sit inside, outside, or even grab-and-go for a 'picnic' at one of the many lounging areas around the ship. It's so delicious, you'll want to try it right away.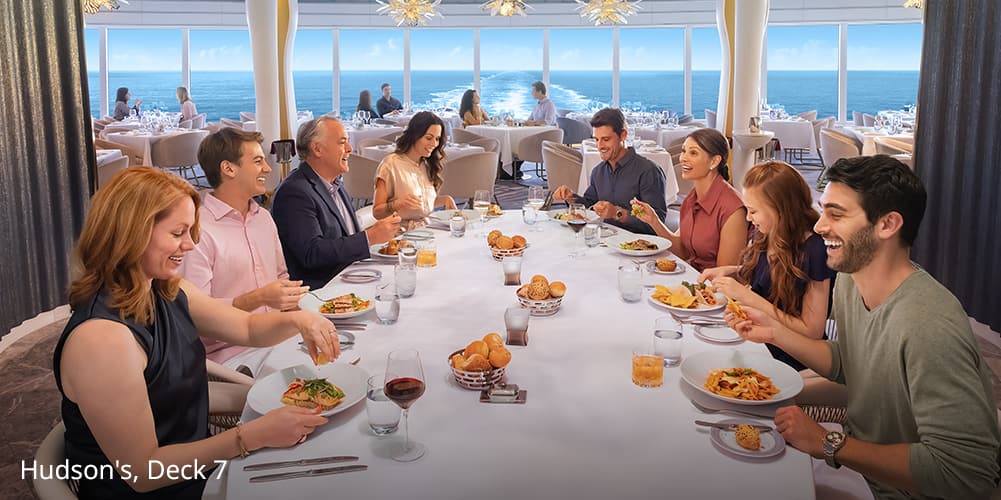 Viva has a spectacular main dining room too — Hudson's. With 270-degree views of the ocean, floor-to-ceiling windows, and modern menus made with the freshest ingredients, you may never want to leave. Our second main dining room, The Commodore Room, offers fine dining in a comfortable atmosphere, with delicious menus (don't miss the chocolate lava cake) and contemporary decor.
Specialty Dining & Drinks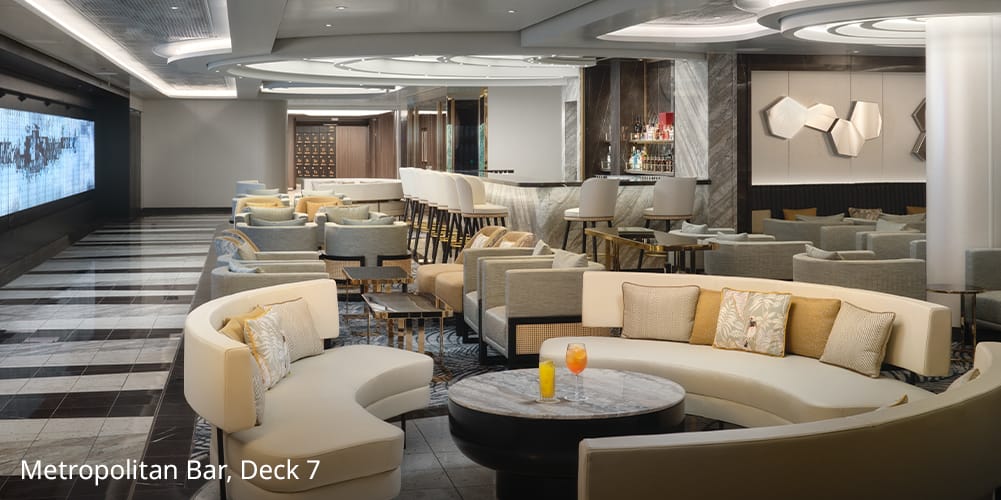 What's a vacation without a few special nights? We've thought long and hard about those indulgent moments on Viva to ensure we're delivering the absolute best. The ship is home to Norwegian's Mediterranean restaurant, Palomar — a spectacular and stunning seafood-forward eatery. Look forward to opulent dishes like a full salted fish and grilled octopus. Another new element on Viva is a dedication to sustainable food and drink, which can be experienced at the new Metropolitan bar. Craft cocktails that minimize food waste and biodynamic wines will make you feel like you're doing good for the world — while sipping amazing drinks on the ocean. Our popular teppanyaki-style restaurant has been updated and renamed — Hasuki offers all the favorite dishes and excitement, in a more elevated environment. Our classic French restaurant, Le Bistro, has been outfitted with a jaw-dropping hand-blown chandelier, which is not to be missed. And of course, favorites like Cagney's Steakhouse, Onda by Scarpetta and Le Bistro French restaurant will be on board (with a bit of Prima flair, naturally).
Where to Be Amazed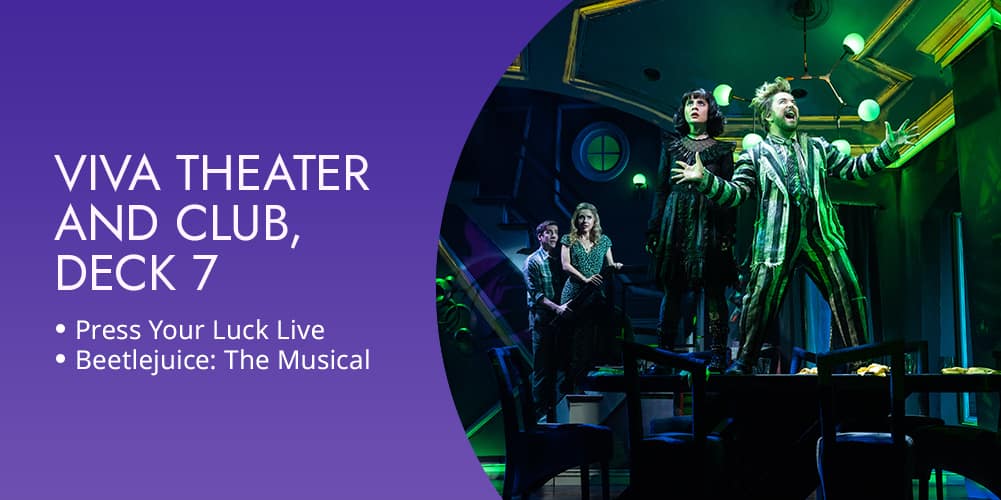 We promised that Viva would elevate every expectation and she's done just that. Get ready to be entertained from dusk to dawn (and beyond). All of our shows now take place in the new, transformational Viva Theater and Club. This venue converts from a three-story theater to a spectacular Vegas-style nightclub. Inside, you can be part of Press Your Luck Live, see shows like Beetlejuice: The Musical, and party with live DJs and cutting-edge light shows late at night.
When you simply want to grab a coffee or evening drink and spend some time leisurely people-and-horizon-watching, head to the Penrose Atrium. This gorgeous space is three magnificent stories high, with breathtaking views at every angle. And speaking of levels, The Viva Speedway is the first ever three-level race track at sea. It's longer and faster than any of our previous race tracks (which were already the first of their kind), so get ready to put the pedal to the metal.
Download the "Libby app" prior to boarding and enjoy access to tons of free books and magazines while you cruise!
Where to Get Your Thrills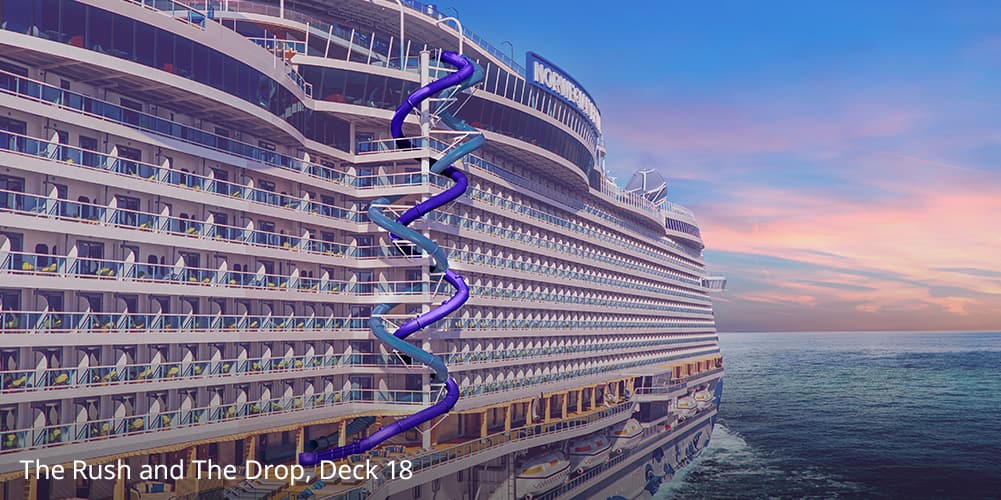 One thing is certain — you will never, ever run out of things to do on Viva. In between sunbathing and swimming, dining around the world, and being entertained from dusk till dawn, there are, of course, an endless amount of show-stopping activities. The new The Rush and The Drop will get your heart racing — they are the fastest dry slides at sea. You'll also want to spend a lot more time on Ocean Boulevard — a one-third mile boardwalk with restaurants, bars, lounge areas and Oceanwalk, Norwegian's glass walkway at sea. Here, you'll also find The Concourse — a breathtaking, curated, outdoor sculpture garden unlike anything you've ever seen on a cruise ship. If you're into social media, the pictures here will create some serious travel envy.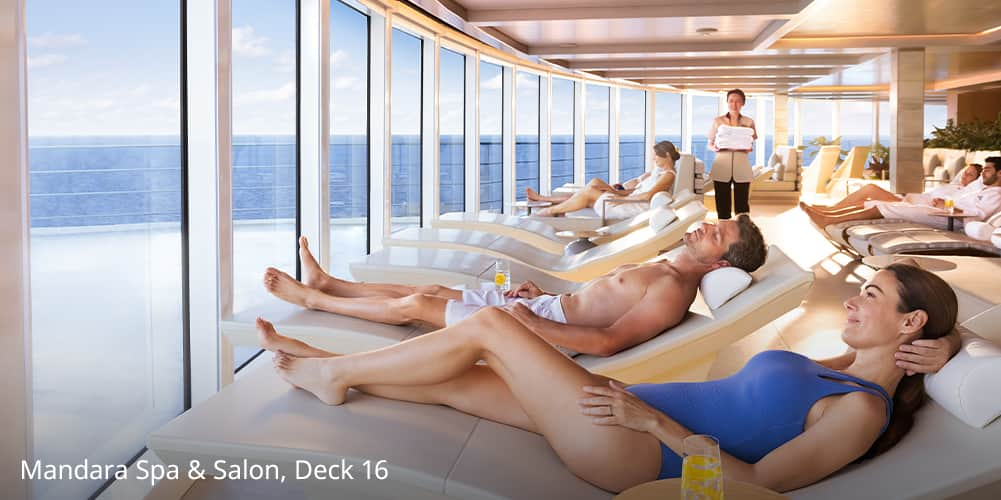 And if your thrills come from diving into deep relaxation and self-care (we get it), head to the brand-new Mandara Spa & Salon, which showcases a two-story waterfall, salt pools, the first charcoal sauna at sea, and over 50 specialty treatments.
Norwegian Viva offers a variety of itineraries to Europe and The Caribbean. We can't wait to welcome you aboard!